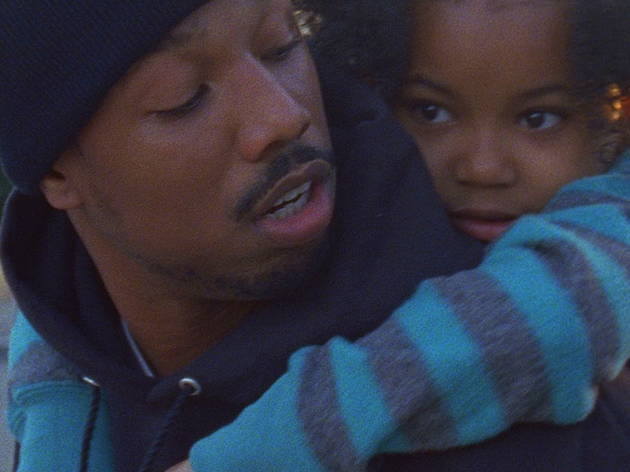 On January 1, 2009, an unarmed black man named Oscar Grant was fatally shot by an Oakland transit cop while lying facedown on a subway platform. Whether or not the officer thought he was firing a Taser instead of a handgun (as he later testified), such a death is intolerable to a just society. Does it matter that Oscar Grant was kind to animals, loved his daughter, helped strangers? Set largely on the last day of Grant's life, Ryan Coogler's first feature answers that question with a heartfelt and emphatic yes. Mundane encounters take on tragic resonance, aided by the audience's knowledge and heavyweight foreshadowing, e.g., Grant (Michael B. Jordan) cradling a dying dog as a train – the one he'll later be pulled off of – rumbles by in the background.
Unfortunately, Coogler isn't content to leave it at that. He crams Grant's day full of symbolic encounters meant to show us the guy's good heart and sadly truncated potential, from helping a skittish white lady in the grocery store he works at (by calling his grandmother for a recipe!) to flushing his stash down the toilet. Coogler, who grew up in the same neighborhoods as Grant, evokes a tangible sense of place, and his staging of the climactic incident hits like a fist in the gut. It's not enough to wipe out his reduction of this real-life figure into a composite-character martyr or the lukewarm filmmaking that's come before, even if you're left shaken all the same.
Release details
| | |
| --- | --- |
| Release date: | Friday June 6 2014 |
| Duration: | 85 mins |
Cast and crew
Director:
Ryan Coogler
Cast:
Michael B. Jordan
Octavia Spencer
Melonie Diaz
Kevin Durand

1 cinema showing 'Fruitvale Station'
View as map
View as list
Average User Rating
4.5 / 5
Rating Breakdown
5 star:

1

4 star:

1

3 star:

0

2 star:

0

1 star:

0
In the early hours of New Year's Day 2009, an unarmed black man named Oscar Grant was shot dead by a policeman while lying facedown and handcuffed on a subway platform. Mobile phone footage of the incident sparked outrage across America and led to charges of murder, with the officer involved claiming that he mistook his handgun for a Taser. Director Ryan Coogler's bleak debut recreates the last 24 hours of Grant's life, adding poignancy to every action as he ambles towards tragedy. The result is a moving call to disarm America.
Fruitvale Station - Ryan Coogler has written and directed both a thoughtful and thought provoking dramatisation of real life events, real life tragedy and the real life injustice of the family and friends of Oscar Grant, a young man whose life was taken abruptly on NYD 2009. Oscar, is portrayed as a complex, multi dimensional and sometimes angry young man that has made him all the more human and endearing, we the audience engage with his life and the people he meets along the way as a 'present' observer and when things take a bad turn feel we are there, witness to the awful events unfolding. I left the cinema, much like the rest of the audience, with a pain in my heart but a little richer for seeing a sensitive 'treatment' given to his story. Whether familiar with the story of Oscar Grant or not, this film deserves to be seen.