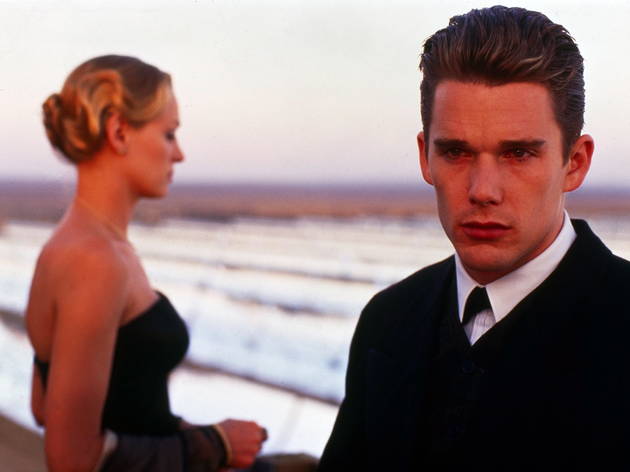 In the future, geneticists will design test-tube babies to be disease-free. Physical perfection will become the norm, and those flawed specimens born the old-fashioned way will form the new underclass - the 'in-valids'. Vincent Freeman (Hawke), an in-valid with a heart defect, is only taken seriously in the powerful Gattaca space programme when he assumes the identity of Jerome (Law), a 'valid' who supplies blood, tissue and urine samples in return for shelter (he himself having been crippled in a car accident). The subterfuge is successful - until a murder draws unwelcome scrutiny from the authorities. Self-consciously at a remove from the trashy B-movie sensibilities which have dominated science-fantasy movies in recent times, this harks back to the vacuum-packed, classically alienated dystopia of Brave New World and Fahrenheit 451. Chilly, elegant, and a little bloodless.
Cast and crew
Director:
Andrew Niccol
Screenwriter:
Andrew Niccol
Cast:
Ethan Hawke
Uma Thurman
Alan Arkin
Jude Law
Loren Dean
Gore Vidal
Ernest Borgnine
Blair Underwood
Tony Shalhoub
Elias Koteas

Average User Rating
3.8 / 5
Rating Breakdown
5 star:

0

4 star:

2

3 star:

0

2 star:

0

1 star:

0
1 star for the fact gore vidal was in it.
One of the more intelligent science-fiction movies of recent years. Remarkable for its realistic take on developments in eugenics and succesful use of low budget futuristic sets, the film is more convincing that Star Trek in its depiction of space exploration . Despite its short length the script incorporates a murder mystery and a romance between Ethan Hawke and Uma Thurman However, where the film really scores is with Michael Nyman's soundtrack which lends resonance and depth to the main theme of the film which is that of human striving against the genetic odds.
An interesting idea for a movie, and also carried out well, albeit somewhat predictable.