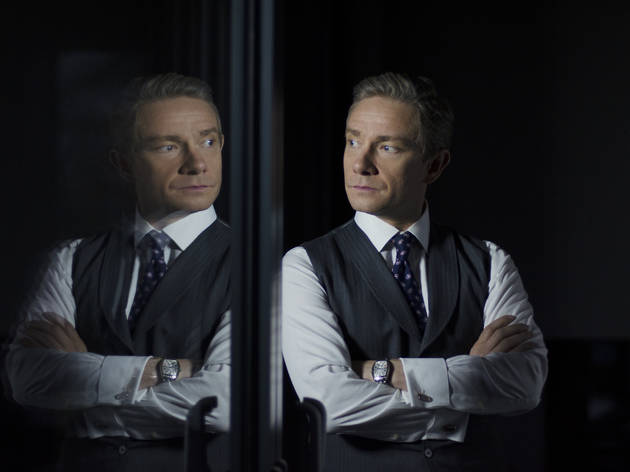 Andy Nyman and Jeremy Dyson's twisty-turny horror adaptation has lost none of its wit or clamminess on the way from the stage to the big screen.
'The Exorcist' meets 'The League of Gentlemen' in a triptych of horror tales that's presided over with assurance and some seriously mordant wit by playwrights-turned-directors Jeremy Dyson and Andy Nyman. They've given their own stage play a cinematic reboot that's both faithful and fresh, without sacrificing any of its macabre intimacy. 'Ghost Stories' is smart, surprising and recognisably British, right down to the peeling wallpaper, caravans and analogue tech of its sorta-bygone setting. Its world is weirdly familiar and yet alien. It's also darn scary.
The three storylines' common denominator is parapsychologist Professor Phillip Goodman (Nyman). In truth, it's an odd profession for a man whose sole mission is to debunk witnesses to the supernatural. The arrival of a mysterious cassette sends him to meet three victims of ghostly encounters – Paul Whitehouse's night watchman, Alex Lawther's nervy teenager, and Martin Freeman's Scottish financier – and offers harrowing opportunities to change his mind.
Nyman neatly charts Goodman's arc from condescension to icy terror, but it's Whitehouse and Freeman who steal the show. The former's chapter takes place in an abandoned factory guaranteed to haunt your dreams, while Freeman's is an off-balancing mix of cockiness and menace. If the climax feels a touch clichéd, it barely spoils the ride.
Release details
Rated:
15
Release date:
Friday April 6 2018
Duration:
98 mins
Cast and crew
Director:
Jeremy Dyson, Andy Nyman
Screenwriter:
Jeremy Dyson, Andy Nyman
Cast:
Andy Nyman
Martin Freeman
Paul Whitehouse
Alex Lawther

Average User Rating
3.7 / 5
Rating Breakdown
5 star:

0

4 star:

2

3 star:

1

2 star:

0

1 star:

0
Scary but not enough.
Horror but not enough.
Disturbing but not enough.
Was expecting more of this film. It had enough pontential to keep me engaged for the entire movie, however, it failed to give me thrills it promises.
I really enjoyed this. Not all of it works - the second story was a bit of a damp squib and Alex Lawther does far too much 'acting' - he seems to be typecast in 'neurotic' roles. But the overall structure is clever and the inevitable 'twist' is poignant and dramatic, if slightly convoluted. It kept me thinking about it long after I left the cinema - which is always a good sign.