Guardians of the Galaxy Vol 2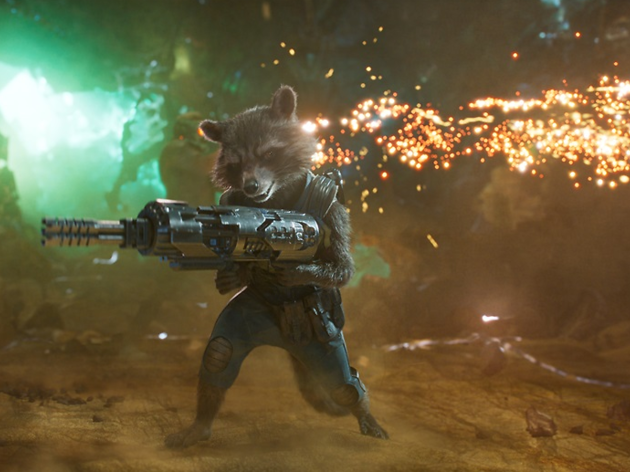 Time Out says
The spacefaring band of outlaws are back in this fast, funny but frustratingly disjointed sequel
Luke Skywalker should count himself lucky – his dad only wanted to rule the universe. When Peter Quill aka Star Lord (Chris Pratt) finally catches up with his old man, Ego (Kurt Russell), in this sequel to 2014's 'Guardians of the Galaxy', he's up to a whole lot worse.
We find our heroes up to their necks in trouble after Rocket the Raccoon (Bradley Cooper) steals a satchel-full of alien batteries from a warlike, golden-skinned Priestess. Gamora (Zoe Saldana) has been reunited with her evil-ish sister Nebula (Karen Gillan); Groot (Vin Diesel) is still an adorable baby tree; and Drax (Dave Bautista) is still flummoxed by everything. When Ego shows up, he seems like a saviour – but in space, fathers always have secrets.
After the sugar rush of the first film, recapturing the magic was always going to be an uphill battle. But for all its wit, speed and wacky cameos (Howard the Duck! Sylvester Stallone!) this second instalment still feels like a disappointment. Until well past half way through, it doesn't even have a plot, just a bunch of amusing scenes strung together. And when the story does arrive, it's fairly half-arsed: big villain, universe in danger, loads of explosions.
The characters are still fun to be around, the one-liners are still sharp ('My turds are famously huge!') and the soundtrack is, of course, terrific. But there are only so many times you can slap on a Fleetwood Mac toe-tapper and expect it to paper over the cracks.
Details
Release details
Rated:
12A
Release date:
Friday April 28 2017
Duration:
136 mins
Cast and crew
Director:
James Gunn
Cast:
Zoë Saldana
Chris Pratt
Bradley Cooper
Dave Bautista
Kurt Russell

Average User Rating
3.9 / 5
Rating Breakdown
5 star:

5

4 star:

11

3 star:

6

2 star:

1

1 star:

0
Not bad..... Not as great as the first in my opinion .. It was light hearted yet humorous most of the time.
It was weird seeing Groot so small and defenseless most of the time but he was super cute too! Not a bad watch but not a great one ...at least compared to the first one
The first film was excellent, I was expecting a lot here and the marketing hype wasn't helping; sadly it simply disappointed. The music was so, so and the plot was original but lacked substance. Love the characters but they kept them stuck in one place for too long. They need to be running around the galaxy saving stuff!
I AM STILL GROOT!
I must admit, when the first one came out, I wasn't really feeling going to the cinema to go see it, my husband, thankfully persuaded me otherwise. I adored the soundtrack, the plot, everything!

I basically ran to the cinema when this one came out! Already having the Awesome Mix 2, I was ready for the music and when the film opened on that scene, I knew my excitement was rightly justified!


What is it as good as the first one? Probably not, but look, I am a sucker for an adventure in the stars, especially when it includes over 900 jumps (That scene was FANTASTIC) and it is the perfect way leave earth and all the problems on it for a couple of hours!
Just silly, fun entertainment with a couple of cameos from a duck! (C'mon, when is that sequel coming out?!)
Fun and entertaining! Some beautiful scenes with lots of cool visual effects. Mediocre acting and story line, but with some great one-liners. Go watch it, especially if you're a Marvel fan!
How do you improve on utter brilliance? No idea. But, after watching GOTG2 writer-director James Gunn may just be the person to ask. The film defeats difficult second album syndrome with ease by drop-kicking it with high-octane action sequences, hilarity of many different kinds and Baby Groot. If you loved the first film then you'll already feel a degree of attachment to Baby Groot. By the end of the opening sequence it'll be true love of the cutest order.
I went into Guardians with fairly low expectations, as I loved the first one so much. However, I needn't have worried.
Guardians of the Galaxy Vol. 2 develops the stories of the core characters, and provides plenty of laughs. There have been some criticisms about the lack of giant boss battle, but I found that I really didn't care: I was invested in the characters, so I enjoyed the film a lot.
If you loved the first film, then definitely check this out.

In my opinion, this must be the film of the 2017. I am biased in the fact I loved the first movie, and have a bit of a crush on Chris Pratt. However, I feel like they smashed it with the sequel in every way possible. It's funny, action packed, and the story line follows on perfectly from the last chapter.You can watch this without watching the first chapter but I wouldn't recommend it, it's just so much more funnier when you know the back story.
I absolutely loved this. After the first film I worried that it'd come across as a tired reboot, but they've managed to still make it funny and fresh, and while not outshining the first it is a solid addition - can't wait for the third!
I think that rather controversially I actually preferred this sequel to the original movie. Don't get me wrong I really enjoyed the first movie, it was ace but this one was even more fun in my opinion. The characters gel together really well and seeing them all interact was more enjoyable than following the storyline to find out what would happen next. The soundtrack is good but I think the music in the first was a lot better. Overall I think the characters hold this film together but I also really liked the fatherhood story. The concept that has been covered many times of 'I may not be your biological father but I'm proud to say I am your dad' is always beautiful and to my surprise I almost got emotional at that scene in the film.
Really enjoyable silly movie. More of this kinda stuff please
I'm a fan of this film series! I thought the first one was really good and the second one lives up to the first one. It's cheesy but it's a big box office film, what do you expect?
If you've seen the first Guardians of the Galaxy, you know that it is not the typical super hero film but for me the first one is actually the best one ever. So as you can expect I was very keen to see volume two.
It is a very entertaining, funny and action packed film BUUUT sometimes it goes a bit too far and becomes way too cheesy.
Regardless I really enjoyed it and would recommend it to all the geeky friends and super heroes fans out there.
PS: Baby Groot is ridiculously cute
Guardians of the Galaxy 2, in my humble opinion, completely lives up to its first installment, if not surpasses it. Certainly, by giving Drax an increased amount of screen time, it comes close.
I very much enjoyed the fact that we were less focused on the supervillain and much more on characters and everyday lives. Everyone gets more time on screen and I felt like I got a chance to get to know each of the team members individually. That takes skill, especially when the first Guardians was so well constructed.
Saying that, I believe the sequel surpasses the first in its original approach to the story. The plot (spolier alert) of Peter's dad and his murderous, evil plans are really just there to have a reason to make a film - otherwise it's character development that carries that film, with insanely good humour and atmosphere. I already thought, based on the first film, that Guardians is one of the most entertaining and original Marvel storylines put on screen - even though it sounded like it'll be just a weak attempt at first - and this sequel just goes to show.
Every character is well acted, the story stands on its two feet but doesn't become tiresome and well, the music is... awesome. Anyone who dares say they didn't instantly look up the soundtrack on Spotify as they were leaving the cinema is lying.
I'm very hard on comedies - it takes a lot to make me laugh properly (only the likes of Wayne's World are capable), but Guardians is going on that list!
This is a really fun movie, with a good storyline and some really amusing moments. Baby Groot steals the movie and makes the opening credits so adorable. Drax's comments to Mantis are often hilarious too. There are a few threads to the plot, where the main story seems to break into two – Rocket's capture and bonding with Yondu and Quill learning more about his father and his mysterious planet. All this happens whilst Gamora learns more about her relationship with Nebula. I love it when characters aren't always straightforward good and bad. As expected there's loads of action (bit cartoony in places due to the CGI) but this seems to fit the comic book style it's adopting. As before references to the 80's especially regarding Knight Rider was fun. This is a fun movie with a non-taxing plotline.
I already loved the first volume but Guardians of the Galaxy vol. 2 is absolutely hilarious! Even though this movie is a lot more based on emotions and love / family stories, there's a tone of great jokes and (as usual) some amazing songs!
This movie is perfect if you need to watch something relaxed, not too complicated and fun!
Tips: if you're going to the cinema to watch it, make sure you stay until the end!