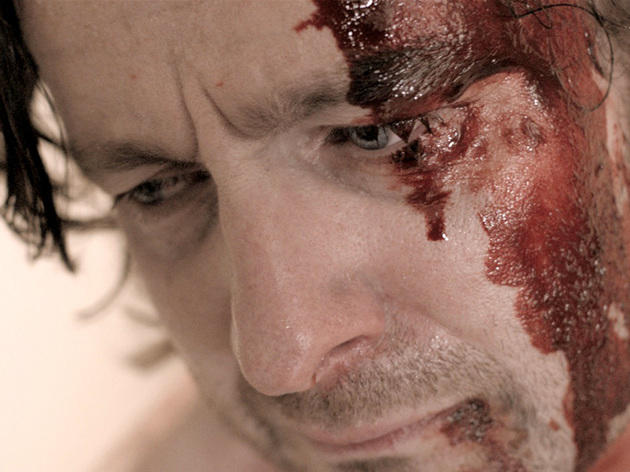 On the surface, the London-set crime thriller 'Hyena' has moving parts familiar from the workings of many a murky cop film: a dodgy policeman and his even dodgier boss; an unscrupulous civil servant; brutal Albanian drugs dealers; and a helpless female victim of a sex trafficking ring. But in his follow-up to his seedy serial-killer study 'Tony' from 2009, writer-director Gerard Johnson manages to put his own vivid stamp on familiar material. He moves beyond dirty realism to a heightened intensity that's appropriate for the misadventures of these coked-up bad lieutenants dangerously out of control.
Peter Ferdinando's Detective Inspector Michael Logan is a man apart – the alpha male in a police unit whose members happily skim a percentage off the gangs. Logan is a keen participant in blunt-instrument takedowns and powder-fuelled carousing, yet he also retains enough of a moral centre to feel uneasy in his own skin. He's also moved by the plight of young Ariana (Elisa Lasowski), a vulnerable pawn in the hands of ferocious blade-wielding Albanian crooks. Ferdinando played the title role in Johnson's 'Tony' and could recently be seen as a flesh-crawlingly sinister inmate in 'Starred Up'. Here, he's a revelation: sleazily believable in the worst of company, but always illuminating his character's inner turmoil without a hint of preening display.
With other story threads involving dubious police colleague Stephen Graham and Richard Dormer as a steely internal investigator, Johnson writes himself more plot than he can squeeze in, which causes the film's pace and tension to sag. 'Hyena' is at its best, though, when Ferdinando's mesmerising turn works hand in hand with both Matt Johnson's ominously effective electronic score and the direction's adept battery of balletic slo-mo, neon colour washes and giddy tracking shots – all recalling the Hong Kong heyday of John Woo and Ringo Lam.
'Hyena' is startling, claustrophobic and penetrating in its analysis of the blurred lines involved in doing good. And in once again showcasing the talents of Peter Ferdinando and Gerard Johnson it announces the arrival of a British acting and directing partnership to reckon with. It's the most powerful homegrown crime flick since 'Sexy Beast'.
Release details
Release date:
Friday March 6 2015
Duration:
112 mins
Cast and crew
Director:
Gerard Johnson
Screenwriter:
Gerard Johnson
Cast:
Peter Ferdinando
Stephen Graham
Neil Maskell

Rating Breakdown
5 star:

1

4 star:

4

3 star:

1

2 star:

0

1 star:

0
Hyena is a gritty insight into the underworld of the London crime scene. Everyone portrays to be as hard as nails and crooked at every opportunity. Some really great acting with graphic violence. Overall very enjoyable.
The West London battle between the forces of good and evil features Turks who lose out to evil Albanians who then progress to the next round to take on the evil cops. There isn't a single character who you feel much sympathy for at all and that's the point, you'll leave this film feeling the world is a pretty grim place where even the cops are scum on the take. I disagree with the Time Out review, the main cop Michael Logan is pushed into a corner where he has to recover the cash he has invested in the Turk's "route" and at the same down bring down the 2 Kabashi brothers, he takes in poor Ariana not because he has some last remaining vestige of decency at his core but because he needs the information he believes he can extract from her. The music, particularly the soundtrack playing over the finale is compelling. Methinks the Ladbroke Grove Tourist Board didn't co-finance this film. I sympathize with the comment in another review about the clarity of the dialogue, scumbag cop Keith the scouse is particularly hard to understand.
All in all we loved the action, the landmarks, the tension and the violence, cracking film.
Seeing it from the perspective of a person whose first language is not English, I could not understand half of what the cast were saying in their regional accents. However, there is no need to understand the words. You get the whole idea of what's going on just by watching, scene after scene, trying to decide who is worse the gangsters or the cops. Lots of blood, body parts, a rape that verges on necrophilia, wish there was a proper "Hollywood" ending however giving the viewer closure rather than leaving the viewer to make it up by oneself.
Roller coaster ride of a film. Gritty and hard as nails realism. A crime drama as they should be, at its best. Loved it!
Watched the Time Out Card preview. Hyena is a harsh, intense and with a well paced soundtrack, you are left uneasy in moments. Just how a crime thriller should be. The build up of some characters is unnecessary and with this gritty thriller, the need for some realism was left behind and the emotions of the gangsters are fed to us instead. You are brought into the horrific scenes and gory violence that goes hand in hand with the issues talked about. A brilliant performance from Shuka, Ferdinando and Stephen Graham.
If you like your UK crime gangster thrillers, watch this.