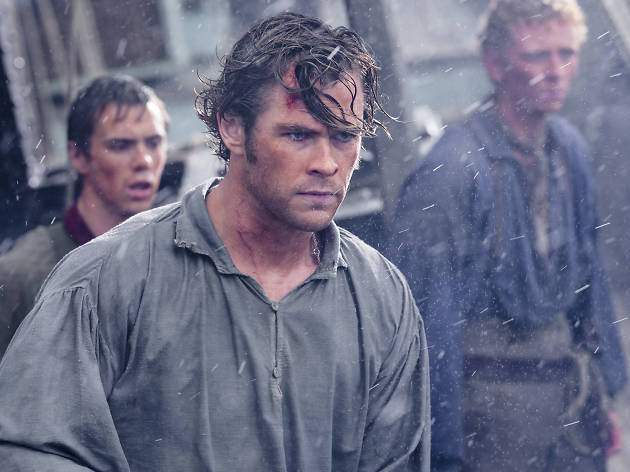 When Chris Hemsworth starts waving his harpoon around, this lively tale of eighteenth-century whale-hunters is hard to resist
'Have ye seen the Great White?' 'Aye, Cap'n, he's right there, clambering up the rigging with his shirt off!' This salty seagoing adventure – based on the true(ish) story that inspired 'Moby Dick' – may sell itself as a 'Jaws'-in-pantaloons tale of historical animal horror. But the real star of the show isn't a CG whale but Chris Hemsworth's strapping six-pack, as he rampages about the high seas harpooning everything in sight.
In adapting the legend of the Essex – a Nantucket whaling craft that foundered in the Pacific after a run-in with a particularly aggressive leviathan – Ron Howard clearly thinks he has a story that will appeal both to history buffs and action-movie enthusiasts. So he's steeped his film in period detail – maritime command structures, sailors' legal obligations, the price and importance of whale oil – but is perfectly happy to drop all that at the first chance of a good, manly, hull-splintering set piece.
It's a strategy that doesn't always pay off. The dramatic scenes feel a touch overcooked, and there are moments where it feels like a particularly high-end school play, with everyone shouting 'avast!' and 'ahoy!' like they really, really mean it. The action, though, is consistently impressive: when man and beast go toe-to-tail, your timbers will be well and truly shivered.

Release details
Rated:
12A
Release date:
Saturday December 26 2015
Duration:
121 mins
Cast and crew
Director:
Ron Howard
Screenwriter:
Charles Leavitt
Cast:
Chris Hemsworth
Cillian Murphy
Brendan Gleeson

Rating Breakdown
5 star:

0

4 star:

0

3 star:

3

2 star:

0

1 star:

0
Just seen the film and much as I enjoyed the action sequences despite the sea-splashed camera lenses the whole thing lacked any central spine. Yes, the voyage to kill lotsa whales was great and the jack tars on the ship were all interesting. Then, when the avenging sea mammal had smashed everything going , the film wandered off into other unfocused sub-plots, Cast adrift in an open boat...find land ahoy...eating each other...etc, etc. it all went into a confused mess. The capn and first mate become friends and then have to give evidence at the inquiry. The nasty capn who has now become a really good bloke tells the truth and it all descends into a complete mish-mash. Nevertheless I give it three stars cos the whale was f***ing terrific.
Should you find yourself cast in the midst of a million dollar cgi nautical turkey, the best option is probably to turn the ham acting up to 11 à la Russell Crowe in Noah. Except no-one does. Because there's little discernable script. So instead we are presented with two hours of Hemsworth's mono-expression and much overdone fake lens flare/waterdrops on the camera just so we dont forget that they're, like, at sea. Even ben whishaw cant muster the enthusiasm to flutter his eyelashes. Low expectations required. 6.5/10