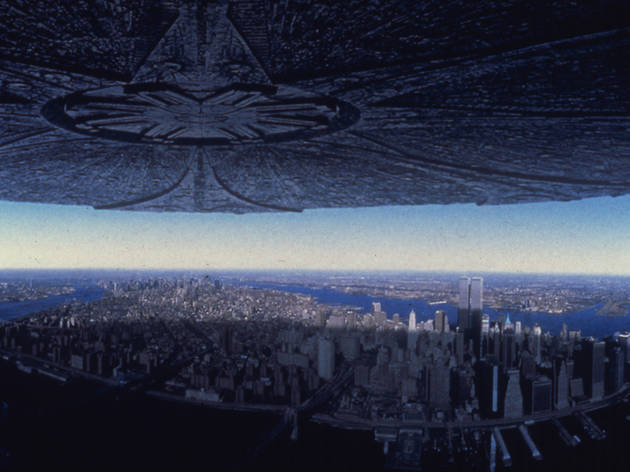 Time Out says
Act I is an Anarchists' Ball. Massive metal spaceships loom over the cities of the world. The destruction of the White House is just for starters. Annihilation of the human race is on the agenda. US President Pullman, a wimp ex-fighter jock, listens to communications expert Goldblum (only in a Rupert Murdoch film could a TV exec save the world!). Act II, the survivors regroup at a secret military base in New Mexico to organise Act III, the fightback. Emmerich's globe-buster is an index of American populist fantasy. Forget subtext. This scrappy, spectacular, juvenile remake of War of the Worlds and 101 other sci-fi movies can be taken at face value. It's not about Them, it's about US: At least this America is strongly pluralist; it's black (Smith as the heroic top gun); it's Jewish (Goldblum and Hirsch as comic relief); it's even a little bit feminine - though Fierstein, Margaret Colin, et al, are really just emotional punctuation marks. The politics cut both ways, balancing pro- and anti-government impulses with Pullman as a vaguely Clinton-esque figure in the middle, pacifist by inclination, warrior by experience. Everything feels anti-climactic after the fireworks, but the moral is clear: it's the end of the world as we know it. And we feel fine.
Details
Release details
Cast and crew
Director:
Roland Emmerich
Screenwriter:
Dean Devlin, Roland Emmerich
Cast:
Robert Loggia
Harvey Fierstein
Will Smith
Jeff Goldblum
Vivica A Fox
Harry Connick Jr
Mary McDonnell
Margaret Colin
Bill Pullman
James Rebhorn
Judd Hirsch

Rating Breakdown
5 star:

2

4 star:

0

3 star:

0

2 star:

1

1 star:

0
I started watching it with great expectations. But...I was sadly disappointed. For a start it was far too long. At over two and a half hours, I felt myself fidgeting around and losing my attention well before the end. The only saving grace this film had was the special effects. They were great - giant spaceships casting enormous shadows over cities and buildings, metropolises being destroyed and nuclear bombs in space. However, these lose their lustre after about the first thirty minutes to an hour or so. The characters are cardboard cutouts and so boring and cliched they cannot be believed. The script is lamentable and enough to make you wince (or retch), such as "Up yours, asshole!" as the crop-duster destroys himself in order to save the world, and "Happy 4 July, Daddy" from one cute kid after the alien threat has been destroyed. "Happy 4 July, munchkin," is the reply. It is badly paced, and there are long yawning gaps of tedium between the action sequences, of which there are not nearly enough. As a science fiction fan, I really thought I would enjoy this film - instead, I would recommend to anyone, just watch the first 45 minutes and the last 15. I give it 2 stars just for the special effects.