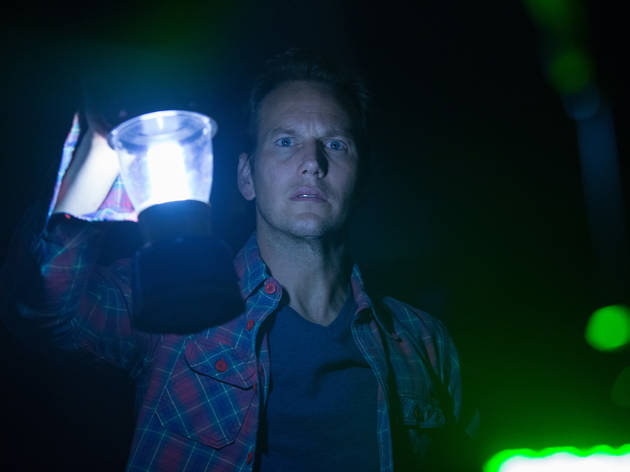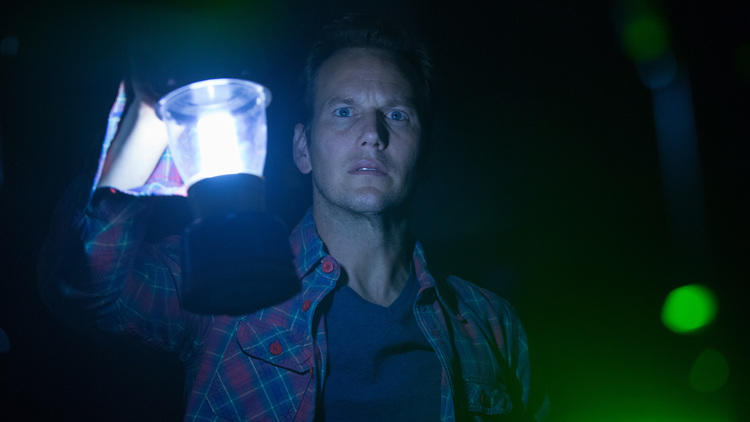 Even if you succumbed to the dog-eared scares of 'The Conjuring', you'll struggle to find magic in this calamitous sequel to director James Wan's earlier, sillier haunted house movie, 'Insidious'. Picking up exactly where the original left off, 'Chapter 2' simply moves Josh (Patrick Wilson), Renai (Rose Byrne) and their kids to Josh's mother's house, where the ghostly apparitions, spooky baby monitor sounds, deafening noises and laughable nonsense start all over again. Josh has returned from demonic parallel realm The Further, but has he inadvertently brought something evil back with him? Frankly, who gives a toss? Wan's cattle-prod shocks will have you jumping – but his box of tricks is running low. Prattling ghost hunters Specs (Leigh Whannell) and Tucker (Angus Simpson) are mildly less infuriating than last time, but the male medium who uses lettered dice to contact the spirits has inherited their idiot mantle. For all but the most forgiving horror fans, this is a lazy, stupid and incoherent failure.
Release details
Rated:
15
Release date:
Friday September 13 2013
Duration:
105 mins
Cast and crew
Director:
James Wan
Screenwriter:
Leigh Whannell
Cast:
Rose Byrne
Patrick Wilson
Barbara Hershey

Average User Rating
1.9 / 5
Rating Breakdown
5 star:

0

4 star:

0

3 star:

1

2 star:

1

1 star:

0
This reviewer is a complete idiot. He should be fired from this job and sent back to pre-school.
I was pleasantly surprised to find that the Prince Charles Cinema (voted London's best cinema for good reason), was holding a surprise FREE double bill screening of Insidious and an advanced screening of Insidious: Chapter 2 (not expected to be released until September 13 in the UK). The cinema, safely hidden between China Town and Leicester Square, had announced on Facebook just two days earlier that they had free tickets to give away from the eOne Film Studio. The tickets were offered on a strict first-come-first-serve basis to the first 100 customers who lined up for the 18:15 showing on Wednesday 28. The folks at Prince Charles Cinema were also kind enough to add the extra incentive of free drinks and popcorn to whoever attended the showings. Sounds like a great idea initially, but it hurt the overall experience for some. As someone already pointed out on Twitter. There were free popcorn packets on every seat, which you could hear every viewer taking advantage of throughout both film showings. In addition to the usual crisp packets and fizzy drinks being opened. I also just happened to be sitting behind perhaps the most drunk viewer in the screenings, who also just happened to laugh the loudest at all the wrong moments, giving the rest of the audience the confidence to laugh along to both films for the next 3 to 4 hours. He was essentially the 'class clown' of the group, encouraging everyone to laugh along with him. This was my first experience of the 'Insidious' films, by director James Wan of the 'Saw' franchise, which I greatly enjoyed. Honestly, I'm glad the films were screened for free though, as I couldn't connect with the films as much as I hoped I would. I would like to say it was largely due to the sounds of the audience taking me out of the film, but the films themselves were not very engaging. 'Insidious' (2010), starring Patrick Wilson and Rose Byrne, is a Haunted House Horror film which focuses on a son of the starring couple falling into a 3 month coma, which they find is caused by supernatural, nefarious influence. A common tool horror movies usually employ is using the sounds, and lack thereof, to 'scare' the audience and make them jump, but it wasn't used very effectively this time around either. However, I did like that the films took the 'haunted house' sub-genre a step further than other films, like 'Paranormal Activity' franchise, actually delving into the spirit world and having us follow our pov characters there too. Although, I felt the film did suffer from a low budget. The spirit world, called 'The Further' in the films, wasn't visually appealing at all. Perhaps sensing that the fear aspect of the films was lacking, there was no shortage of genuinely comedic characters and scenes implemented into the main storyline. For the most part, in the form of comedy duo Tucker and Specs (portrayed by Angus Sampson and James Wan veteran, Leigh Whannel). The duo were legitimately good in their roles, injecting much needed comedy into scenes which would otherwise be uncomfortably or awkwardly un-horrific or fearful, as well as greatly amping up the action, tension or desperation of the situation at the very least. Honestly, I'm not sure if Insidious warranted a sequel in the first place, and considering how Chapter 2 ended, I'm sure there will be a third instalment in the near future too. I wouldn't personally recommend the film, but It would be an enjoyable watch, especially if you had legal and appropriate access to alcohol like we were offered.