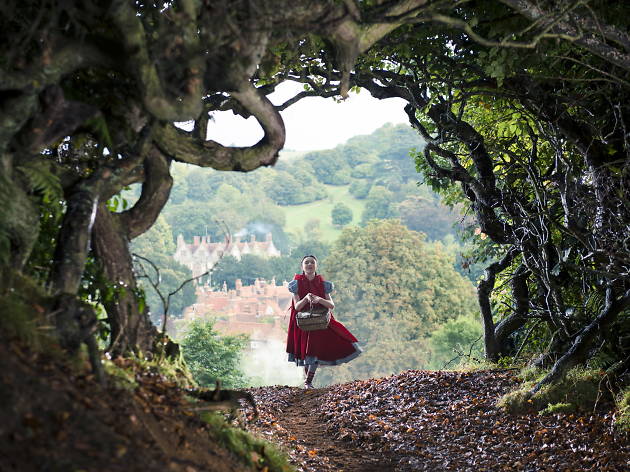 Time Out says
If you go down to the woods today… you'll find A-listers dressed like 'Game of Thrones' extras belting out showtunes. 'Into the Woods', the 1987 fairytale mash-up musical by Stephen Sondheim and James Lapine, has fallen under Disney's spell, getting the lavish big-screen treatment courtesy of 'Chicago' director Rob Marshall. It's unspectacular but fun, and perfectly in line with Disney's current thing for reimagining fairytales (next up, 'Cinderella' in March).

Meryl Streep continues her finest-actress-of-her-generation-behaving-badly streak by playing The Witch, who casts a spell of childlessness on the village baker and his wife. To break the curse the couple must bring her Rapunzel's golden hair, Little Red Riding Hood's cape, Cinderella's slipper and a white cow belonging to Jack (of beanstalk fame).

Streep must have watched 'Tangled' on repeat, channelling Mother Gothel's pissed-off hippie mom routine. It's a tongue-in-cheek performance, but the favourite for this year's Oscar for Best Fairytale Evil Bitch must be Angelina Jolie and her killer cheekbones in 'Maleficent'.

Elsewhere, casting-wise, the only grumble is that it's all a bit obvious. Anna Kendrick brings her all-round awesomeness to Cinderella. As The Wolf, Johnny Depp is creepy as only Johnny Depp can be. Emily Blunt is spot-on as the baker's wife. The only surprise is James Corden – the most unlikely Brit actor to have a Hollywood moment ever – playing the heart-of-gold baker.

'Into the Woods' starts better than it finishes but it's a great-looking film, with a nicely old-school, easy-on-the-CG feel. Marshall neatly balances the comedy with a few thorns – witness Cinderella's mean stepsisters (fabulously dressed in couture vixen goth frocks) getting their eyes pecked out by birds. And so much for happy endings for everyone: one character is flattened by a giant.

Still, there are no earworms you'll be humming for weeks, just a hilarious number sung by Prince Charming, played brilliantly by Chris Pine as a camp, feather-brained lunkhead. The look of sheer dumbfounded confusion when Cinders runs away from him is priceless. And he gets the best line: 'I was raised to be charming, not sincere.'
Details
Release details
Release date:
Friday January 9 2015
Duration:
0 mins
Cast and crew
Director:
Rob Marshall
Screenwriter:
James Lapine
Cast:
Meryl Streep
Anna Kendrick
Johnny Depp
Chris Pine

Average User Rating
3.3 / 5
Rating Breakdown
5 star:

1

4 star:

1

3 star:

0

2 star:

0

1 star:

1
I've watched 'Into The Woods' five times and I still love it even more.
It's definitely on my favourite movies list.
It has mystery, it has charisma, it has the right amount of drama and it has excitement.
All the characters have a wish to fulfil.
Not all wishes are successful, but in time each and every character get what they deeply deserve.
This is what makes this movie so very magical.
They all become linked in a way in this enchanting world.
Their most deepest desire is mixed up with so many emotions.
Every character has a story to tell and each of their backgrounds is completely different. They are all famously known as characters we love from our childhood stories.
If you love fairytales, Disney movies and musicals, then you are going to love 'Into The Woods'.
It's like having all the great fairytale classics combined into one movie.
Who would of thought to create a movie that had the Little Red Riding Hood, the Big Bad Wolf, Jack from the beanstalk, Rapunzel, & Cinderella all in one fairytale.
They all did tremendously well to craft such a film. It all came together beautifully well, but for me Meryl Streep who played the Wicked Witch did an extraordinary, sensational job.
Her essence, her strength and her acting is incredibly captivating.
Her poise and the way she created this persona of the witch oozed star quality and her costume is to die for.
What a huge inspiration in my eyes.
Her dress looked extravagant, but evil. Extremely powerful and ravishing.
Meryl Streep can never disappoint in any role she takes on.
She gives it her all.
It all started with a curse from the Wicked Witch (Meryl Streep). She put a curse on the Baker (James Corden) and his wife (Emily Blunt), which left them childless.
For them to break the curse and give back the Witch's beauty and glamour, they must bring her back a white cow, hair as yellow as corn, a red cape, and a gold slipper.
They'll have to go into the woods to find it all.
Only with these peculiar things will the Baker and his wife ever have a child again.
You'll find out how the Witch lost her beauty.
You've got to see it.
You'll also discover who the cow, the hair, the cape, and the slipper belong to.
It's an everlasting circle of madness.
James Corden and Emily Blunt are fantastic. They both did a brilliant job.
They worked very well together.
It would of been nice to see more of the Big Bad Wolf (Johnny Depp).
His role was actually quite interesting.
I enjoyed listening to the soundtrack of the movie. I have to agree that the singing isn't the best in the world, but it's a musical.
We are not all born to sing like Lady Gaga for example and she has one of the best voices in the world.
Fall in love with all the enchantment of 'Into The Woods'.
#TOTastemaker
Love MD.
Oh dear. What a long, dreary evening. Lots of big names, bashing out big but uninteresting songs with a plotline that left me stone cold. Lots of self-congratulatory comments from those around me when it finished about how glad they had seen it and "isn't Sondheim amazing?" . Well, I am sorry. No. The whole contrived mess made me wish I had taken a punt on the screen next door. One of the worst movies I have ever seen.