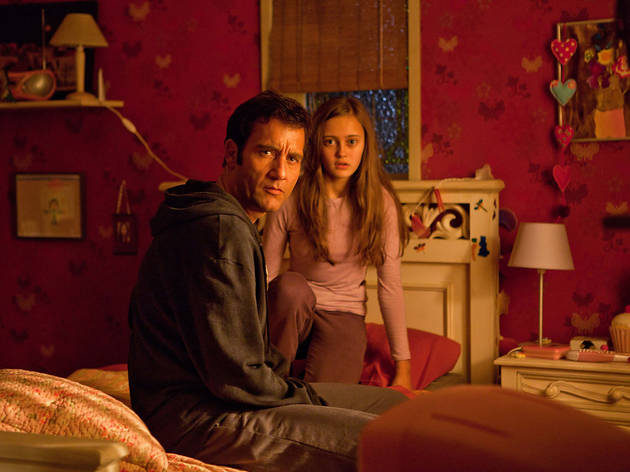 This supernatural thriller from Juan Carlos Fresnadillo ('Intacto', '28 Weeks Later') baffles and infuriates on so many levels. Firstly, it's a Spanish-British co-production in which Clive Owen and Dutch actress Carice Van Houten play a married couple living in the UK and speaking in English, although the latter sometimes sounds as if she is taking a second stab at the wavering Irish accent she essayed as the witch in 'Black Death'. Meanwhile, the Spanish strand of the story features sub-titled Iberian actors speaking their native lingo – although these include Daniel Brühl, who, while born in Barcelona, was raised in Germany and is best known for playing the son in 'Goodbye, Lenin!'. Furthermore, Fresnadillo cannot make up his mind whether he wants this to be a multiplex-friendly horror movie focused on a hooded monster named Hollow Face or a more subtle emotional fable about two children whose made-up stories and darkest fears conjure up and feed a faceless killer.
Even more confusing is the script by Nicolás Casariego and Jaime Marques, whose parallel stories are meant to mirror and meet each other, but which quickly become repetitive and annoying. What the co-writers never make clear is that the two stories are taking place in completely different time frames. Unable to cope with the nocturnal invader that the fevered imaginations of 12-year-old Mia (Ella Purnell) and her Spanish counterpart, Juan (Izán Corchero), have written into existence, her parents and his single mother resort to, respectively, a Catholic priest (Brühl) and a sceptical shrink (Kerry Fox). But as these parallel supernatural mysteries begin to meld into one another, all semblance of credibility dissolves, leaving behind an impenetrable and frustrating fog of unanswered questions.
Release details
Release date:
Friday January 27 2012
Duration:
0 mins
Cast and crew
Director:
Juan Carlos Fresnadillo
Cast:
Clive Owen
Daniel Brühl
Carice van Houten

Average User Rating
2.5 / 5
Rating Breakdown
5 star:

0

4 star:

0

3 star:

1

2 star:

0

1 star:

0
This is not nearly as confusing as Nigel Floyd insists. SPOILER; the co-writers DO make it clear that the two stories are taking place in completely different time frames. An intriguing horror which leaves a lot to the imagination.