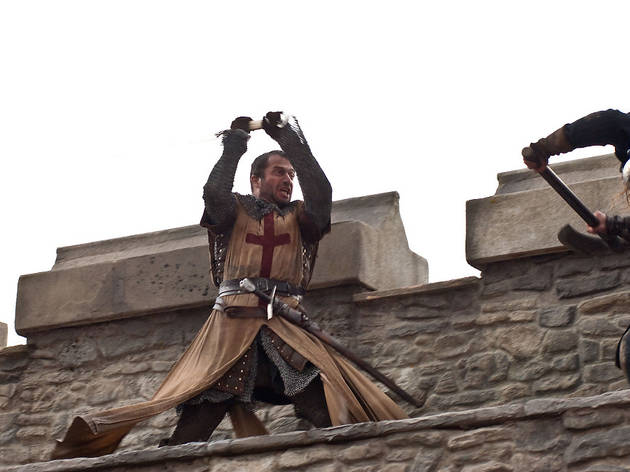 Action anti-hero James Purefoy's follow-up to 'Solomon Kane' is a medieval siege tale that pits his atrocity-haunted Templar Knight, Marshall, against a maniacal King John (Paul Giamatti, over-acting insanely). Livid about being forced to sign the Magna Carta, granting rights and freedoms to his subjects, the vengeful king is determined to seize back absolute power. Only Rochester Castle stands between his mercenary army and London; it is here that Marshall, the rebellious Baron Albany (Brian Cox), the ambivalent Reginald de Cornhill (Derek Jacobi) and a brave few hold out against all odds. Walls and portcullises are breached; siege towers and fireball-flinging trebuchets are deployed; long swords and axes hack through human flesh. But despite a welter of brutal, blood-drenched action, writer-director Jonathan English's over-stretched two-hour film – with its pedestrian storytelling, messy fight scenes, ugly digital photography and ropey CGI – long outstays its welcome. One has to admire the spirit of this independent production, which aims for the sweeping spectacle of 'El Cid', but it falls way short of its epic ambitions.
Release details
| | |
| --- | --- |
| Rated: | 15 |
| Release date: | Friday March 4 2011 |
| Duration: | 121 mins |
Cast and crew
Director:
Jonathan English
Cast:
Derek Jacobi
Charles Dance
Jason Flemyng
James Purefoy
Paul Giamatti
Kate Mara
Brian Cox
MacKenzie Crook

Average User Rating
3.3 / 5
Rating Breakdown
5 star:

0

4 star:

2

3 star:

1

2 star:

0

1 star:

0
This is a really cool film - gritty with tough as nails action sequences and strong performances all round. Purefoy keeps it lean and mean as the templar who rallies a disparate band of soldiers and psychos against a marauding Danish army while Giamatti hams it up well as the scheming King John. The pacing is good and the final third of the film ramps up the action and tension with real gusto. Quite how the Time Out reviewer only gave this 2 stars is beyond me! I watched this in hi-def and didn't notice any problem with the CGI and as for "pedestrian pacing" - WTF? Maybe films like Crank are more suitable to the Time Out reviewer.
I thought this film was excellent. I was watching it on the small screen so didn't even notice the bad CGI. As to the 'ugly digital photography', I think it was intentional. The film is not supposed to show rosy looking vistas. Medieval England was ugly as balls! Anyway, the film has great action with people getting bits chopped off every five minutes. Purefoy was good in the central role and there was also a good supporting turn from Brian Cox (the busiest man in Hollywood). If you liked Kingdom of Heaven, Braveheart or Rob Roy you should like this too.
I thought it a decent effort. Sure there are a fair load of crappy bits (esp. the cgi in the collapsing castle wall scene) but all in all id happily watch this again so deserves a 3*