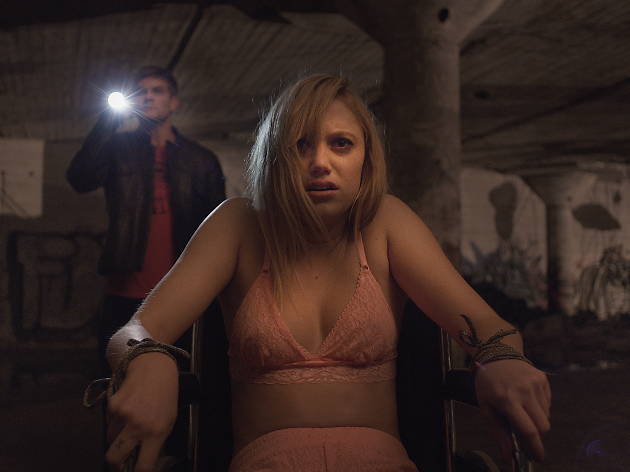 Time Out says
In this age of torture porn, ironic distance and daily real-world outrage, can cinema still offer up an authentically frightening experience? Welcome to the answer. For his second feature after gentle teen comedy 'The Myth of the American Sleepover', American writer-director David Robert Mitchell has produced the most unexpected and downright unnerving fright flick in years, a film which riffs smartly on the classics while adding something ineffable all of its own. Imagine the nightmare of 'Under the Skin' set on Elm Street.
We open in the heart of Michael Myers country, a down-at-heel American suburb populated by long-limbed teenage girls and their scruffy, oversexed male admirers. When Jay (Maika Monroe) makes the mistake of surrendering to one of the aforementioned, she finds herself followed by a mysterious, slow-moving presence that can assume any human form.
And that's essentially it, plot-wise: like 'Candyman' and 'The Ring' – both clear influences – 'It Follows' possesses the folklorish simplicity of an urban legend, with the added spice of an unsubtle but smartly deployed STD metaphor. But it's in style and tone that the film comes alive, its prowling, dreamlike atmosphere, down-to-earth performances and unerring visual confidence echoing early Terrence Malick or the best of Harmony Korine.
It's impossible adequately to describe the haunting intensity of 'It Follows': this is a film that makes a virtue of silence, that lives in the shadowy spaces between the splattery kill scenes that punctuate your average stalk-and-slasher. Like its enigmatic monster, it's both passive and relentless, familiar and terrifying, predictable and shocking – and impossible to shake off.
Details
Release details
Release date:
Friday February 27 2015
Duration:
107 mins
Cast and crew
Director:
David Robert Mitchell
Screenwriter:
David Robert Mitchell
Cast:
Linda Boston
Caitlin Burt
Heather Fairbanks
Maika Monroe

Average User Rating
2.8 / 5
Rating Breakdown
5 star:

2

4 star:

1

3 star:

2

2 star:

1

1 star:

3
Quite an edgy but ultimately unsatisfying film. However it is quite restrained and it relies heavily on mood (great score music) rather than those jolts in most supernatural flicks. Although it has a nice 70/80's touch ala Carpenter and DePalma, it doesn't deliver the knockout punch like some great shockers do !!!. A fairly good film and just about worth seeing but my advice is to lower your expectations if you've been reading the better reviews it has been given.
This is yet another example of a mediocre movie which, for whatever reason, the great League of Professional Critics has decided is some sort of monumental game-changer. This moody teen chiller is not without merit but is far, far from the perfect piece that the OTT 5 star and 10/10 ratings are attempting to suggest. Go see it, judge for yourselves....just don`t believe the hype.
Another 100mins of supposed movie magic I'll never get back ...
I thought this was supposed to be the most scary film ever?
One you should only see in a very crowded cinema - I don't think so ....... and not that horror movies are my thing but in no way does it come anywhere to a Lynch or Carpenter
And the end of the movie was a total cliché .... who do I need to see to get a refund?
Unoriginal and unintelligent, this unfrightening film seems to have been given credit for style when in fact it's just amateurishly made. The only unsettling thing about it is the swathe of gushing reviews that overlook the complete lack of credibility, characterisation or narrative cohesion. The premise and modus operandi are absurd (and I speak as a fan of the genre who is used to swallowing the far-fetched) and the plodding direction and retro music (trying to ape Halloween) ensure that any potential scares are signposted well in advance. By the time of the ridiculously inept swimming pool scene I had given up on it and started to really resent the hype.
First of all i am not a horror/paranormal fan but i saw this at unseen cinema so had to give it a go. The film has a definate 70's feel to it anda soft focussed badly lit feel to it. Every time theyentered a room or building it was so dark you could hardly see a thing. Perhaps this was to add to the tension but it went straight over my head to boring. The dialogue was wuiet and stilted full of awkward silence or annoying music again to set the tension even when there wast any. Again it was boring. By the end i was nearly asleep but hoping for a brilliant finish. We were all very disappointed. Not to put to much of a dampener on it there was simply no end. The scriptwriter the cast and by then probably the 'entity' had lost the will to live and simply ended it. Now i dont know about you but if i am going to be scared i want a rip roaring ending to remember and not an 'is that it? you have to be kidding me!' One disaointed isnt the word!
Thanks Tom your review is spot on and a big relief. I had begun to lose hope in Time Out's reviews of genre films because there was a time when it helped break careers of such genre maestros as John Carpenter and David Lynch. Recently it seems to have become a bit adrift in that area. But you are so right, this is an absolutely epic debut: haunting, scary and insightful. The direction is flawless, it creates (as all truly great genre films should) its own world and the soundtrack is brilliant too. I would say it is the most evocative horror about the American suburbs since 'Halloween' (less sure about 'Candyman' but maybe). As regards Jocelyn's post I can only conclude her screening was suffering major projection problems. I have rarely seen such luminescent images. The film richly deserves its many awards