It's Kind Of a Funny Story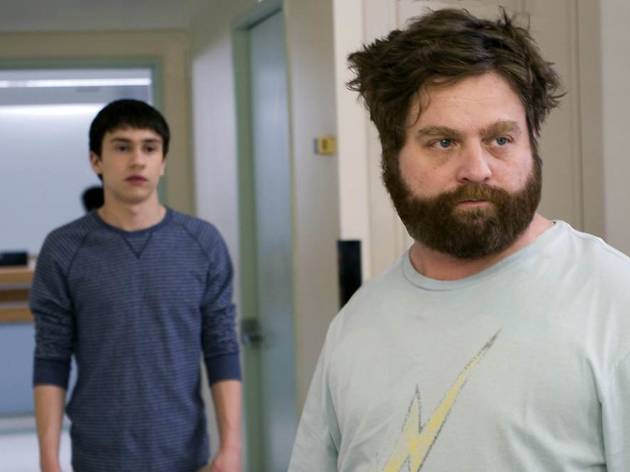 This is something of a saccharine sucker punch from the acclaimed writer-director team of Anna Boden and Ryan Fleck whose career so far has consisted of two films of immense grit and integrity: 2006's 'Half Nelson' and 2008's 'Sugar'. Adapted from a novel by Ned Vizinni, 'It's Kind of a Funny Story' marks the first time the pair have not worked from their own material, and the lack of an authentic connection to the characters and story is palpable.

Set over a single week in a surprisingly charming, clean and hospitable New York psychiatric ward, the film monitors the mildly volatile mental health of preppy weed Craig Gilner (Keir Gilchrist) as he trades indie-lyric platitudes with shouty nutbag Bobby (Zach Galifianakis) and nervously woos self-harmer Noelle (Emma Roberts). It's a light comedy of teen dysfunction that soft-peddles complex insight in favour of breezy sentiment, simple plotting and musical interludes.

There are a few traces of old Boden/Fleck to saviour, such as the dreamy Broken Social Scene soundtrack and the pleasingly laid-back performances from the cast. But this feels like a more anonymous work, one for which the pair have opted to test out the neat new toys their inflated budget has afforded them at the expense of developing a visual style that feels fitting to this story and its concerns. The only real surprise is the casting of gangly oddball Jeremy Davies as one of the ward overseers and not one of the loonies. A pleasant movie, but no more.
Release details
| | |
| --- | --- |
| Release date: | Friday January 7 2011 |
| Duration: | 101 mins |
Cast and crew
Director:
Anna Boden, Ryan Fleck
Screenwriter:
Anna Boden, Ryan Fleck
Cast:
Keir Gilchrist
Zach Galifianakis

Average User Rating
3.8 / 5
Rating Breakdown
5 star:

0

4 star:

1

3 star:

0

2 star:

0

1 star:

0
How did the same people who made 'Sugar' come to make this crud and why on Earth would they have wanted to?! The reviewer calls it 'anonymous' and it absolutely is. It's stuffed with cliche. The most disappointing thing about it - and there isn't much that's any good; can't really think of a thing - is its horrible short-windedness. Family and friends visit the in-patient just long enough to have 4 to 6 sentence exchanges of dialogue and then leave so that the film can move to its next unrewarding scene. All conversation is merely functional. None of the characters are believable or rounded. I went to see this because it was by Anna Boden and Ryan Fleck but it's just a common-denominator comedy-by-numbers. A lame film from people I thought were skillful. A real pity.
I saw this at the LFF last year and whilst I can see where this reviewer has come from I took a more positive look on the film. Yes there's nothing new here, you can predict what's going to happen and watching anyone acting as mentally unstable can be a bit cringe worthy particularly in comedies. All that said though I really enjoyed it! There's one particular music scene (sound track is great too!) that had me grinning ear to ear and I left the cinema with a big smile on my face. Basically if you like indie-esque comedies then you should like this, and it isn't as smug as the majority of this genre.