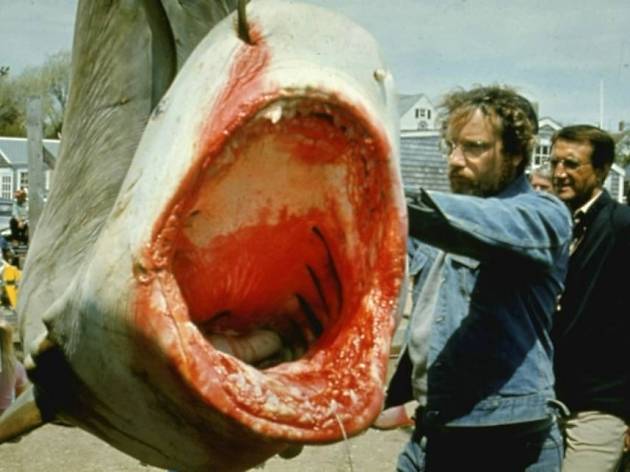 Time Out says
Is there such a thing as a perfect film? One that knows what it wants to achieve and does it, flawlessly, artfully and intelligently? If so, then 'Jaws' is as good a candidate as any. Thirty-seven years on (and reissued in a new HD print), this tale of an island community terrorised by a killer shark still feels timeless and terrifying. The characterisation is precise and acutely observed (it's one of the great guys-on-a-mission flicks), the dialogue is witty and wise, and the plot fits together like a finely crafted watch. The performances – not just leads, but the kids, townsfolk and the grief-stricken mother too – are impeccable. Best of all is Steven Spielberg's direction: the camera moves like a predatory animal, gliding eerily across the surface of the vast Atlantic, creating sequences of almost unbearable suspense (never mind that the scariest scene was shot in a swimming pool). It's no wonder a generation of holidaymakers still thinks twice before stepping into the water.
Details
Release details
Rated:
12A
Release date:
Friday June 15 2012
Duration:
124 mins
Cast and crew
Average User Rating
4.6 / 5
Rating Breakdown
5 star:

3

4 star:

2

3 star:

0

2 star:

0

1 star:

0
Perhaps one of the most complete films I have ever seen: thrills, spills, light comedy, drama, tension, gore, singing and a very satisfying ending (although to be honest I had an awful lot of sympathy for the poor old shark, who was only doing what comes naturally!)
Spielberg did a wonderful job against all the odds (running over budget/deadlines, technical problems with "Bruce" the shark; script rewrites, problems with the weather, pressure from the studios, Robert Shaw's drunken and aggressive behaviour, especially towards Richard Dreyfuss off-screen); Verna Fields' editing is sublime, and John Williams' score is just the icing on the cake.
Can't believe this film is approaching its silver anniversary in a few years time; seems almost timeless and relevant.
Gripping though it is, Jaws is let down by the Hollywood sweetening of the novel. In the book, Matt Hooper has an affair with the sheriff's wife – and is 'punished' in the end by becoming shark-food. Richard Dreyfuss and Roy Scheider [great performance from this under-valued actor] swimming off together doesn't have the same power.
Also worth noting: the score for this movie is so central to its cinematic power that John Williams should get billing equal to Spielberg's.