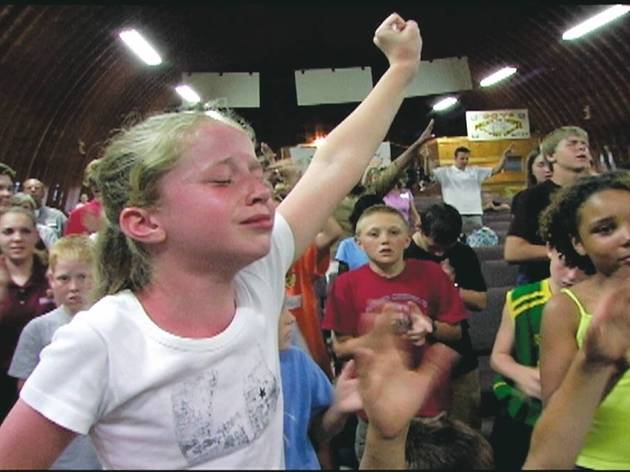 This brave, thoughtful documentary tells the disturbing story of Becky Fischer, a self-styled children's pastor who organises an annual Bible retreat with the intention of edging young Christians closer to God. Opening with scenes of children giddily proclaiming how much they love the Lord, it's soon evident that 'Jesus Camp' is only superficially interested in the methods of the American religious right. Its key concerns are with the susceptibility of young minds and the enthusiasm of some institutions to influence and exploit them to disseminate their own agendas. By cleverly using the religious milieu as its thematic base, the film subtly deals with the ways that children process and accept information and the potentially dangerous influence of advertising and the media.
Causing a fair amount of controversy on its release Stateside, Fischer, somewhat unexpectedly, stood by her representation in the film, claiming that it proves how passionate children can be when given the chance. While the articulate mutterings of these young zealots do present a semi-respectable case for this model of conditioning, the more you hear Fischer's calculated and slogan-filled vernacular, the more it feels like they're parroting meaningless and emotionally detached drivel. It's with these callous methods that Fischer unintentionally paints this outwardly benign institution as one based on ideals of hatred and aggression (the kids are often urged to 'go to war on…' or 'rise up against…' something), as opposed to love and acceptance. The film falters during its final scene as the outspoken, fanatical Fischer is pitched against a moderate Methodist talk-show host in a battle of wits redolent of Michael Moore and Charlton Heston.
Release details
Rated:
PG
Release date:
Friday November 23 2007
Duration:
84 mins
Cast and crew
Director:
Rachel Grady, Heidi Ewing
Average User Rating
4.5 / 5
Rating Breakdown
5 star:

1

4 star:

1

3 star:

0

2 star:

0

1 star:

0
5 stars and a thank you to who ever made this documentary. Watching Jesus camp broke my heart honestly. War is cruel, and scary. God is love and peace. He wants us to protect ourselves spiritually, physically and emotionally. Spiritually follow the good loving vibes. Physically, take care of your body. Emotionally only let postive thoughts stay in your mind. Going to war, your are spiritually draining yourself if you kill. Physically you are risking your body from getting hurt which causes pain. & also risking your own life.
Emotionally you can be left with devastating trauma. God doesn't want that for you. He doesn't want you to follow this path.
You are putting Yourself in danger. God wants you to put Yourself in peace. Help others, take care of the Earth we live in. Focus on the good things in life, the good things that will have you feeling secure and warm.
Ok it easy to say, soldiers are sent to war for they can protect the United states, but if the president had handed things a lot better, there wouldn't had been war with the U.S in the first place. God did not want War to start, men started it, by choosing wrong decisions. When I was younger I use to believe in everything adults would say. I was young and innocent. But now I believe in vibes. I don't follow or believe someone's saying, if it brings me fearful vibes. If a sinister would tell me you are preparing yourself for war, even as a child it would make me feel scared. That's my intuition telling me you are scared, don't follow this fear. These "Christians" are not letting their kids follow their hearts. They are blocking their intuitions, they don't let them be kids, they don't let them feel what their intuition is telling them, how? by brainwashing them. I see these kids crying, & I dont believe they are crying because they are feeling Gods presence, but because in the moment they are filling their hearts with fear. This fear can get so extreme, they start to believe it's God through them but it's not.
If going to A church makes you feel confused, uncomfortable or scared at one point follow your heart and walk away. Walk away from whatever brings you bad vibes. A church from God is meant to have you feel welcomed, joyful, & motivated to do good in this world.
Take care of your beautiful soul.
Saw it last week, American can be very freaky sometime. i recommend to watch it at least you will get an idea of religious fanaticism can be so misleading...