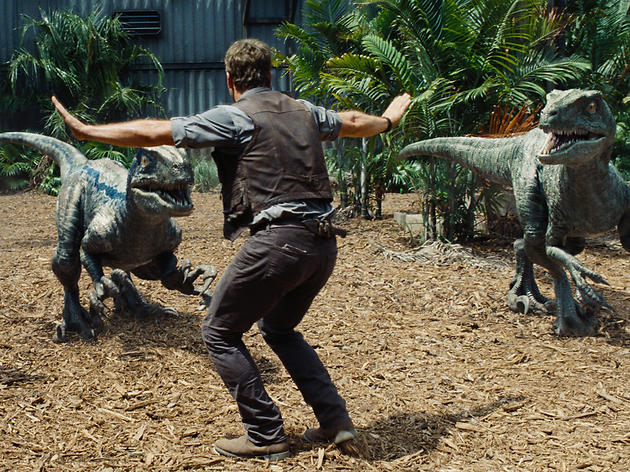 The fourth film in the series and the first in 14 years, 'Jurassic World' serves up another theme park and another bunch of knuckleheaded scientists cloned from the same strand of foresight-impaired DNA. It has absolutely no reason for being – except for the obvious – but at least it chomps through your time painlessly.

A fully functioning tourist attraction has flourished on Isla Nublar, complete with a Starbucks, a baby-dino petting zoo, crammed gift shops and huge crowds. You wait (not very long) for something to go wrong – for some fat American kid to get eaten – but apart from a scary 'The Birds'-like aerial raid of pterodactyls picking off folks on Main Street, there's little payback rained down on mallrat culture.

Instead, sequel director Colin Trevorrow ('Safety Not Guaranteed') is content to execute a poor man's 'Aliens': he's got his Ripley figure in Claire (Bryce Dallas Howard), a brittle park manager who blooms into a protective Amazonian mom; generically staged action sequences involving flares and bared shoulders; and an evil military motive represented by an extra-wide Vincent D'Onofrio.

Slickly enjoyable, the biggest misstep comes with puncturing original director Steven Spielberg's grandeur: 'Guardians of the Galaxy' star Chris Pratt, playing some kind of jokey animal trainer who lives in a trailer, turns velociraptors into docile dogs (a crime against classic cinema). Meanwhile, John Williams's trumpet fanfare is redeployed not at the sight of a towering brontosaurus, but at the park itself, packed to the gills. Subtly, the movie celebrates not science but money, and its own stubborn refusal to succumb to extinction.
Release details
Release date:
Friday June 12 2015
Duration:
130 mins
Cast and crew
Director:
Colin Trevorrow
Screenwriter:
Colin Trevorrow, Rick Jaffa, Amanda Silver, Derek Connolly
Cast:
Chris Pratt
Bryce Dallas Howard
Jake Johnson
Vincent D'Onofrio

Average User Rating
3.5 / 5
Rating Breakdown
5 star:

1

4 star:

9

3 star:

3

2 star:

1

1 star:

1
This was a fun film, but would have been more fun had the velociraptors been chicken-sized like they were back in the day.
The film admittedly doesn't have much story but you don't really need story if you're watching this having grown up with Jurassic Park, you just wanted to see people run away from dinosaurs. And it delivers. It's a shame the main adult characters were pretty bad stereotypes (business woman who just needs a good loving, manly man who breaks in the business woman) but again, the characters aren't the point of the film. The fact the T-rex got its day and the references to the original film were enough for me.
Great fun. See it in IMAX 3D if possible...the bigger the screen format the better. Three and a half stars.
Great film, especially in 3D! It is my favorite of all the films! Very entertaining!
Really enjoyed it, can't tell if it's for nostalgic reasons as jurassic park is one of my favourite films, but then I didn't like the the other sequels so maybe not!

It's the best since the original, which obviously isn't a glowing endorsement based on the average-but-not-so-great sequels, but there's a lot to like (especially as a fanboy like me). Yeah there's some silly bits but not enough to derail the movie. I suspect the people who pick holes in it view the original with a huge pair of rose-tinted glasses… because that film had some clunk (but it didn't matter because you were 8 years old and you were in awe of ground-breaking CGI dinosaurs). Anyhow, it's fun, loud, action-packed, features kids that aren't annoying (plus points) and even gets a bit violent (with a little nod to Aliens). Highpoint: Velociraptors. Low point: No Jeff Goldblum.
Massive plot holes, poorly explained and fleshed out character motivations, lazily sexist, not funny enough, some cheesy nonsense... BUT DINOSAURS.
Much more thoroughly enjoyable than I was expecting and scarier than the first in the series. Spent a large proportion of the film jumping out of my seat or pinned to the back of my chair. A charismatic Chris Pratt, in all his handsome 3D glory, gets some funny lines and makes the film. The applause and cheers in the audience at the end said it all. An entertaining 2 hours. Job done!