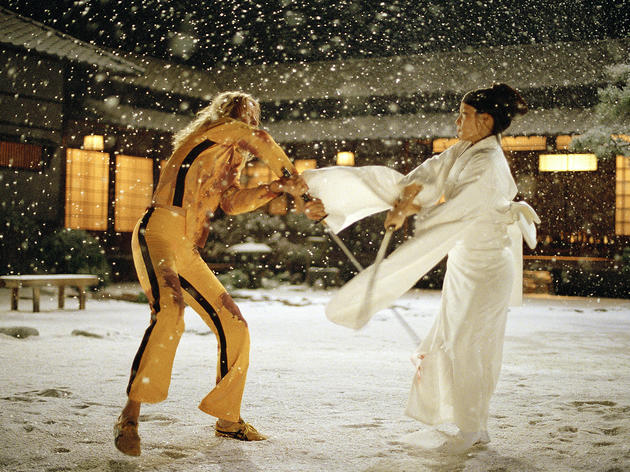 Fun and games from Tarantino, firmly in fanboy mode here. Kill Bill is 'not about real life, it's just about other movies', as QT puts it, adding: 'When the characters in Reservoir Dogs go to the movies, these are the movies they see.' Which makes it, what? Escapism twice removed? For my money, what's richest in Tarantino is the intersection of genre and reality - but Kill Bill is exactly the kind of movie-movie an action geek would dream of. Just as RZA's score samples Morricone, Herrmann and Quincy Jones, cameraman Robert Richardson's dazzling visual iconography comes from The Bride Wore Black, Nikita and Modesty Blaise, Takashi Miike and Seijun Suzuki, Akira Kurosawa and Sergio Leone, Kinji Fukasaku and Brian De Palma, Shaw Brothers' chop socky, Jack Hill blaxploitation and '70s TV schlock - and there's even a cool animé section. According to Godard, all you need to make a movie is a girl and a gun, and Tarantino takes him at his word - throwing in a samurai sword for good measure. But it's hard to develop a story when you're stitching set pieces together, cutting out the boring bits. The Bride (Thurman) used to hang with the Deadly Viper Assassination Squad, until Bill ordered the team to turn her wedding into a bloodbath. She comes to four years later, squares things with Vernita Green (Fox), then heads East on the trail of O-Ren Ishi (Liu). Two down, three to go. And give or take another hundred corpses, that's all there is to Vol. 1 - which climaxes in a 45-minute ballet of dismemberment and destruction, before nodding, cutely, in the direction of the nearest cliff. Cleverly constructed in achronological chapters but a lot less verbal than the average QT script, Kill Bill's blood feast would be utterly indigestible at a rumoured three-hour running time. At 111 mins I found it self-indulgent, tasteless, ultimately numbing. It's all bang, bang; no kiss, kiss. But this is still bravura film-making from a prodigious talent, and Thurman may yet prove its saving grace.
Release details
| | |
| --- | --- |
| Rated: | 18 |
| Duration: | 111 mins |
Cast and crew
Director:
Quentin Tarantino
Screenwriter:
Quentin Tarantino
Cast:
Uma Thurman
Julie Dreyfus
Michael Bowen
Jun Kunimura
Kenji Oba
Yuki Kazamatsuri
James Parks
Akaji Maro
Goro Daimon
Shun Sugata
Lucy Liu
Vivica A Fox
Michael Madsen
Daryl Hannah
David Carradine
Sonny Chiba
Chiaki Kuriyama
Michael Parks
Hu Xiaohui

Average User Rating
2.5 / 5
Rating Breakdown
5 star:

0

4 star:

0

3 star:

1

2 star:

0

1 star:

0
I went to see this at the cinema when it first opened and during the opening credits i thought i was in for a real treat,i came out very disappointed and needless to say waited for vol.2 on dvd,however i watched it again last night on tv and with the aid of a couple of beers and this time not taking it too seriously,i can say a fair amount of enjoyment was had.Please bear in mind i know very little about Asian cinema and i`m sure anyone who does will appreciate it alot more the first time.I still think the second film is slightly better on the whole but both are worth a look,the biggest problem is the sentimentality. Favourite bit,Daryl Hannah`s(Elle Driver) entrance to Bernard Herrmann`s Twisted Nerve,awesome! Apparently vol.3`s on it`s way 2014.