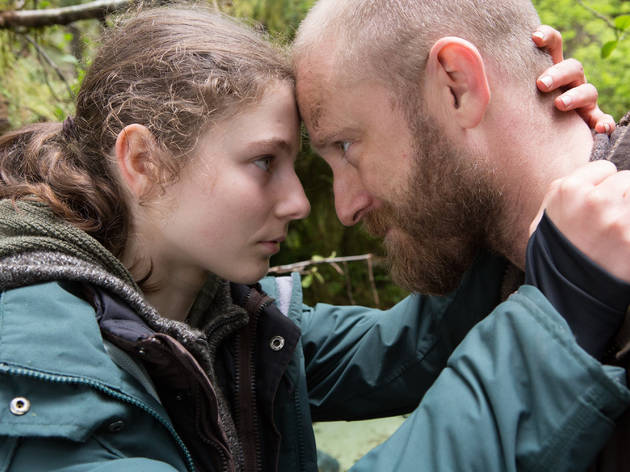 Time Out says
'Winter's Bone's Debra Granik returns with another terrific, outsiders'-eye examination of modern America.
Two people – a man and his teen daughter – adopting a simpler life in the backwoods of America may sound like the beginnings of a Bon Iver concept album, but in the hands of co-writer/director Debra Granik ('Winter's Bone'), it forms the crux of a smart, heartfelt examination of outsiderdom in a society that doesn't just prize conformity, but demands it. For a small story, it tackles some pretty big themes, gauging America's reactionary social climate through the eyes of father Will (Ben Foster) and his daughter Tom (Thomasin McKenzie), living outdoors in the misty Oregon rainforest.
Like a Ray Mears family outing spun wildly out of control, the pair forage for food, nursing fuel supplies and essentials scrapped together with money Will makes selling painkilling meds to fellow veterans. As the title implies, the duo are ever-wary of betraying their presence to the authorities. It's a hardscrabble rural existence that'll be semi-familiar to anyone who's seen Granik's Ozarks-set drama 'Winter's Bone', although here there's an element of choice and, initially, an air of quiet satisfaction at sticking it to The Man. Of course, it doesn't last: they're soon sucked back into the system and processed by social workers whose uncomprehending kindnesses only rub salt in the wounds.
Unlike Sean Penn's 'Into the Wild', which also explores the quiet radicalism of disappearing off the grid, there's no big emotional swells here. 'Leave No Trace' is a more hushed, contemplative movie. Granik builds her engaging, sympathetic characters in subtle increments – Will's military past is revealed through a brief glimpse of an army tattoo, his PTSD uncovered in moments of sudden agitation – and Foster and McKenzie are superb at conveying a trusting relationship that starts to unravel slightly when society's creature comforts get between them. They may live on the margins but they're the beating heart of this realist drama about backwoods America.
Details
Release details
Rated:
PG
Release date:
Friday June 29 2018
Duration:
108 mins
Cast and crew
Director:
Debra Granik
Cast:
Ben Foster
Thomasin McKenzie

Average User Rating
4.2 / 5
Rating Breakdown
5 star:

2

4 star:

3

3 star:

1

2 star:

0

1 star:

0
Director Debra Granik took an unknown teenager and cast her in a superb, award-winning movie, "Winter's Bone" and thus launched Jennifer Lawrence's career as a top Hollywood star.
She may well have repeated the trick here, after Thomasin McKenzie's equally top-notch portrayal as a stoic and loving daughter to Ben Foster's "damaged" Vietnam veteran.
The pair of them live happily in the Oregon backwoods. Almost self-sufficient, they are content without the normally expected comforts of civilisation.
But the worm in the bud is the fact that their home is in Oregon public parkland. They are spotted, rounded up and the forces of conformity and social worker sympathy descend on them
The two principals are both laid-back and calm with Granik's sure hand never patronising or dramatising the situation as a lesser directorial talent might have done.
The social workers are never painted as villains. They plainly want to help the pair but don't understand why such a way of life would have been preferred in the first place.
It is fascinating to see how Dad and daughter respond to their "rehabilitation" and the outcome of how each one chooses their future path.
A quietly brilliant piece of film-making.
There's a 'quiet' power to this movie which builds to an emotional climax. Music is used sparingly. A great central performance from Thomasin McKenzie. Stayed with me after I left the cinema.
Pretty good, but I am not really a fan of this American neo-realist style. Fine performances, really good direction, but still in the end I felt I wanted a little more.
Nice bit of film making.An understated study of a close knit relationship of father and daughter.He is traumatised by something and unable to settle anywhere and with anyone.Little manipulative background music.It is not over written and the film is a tender sad slant on their lonely meanderings through dense private woodland.The lead actress is quite brilliant,played with such softness and tenderness that it is quite moving watching her on screen.Very good indeed