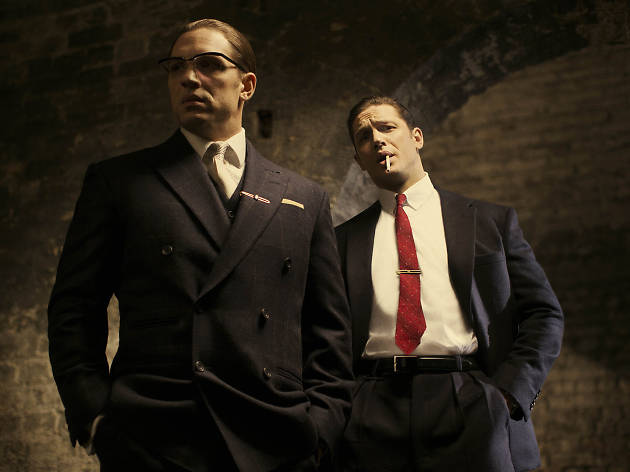 Tom Hardy is on stunningly good form playing 1960s East End hard men the Kray twins
Slick melancholy crime drama 'Legend' drops us straight into the mid-1960s glory days of London gangsters Ronnie and Reggie Kray. By then, the twin brothers were ruling the East End, West End and beyond, running clubs and protection rackets, warring with the Richardson family from south London, flirting with the American Mafia and committing the murders that would put them away for life.
In what is surely his finest hour, Tom Hardy plays both brothers. Much more than a gimmick, it's like watching one side of a mind wrestle with the other – literally, in one explosive, fun-to-unpick fight scene. Each twin is totally distinct: Ronnie operates on a knife-edge of paranoia and delusion (he was schizophrenic); Reggie is tough, precise and protective of his fragile sibling.
The film is written and directed by an American, Brian Helgeland, who wrote 'LA Confidential' and 'Mystic River', and he makes the Krays' tale glamorous while also sticking a pin in that glamour; it's a delicate trick. Early on, there's a virtuoso one-take shot through a club owned by the brothers, as Reggie takes his fragile girlfriend Frances (Emily Browning) on a dinner date, slipping off to deal with some bloody business in a side room. Contradictions like this suit the facts: Ronnie was a murderous psychopath and openly gay; the twins were as thick as thieves but regularly on the verge of killing each other. Hardy makes us laugh, too, revelling in the Krays' more grotesque, ridiculous behaviour.
Almost as intriguing as having Hardy play both twins is that Helgeland frames 'Legend' as a doomed love story, near enough opening his film with Reggie meeting Frances and ending soon after the failure of their marriage. Frances narrates, quietly dampening the machismo. It's a smart move which stresses that, for all its true-life origins, this is a story we're watching, not a reconstruction or creaky biopic.
'Legend' plays fast and loose – often amusingly – with the laddish mythology of the Krays. It imagines them as the American-style gangsters they aspired to be and shows how and why that dream failed. A final, noir-ish shot of Reggie walking along an east London canal at night, as Carter Burwell's mournful score kicks in, saves the boys the indignity of a trial but leaves us in no doubt that the party will be over when the sun comes up.
Release details
Rated:
18
Release date:
Friday September 11 2015
Duration:
131 mins
Cast and crew
Director:
Brian Helgeland
Screenwriter:
Brian Helgeland
Cast:
Taron Egerton
Tom Hardy
Emily Browning

Average User Rating
3.4 / 5
Rating Breakdown
5 star:

2

4 star:

6

3 star:

5

2 star:

3

1 star:

0
Stylised, cartoonish account of the Krays` heyday, made worthwhile by Tom Hardy`s immense turn as the infamous twins.
There's been a lot of promotion of this film, including the Guardian Newspaper's two stars review being carefully squeezed between/layered behind the heads of "Ronnie" and "Reggie" on the poster, so that it looks like some of the Guardian's stars can't be seen!
.
I'm with the Guardian - this is definitely not a 4 star movie: Though this film is reasonably entertaining, it's very leaden in places, and not much is shown of the various rackets they ran. Some scenes were particularly long and pointless. (A number of people got restless in the cinema I was in, and several started playing with smartphones.) Some scenery was embarrassingly bad - particularly the very obviously painted view of St Pauls from the penthouse. Twenty minutes of this film could have fallen to the cutting room floor and would have left it harder hitting.
.
Not as bad as two stars, but not good enough for three stars: 5/10.