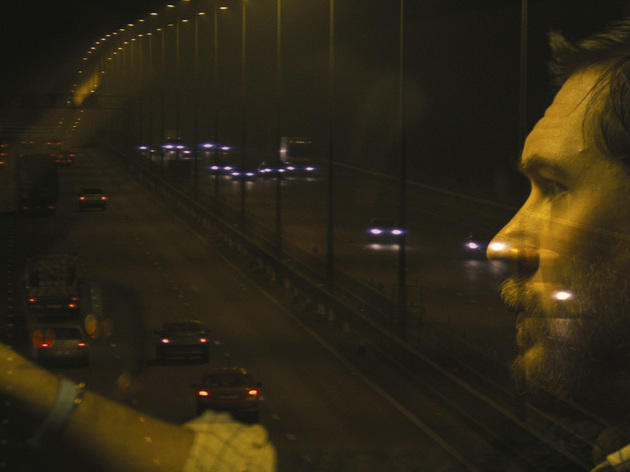 British screenwriter Steven Knight has always shown a keen eye for real life, with his London-set scripts for 'Dirty Pretty Things' and 'Eastern Promises'. But he's often tended to lay on the plot a bit thick – not least in his recent debut as a director, 2013's 'Hummingbird', which gave us Jason Statham as a homeless vigilante on the rampage in Soho. It was hardly Ken Loach.
But with 'Locke', his second feature, Knight delivers a story that could hardly be more taut. For its entire running time the only character on screen is Ivan Locke (Tom Hardy), a Welsh building-site manager driving across England in an attempt to juggle several fragile pieces of his work and home lives.
Both are on the verge of collapse: an unexpected, seriously complicated engagement elsewhere means that Locke has to abandon his wife and two kids for the night. It also means he'll miss a crucial early-morning appointment with 218 lorries of wet concrete.
Like an unflappable switchboard operator on duty during a corporate meltdown, Locke fields countless conversations on his hands-free mobile as he tears down the M6 in the dark. When his phone's not ringing, he talks to his dead dad, whom he imagines to be sitting on the back seat of his BMW. Suddenly the foundations of an unexceptional middle-class, middle-aged life feel very shaky indeed.
As a director, Knight makes much of this confined space, keeping close to Locke's face but also making great use of the reflections of car headlights and streetlamps on the car's windows and shiny sides. It's a brilliant performance from Hardy, who delivers an impeccable, oddly comforting Welsh accent and feigns calm and control while always making clear that, inside, his character is falling apart. The result is a masterclass in how the most local and hemmed-in stories can reverberate with the power of big, universal themes. Tense and troubling.
Release details
| | |
| --- | --- |
| Rated: | 15 |
| Release date: | Friday April 18 2014 |
| Duration: | 85 mins |
Cast and crew
Director:
Steven Knight
Screenwriter:
Steven Knight
Cast:
Tom Hardy
Ruth Wilson
Olivia Colman

Average User Rating
3.7 / 5
Rating Breakdown
5 star:

1

4 star:

5

3 star:

2

2 star:

1

1 star:

0
The prospect of spending an hour and a half in the company of a Welsh building site manager as he drives the length of the M6 sounds largely uninviting. Yet in the hands of British screenwriter turned director Steven Knight, this premise transforms into a taut exercise in suspense as we gradually learn what has driven our titular foreman – played with rare understatement by Tom Hardy – to distraction.
Impressively written and directed. The charismatic Hardy is immaculate. Three and a half stars.
The months following Oscars and Golden Globes are usually disappointing for regular film goers, and this year's proved no exception. While quickly walking past a cinema in the West End I notice the usual posters, of which Locke seemed to stand out because of all the short review excerpts from better newspapers - "Excellent", "Masterclass" etc, etc. Had I stopped to read a full review of the film, I probably wouldn't have gone - a man driving down a motorway talking on his mobile phone doesn't do it for me - and sounds really dull. So it's a good thing I hadn't read any reviews before going.
.
Not knowing the plot from any reviews, I had no idea the whole film would take place in Locke's car. The story is so well executed - an absolutely flawless performance from Tom Hardy with no other performers physically present off whom to bounce. (And there was I thinking I was the only one who had emotional outbursts in my car and bashed the steering wheel ... "F**k, f**k, f**k". There are some very funny moments in this fairly highly charged movie.) I loved it - it's excellent. I'll certainly try to see it again and I might even get it when it's out on DVD.
.
Not quite the stuff of sweep-the-boards-at-the-next-Oscars-ceremony, but a very easy 4 star movie, and a very, very credible movie for Tom Hardy.
Great acting performance ... Yet this movie does not get you anywhere ...
What a journey !
Attended The Time Out Card preview screening with my son.
Both thoroughly enjoyed this tense , claustrophobic look into another mans issues.
Good to see this sort of film hitting the mainstream.
If it had been shot in a beaten up mini and screened at The ICA it might have become a cult classic.
Imagine Phone Booth but without any violence or sense of emergency. Gets a teeny bit grating at the end.