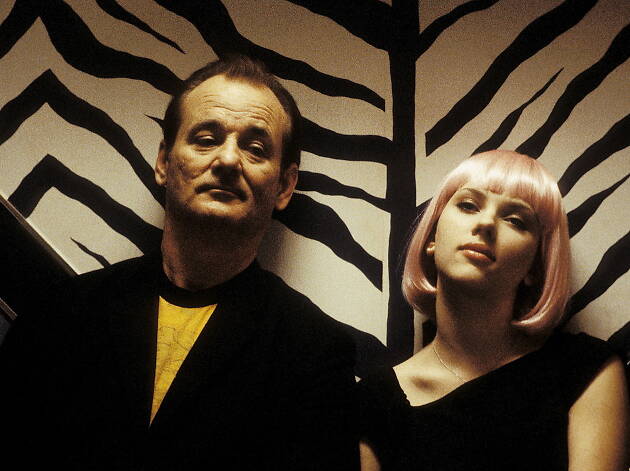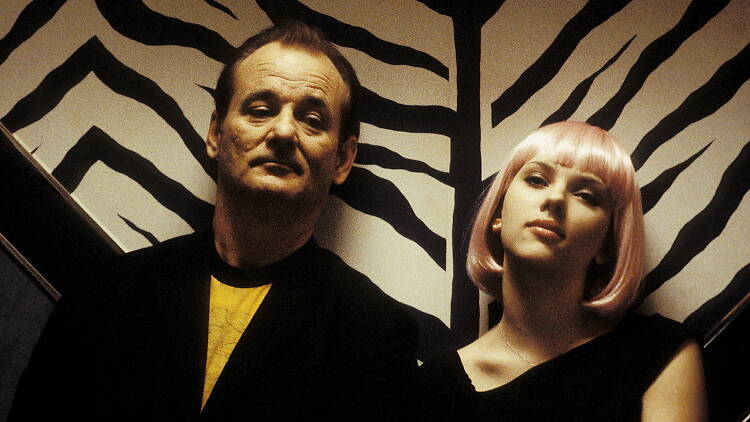 Time Out says
Contemporary Tokyo, and Bob Harris (Murray) is having an out-of-body experience. Nothing says disconnection so much as giant billboards of yourself commending Suntory whisky to a foreign audience when the shoot behind the ads leaves you stranded in a sterile hotel bar nursing your loneliness over several glasses of the same. That's when he meets Charlotte (Johansson), a soul-searching young New Yorker idling time while her photographer husband disappears on assignment. She recognises a fellow castaway, and soon the two are trading quips and confidences. A comedy of dislocation framing a love story bound up in an expression of existential melancholy, Sofia Coppola's film is a deft, manifold delight. Johansson again impresses as an old head on young shoulders, but it's Murray's infinitely modulated performance that underpins the film. Riffing on his own image, he gives a sweet-sad study of a man lost inside himself, resigned to the likelihood that it's for life. Certainly the film has the ring of experience. The anomie of international living, the push-pull of shirking home. Admittedly it makes life easier on itself by camping up Japan's way-out culture (an irrepressible chat show host and a voluble photo director are particular standouts), but that's in keeping with its alienation principle. So far as the central relationship goes, the film is almost European in its subtlety and nuance. Cinematic cherry blossom.
Details
Release details
Rated:
15
Duration:
102 mins
Cast and crew
Director:
Sofia Coppola
Screenwriter:
Sofia Coppola
Cast:
Bill Murray
Fumihiro Hayashi
Catherine Lambert
Anna Faris
Akiko Takeshita
Giovanni Ribisi
Scarlett Johansson

Average User Rating
3.5 / 5
Rating Breakdown
5 star:

0

4 star:

1

3 star:

1

2 star:

0

1 star:

0
I've watched this film twice now, and there's no doubt that it's original, subtle and carefully wrought. Bill Murray is very good, though one is continually thinking how come this guy is so depressed . . he's earning 2 million dollars for a few photoshoots so things aren't all bad . . Ok I suppose you get used to be famous and rich . . and that's where Scarlett's Johannsen's character is so effective . . . . . She is completely unfazed by the trappings of fame and wealth and zones in on the movie-star's psyche. But this is a screenplay written by a famous director's daughter, presumably financed by the said director, and though the film has a comparatively small budget . .. it still must have cost a few bob. On the whole, though I have great admiration for what has been achieved in this film . . it is still overrated . . What's clever about the concept is that lets the viewer do all the work . . . since the main characters don't say very much and the viewer is continually wondering what they're thinking . . .. . Scarlett Johannsen,s character has a philosophy degree but I get the impression that the actress has never read Schopenhauer. Bill Murray is eminently watchable but as another viewer noted . . . the trouble with a film about being bored is that it gets boring. Still . .. . people are impressed by this sort of thing so that's why Sofia Coppola got the Oscar . .. .She 's Hollywood's `thinking` girl who's not afraid to enter the woods and tackle the big questions . . . Now I've got a script I'd like to pitch, Mr Coppola . .. just pretend you're my Dad . .. . . . .. . what do you think of it . . . please be honest . .. .
A beautiful portray of two humans lost in translation, and in themselves. Great acting all over the film, but Murray takes the price. However, a movie about being bored tends to get a bit...boring.