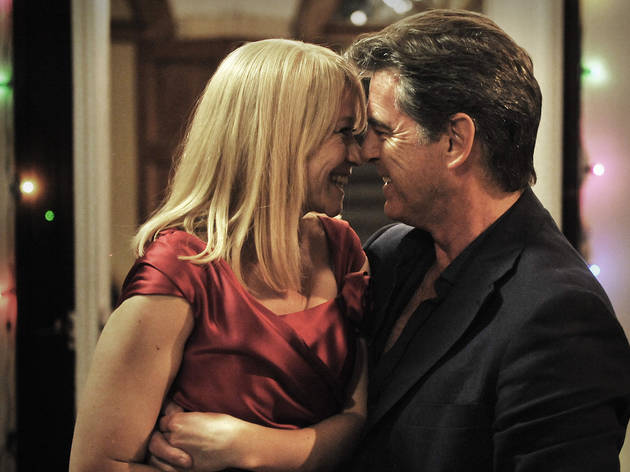 A wedding under the Mediterranean sun, guests arrive from far and away, crises and revelations ensue… All this, and Pierce Brosnan too – it's enough to make you think you've seen this movie already and it was called 'Mamma Mia!'.
No. Banish that thought. There may be similarities, but where the Abba-powered musical offered as much dramatic construction as was needed to string the songs together, esteemed Danish director Susanne Bier's latest film shows what happens when a gifted filmmaker uses the contrivances of commercial moviedom to deliver an affecting story about very real emotional needs. Yes, this romantic drama set on the Amalfi coast in Italy is a lighter affair than the moral conflict zone of Bier's 2010 Oscar-winner, 'In a Better World', but it shares the same genuine respect for the everyday dilemmas grounding the twists and reversals laid out to entertain us.
Take Trine Dyrholm's Copenhagen hairdresser, for instance, who's itching under a blonde wig after cancer treatment. She's devastated to discover her hubby has been been shagging the girl from accounts. Her self-esteem is crushed, and though proud that her daughter's getting married, the whole occasion's pretty daunting – especially when her man brings along his gormless young lover. The nuptials are set to be a bit of a trial for the groom's father too. Successful fruit importer Pierce Brosnan is not looking forward to returning to the picturesque spot he associates with his late wife, whose accidental death has prompted him to bury himself in work ever since. Indeed, spending time with his son is merely another reminder of how he hasn't been much of a dad.
With Dean Martin on the soundtrack ('That's Amore', of course), delectable locations much in evidence, and the story headed pretty much where you'd expect, it would be easy to write this off as mere sun-splashed soap. Yet 'Love Is All You Need' is so much truer than that because the actors clearly relish the chance to play authentic feeling and Bier's ever alert to pick up on their contribution. Brosnan, for instance, really steps up, delivering every nuance in what's possibly the finest role he's ever had, eclipsed only by Dyrholm's heartfelt and heartrending portrayal of a woman who's so long taken herself for granted she's surprised to be loved. The cliché-averse will doubtless resist, but the laughter and tears here are never less than fully earned. A lovely film.
Release details
Rated:
15
Release date:
Friday April 19 2013
Duration:
116 mins
Cast and crew
Director:
Susanne Bier
Cast:
Pierce Brosnan
Trine Dyrholm
Molly Blixt Egelind

Rating Breakdown
5 star:

0

4 star:

0

3 star:

0

2 star:

2

1 star:

0
I found it all a bit dull and slow. Many of the characters aren't very likeable apart from the heroine. I didn't watch the Killing or Borgen so I suppose I am not their target audience.
Can I have what the reviewer was drinking? This is an Emperors New Clothes of a film and while some will love it but for me it was too slow and dull. There are some very funny lines and the film does at times please but it does drag and it times I felt I was trapped in a 1980's sitcom. Apart from the two leads it is difficult to like any of the characters from the mad and obsessed sister in law to the waste of space father of the bride and the most obviously gay groom to be I think have ever seen. For me 2 stars but some will like the reviewer will love it.