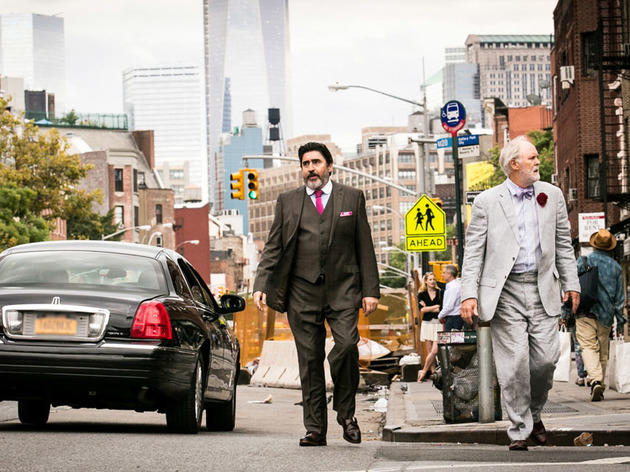 Time Out says
New York-based filmmaker Ira Sachs ('Keep the Lights On') creates a special kind of urbanity: softer and more inclusive than Woody Allen's, openly gay but family-focused, alive to the city's tensions and lulls. His latest movie also features a Chopin piano score, adding an exquisite sense of proportion to what, in the hands of most other directors, might have felt like a cautionary tale about the perils of gay marriage. Instead, 'Love Is Strange' emerges as a total triumph for Sachs and his co-leads, John Lithgow and Alfred Molina, who turn in career-topping work.
Chatty painter Ben (Lithgow) and his music-teacher partner of nearly four decades, George (Molina), tie the knot in an idyllic, understated ceremony. The afterparty that follows – both men at the piano laughing, lasagna and heartfelt toasts being served – steers the movie economically onto accepting territory. But the outside ramifications are harsh: George's Catholic academy is forced to fire him and, only weeks after celebrating, the couple find themselves cash poor, unable to maintain a mortgage and out of their elegant apartment. 'Are you guys getting divorced already,' jokes the assembled clan when they break the news and ask for temporary shelter. Ben goes to his nephew's family (and a teen's bunk bed) while George crashes on the couch of a younger gay cop's boisterous party pad.
The film is too intelligent to turn into a sitcom of chafing sexual lifestyles. Rather, Sachs's nuanced theme is privacy, as relatives squirm not at their gentlemanly, staid houseguests but at their loss of space, while the separated lovers feel the awkwardness, too. Their relationship has been an endless conversation, and that's what's been interrupted most harmfully. (Lithgow and Molina convert their many chats into virtuoso arias of understated teasing, confession and regret.) It's a heartbreaker that Sachs sets their schism right at the moment when Ben's advanced age becomes an issue, cementing 'Love Is Strange' as a sensitive domestic tragedy about the finite nature of any union.
The supporting cast is superb, particularly Marisa Tomei's novelist mum who, with gentle restraint, comes to see Ben as a threat to her concentration. But it's sullen child actor Charlie Tahan who nearly steals the picture in a quietly devastating climax, a private breakdown that suggests Ben and George may have affected everyone more deeply than they know. The kid then coasts down a city street on his skateboard to the setting sun, providing 'Love Is Strange' with one of its most powerful images (in a film full of them). It's an essential – and essentially New York – story about limited room, limited time but incalculable attachment.
Details
Release details
Release date:
Friday February 6 2015
Duration:
98 mins
Cast and crew
Director:
Ira Sachs
Screenwriter:
Ira Sachs, Mauricio Zacharias
Cast:
John Lithgow
Alfred Molina
Marisa Tomei
Charlie Tahan
Darren E. Burrows

Average User Rating
4.5 / 5
Rating Breakdown
5 star:

1

4 star:

1

3 star:

0

2 star:

0

1 star:

0
What a great movie. I would never have bought a ticket to see this, but attended the Time Out Card preview screening. The film made me feel uncomfortable throughout. I had to question my view on ageing homosexual lovers, the cruelty of the Catholic Church and the discomforts of related "strangers" moving into your living space. The challenges were beautifully presented and observed. I so enjoyed it.
The theme of money problems affecting a married couple's life has been has been done before. What is unusual here is that the couple is gay and that the money problems are caused by the fact that they decide to tie the knot. Apparently in our age and time of gay freedom you can still lose your job for being gay if your employer happens to be the church. The couple has to sell their home and then go through all sorts of trouble living apart with friends and family. All is great, wished for a happy rather than the bittersweet ending though.