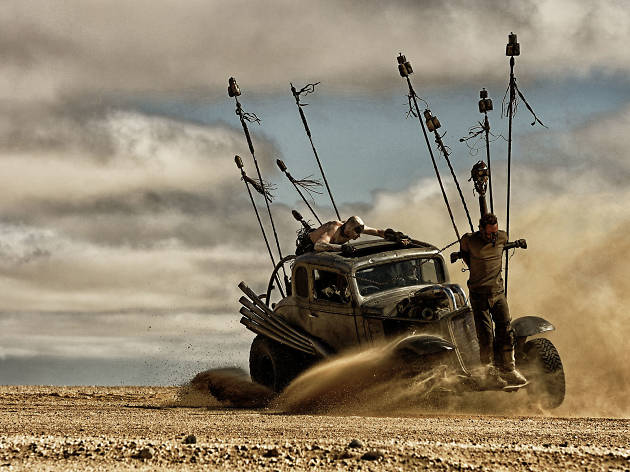 This belated franchise reboot is every bit as wild, weird and, yes, mad as we'd hoped
The fourth instalment of George Miller's punky post-apocalyptic 'Mad Max' saga feels like a tornado tearing through a tea party. In an age of weightless movie spectacles, here's a movie that feels like it was made by kidnapping $150 million of studio money, fleeing with it to the Namibian desert, and sending footage back to Hollywood like the amputated body parts of a ransomed hostage.

It's been 30 years since we last watched Mel Gibson's Max Rockatansky drift into the horizon in 'Mad Max Beyond Thunderdome', but the Road Warrior hasn't aged a day. He's been transformed from a reluctantly charismatic Gibson into a terse Tom Hardy. Yet much has changed in the wasteland that Max wanders. While previous episodes were set amid the rubble of a ruined world, the colourful hyper-saturated landscapes of this new movie locate the story closer to the dawn of a new civilization than the twilight of an old one.
Things begin inside the mountain stronghold ruled by Immortan Joe (Hugh Keays-Byrne), an inbred monster who lords over a society that guzzles its citizens like fuel. Women are drained for their breast milk, girls are farmed for their wombs, and men like Max are used as vehicle ornaments called 'bloodbags'. Unsurprisingly, Imperator Furiosa (Charlize Theron), Joe's one-armed lieutenant, is ready for a change. When she drives off with his prized concubines, the warlord unleashes a suicidal eight-cylinder army on their trail. Pretty much the entire film is a screaming death race down Fury Road.

Marrying the biting frenzy of Terry Gilliam's film universe with the explosive grandeur of James Cameron, Miller cooks up some exhilaratingly sustained action. But the key to this symphony of twisted metal is how the film never forgets that violence is a sort of madness. Miller's world is a raw portrait of man at his most primitive, and the oppression of women has long been a recurring motif. With Theron's Furiosa behind the wheel, though, 'Fury Road' steers this macho franchise in a brilliant new direction, forging a mythical portrait about the need for female rule in a world where men need to be saved from themselves.

That's why Max is an enduring hero: he knows when to drive off into the sunset. This time, he leaves a generation of blockbuster cinema choking on his dust.
Release details
Release date:
Friday May 15 2015
Duration:
120 mins
Cast and crew
Director:
George Miller
Screenwriter:
George Miller, Brendan McCarthy
Cast:
Tom Hardy
Charlize Theron
Nicholas Hoult
Zoë Kravitz

Average User Rating
3.9 / 5
Rating Breakdown
5 star:

12

4 star:

2

3 star:

1

2 star:

0

1 star:

4
My heart rate never dipped below about 120bpm, and was often up nearer to 170. Relentlessly crazy...haven't seen a film like this in a very long time. Definitely one to see at the cinema.
this was incredibly boring after enjoying 10 moinutes of some good special effects it had nothing more to say , far too violent with no purpose whatsoever and no story this is nowhere near as good as the originals.
Absolutely mental from beginning to end, love the concept of meat bags, the guitar dude, them pole people... Saw the first film for the first time a couple weeks back and didn't like it, this is non stop action and completely nuts, very enjoyable film

I loved it! Especially in bold IMAX 3D :) Thought Charlize Theron was superb as the hardcore warrior woman and the visual effects etc were fab. Storyline I agree was somewhat lacking but I certainly wasn't bored at all.
I expected big things from this for several reasons, not least because Tom Hardy is one of my favorite actors on the planet. Sadly, adding this to the media hype left far too much for the movie to do. I love a good action movie but this was honestly hugely OTT and the utterly relentless chaos which ensued for all 120 minutes made me uncomfortable throughout. In turn, the plot suffered. Especially as someone who hasn't seen the originals, I was completely dumbfounded by the direction of the movie (literally and metaphorically it moves in one direction an then heads back). Disappointed.
What a disappointment, all it is a chase movie, they escape, then get chased get to freedom, go oh!? Then return, thats it! Feck, glad I only watched it on an airplane
Bemused and bewildered by the 5 star reviews of this film. Yeah ok its very stylised and maybe I'm not the target audience but the endless vehicle chases and jumpy editing was relentless and boring. While it was quite enjoyable seeing Charlize Theron kick ass to begin with I lost interest in the characters and left half way through. Nothing against action films (in fact looking forward to the next Mission Impossible) but boy has this film been overhyped