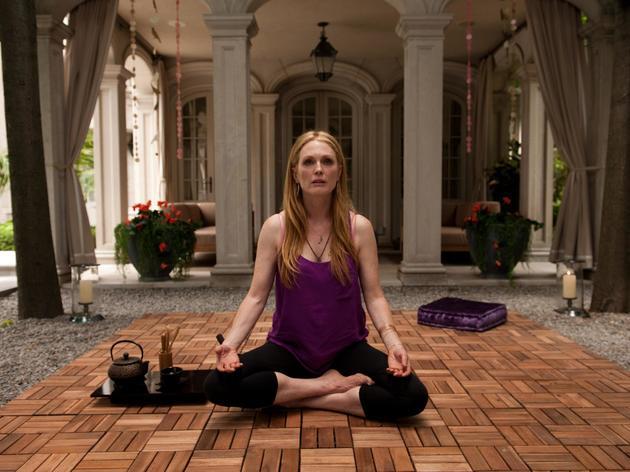 Targets don't come much softer than Hollywood. What stops David Cronenberg's grotesque noir 'Maps to the Stars', written by LA insider Bruce Wagner, from feeling tired is that it's deliciously odd. It hovers in the ether above reality, as if the director of 'The Fly', 'A History of Violence' and 'Cosmopolis' managed to get his hands on a rogue script for TV's 'Entourage' and up the weird factor tenfold. Some of this creepy portrait of Beverly Hills screw-ups is deeply silly – here's looking at you, John Cusack as a self-help guru with a nasty past – but it has just enough venomous bite to leave you feeling poisoned simply from being in the company of these gargoyles for two hours.
At first, it feels like 'Maps to the Stars' is going to play close to known reality, with characters talking about 'Harvey' (Weinstein, we presume) and about how one filmmaker 'ain't PT Anderson'. 'This is Garry Marshall not Bertolucci,' says Julianne Moore's desperate, fat-lipped actress Havana. She's a horrific creation: spoilt, needy, two-faced, the daughter of another actress ('a dead cult figure') and a lonely, walking mess in Rodeo Drive clothes, aching to land a role. Another character, Agatha (Mia Wasikowska) steps off the bus from a shady past and becomes her assistant. Her arms are always covered and on her face are scars. She's obsessed with celebrity and makes friends with a limo driver-cum-wannabe screenwriter (Robert Pattinson, in a sideline role), but her eye is always on a bigger prize.
Elsewhere we meet a child movie star, Benjie (Evan Bird), fresh from a scandal and trying to keep his career on track at 13. The film's most horrific creation, Benjie out-Biebers Bieber. He's humourless, slick and sad. At the core of all this nastiness are Benjie's parents, Cristina (Olivia Williams) and Stafford (Cusack). She's her son's manager, while Stafford's ability to spout nonsense as a therapist in print and on TV has made him a rich man who'll do anything to protect his interests. He's the film's most awkward creation.
The connections between all these characters go further and turn much darker. But Cronenberg holds back from revealing them too early, slowly letting fragments of ice break away from his chilly set-up. The story is wild, but it's dragged through the rough patches, when satire rubs up against exaggeration, by three killer performances from Waskikowska, Moore and newcomer Bird.
Cronenberg's direction feels at home in a world of soulless homes and offices, clubs at night and flash cars. He locates a deeply sick spirit in his tale and explores it through far-fetched fiction told with deadly seriousness, also adding a dose of baroque to proceedings and a streak of wicked humour. 'Maps of the Stars' offers some ludicrous moments and a fair few bum notes, but we're still left with a troubling sense of infected bloodlines, sick Hollywood genes and a world any sane person would run a mile from.
Release details
Release date:
Friday September 26 2014
Duration:
111 mins
Cast and crew
Director:
David Cronenberg
Screenwriter:
Bruce Wagner
Cast:
Julianne Moore
Robert Pattinson
Mia Wasikowska
Carrie Fisher
John Cusack
Sarah Gadon
Olivia Williams

Average User Rating
3.1 / 5
Rating Breakdown
5 star:

0

4 star:

4

3 star:

0

2 star:

3

1 star:

0
This is basically a Rom Com, made by one of the best directors alive today, but one who specialises in psychological horror. The result is a VERY dark, but never the less VERY funny, comedy. The characters are beautifully drawn (but virtually all of them are complete and utter bastards), the plot elegantly multi-threaded (but also delightfully twisted) and the cinematography is superb.
Cronenberg fans might be a little dissapointed but it is, in my oppinion, an excellent piece of cinema which does credit to the master.
Well worth seeing.

David Cronenberg's films have always had a certain disturbing edge to them, his earlier films were focused on body horrors. This film satirizes Hollywood, Los Angeles were tourists can buy " a map to the stars". Focused on one family exploiting their child actor son, and one faded movie star whose lives become disturbingly intertwined. Great acting from all the actors
Yes, this is an odd film, so if you are after a linear narrative with a resolution in the end, that's probably not for you. However, you don't have to be interested in Hollywood in order to relate to its fragmented, caricature like characters. This is only an aspect of human nature, but its absurdity can be applied to any context. Julian Moore's performance is outstanding to the extent of creepy, comparable to Kristin Scott Thomas's Blue Jasmine. It makes you wonder why these great actresses are asked to show their immense talent by portraying broken women their age. The moment you accept that what you see is neither exaggerated nor a satire /criticism on consumerist lifestyle, as scriptwriter Bruce Wagner has pointed out, only then does the sadness of the film sink in. And it's not a pretentious or melodramatic sadness. It is that kind of sadness you are too busy to address, caused by everyday small things, but blown out of proportion here on these not-your-average characters. Good old disquieting Cronenberg cinema.
I was not very impressed with this award-winning movie. The story-line was interesting and different but the movie itself was relatively weird and in many ways offensive.
While I do understand why this is an award wining movie, I probably will not be watching it again..

My anticipation for this movie was high, so my two stars reflects the let-down. First off, acting good from all. And the film certainly had its own atmosphere. BUT the plot was wafer thin and the pace was all over the place. There's a huge risk in creating characters like these. I love the challenge of liking the unlikeable, but in MAPS, you end up not caring either way...the worst reaction of all. Maybe in David Lynch's hands this might have had the dark cynicism that was required, maybe Paul Anderson? But Cronenberg sleepwalks as a director and delivers the biggest problem this film has...it's about acting and they all LOOK like they're acting!
Oh and please get Alititude to sort out their sound system! No point having Dolby promoted if your going to use speakers from Maplins!
Love the Time Out Screenings though! :-)