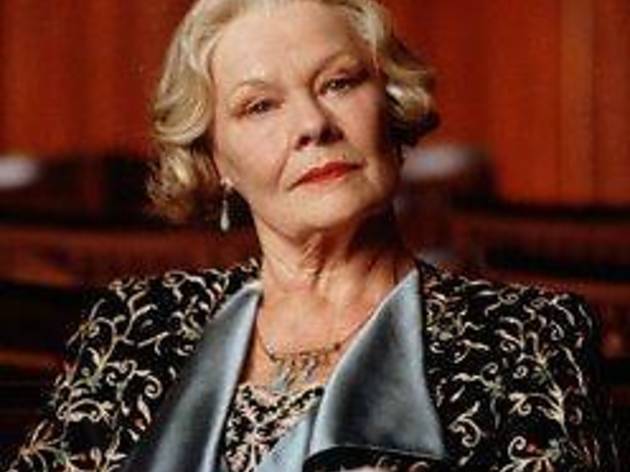 Oh, what a lovely, horrible war! Just as Stephen Frears's half-true, half-imagined account of the birth of topless musical entertainment at Soho's Windmill Theatre in the 1930s and '40s threatens to float off on the back of one of its own breezy showtunes... boom! The Second World War starts, and we're treated to almost as fine and sensitive a vision of the defiant wartime spirit as Humphrey Jennings himself could have crafted. It's this mix of escapism and harsh reality, theatre and real life, that defines 'Mrs Henderson Presents', a film that just about walks on the right side of sentiment and nostalgia. The effect is both moving and terrific fun.

Before the arrival of the bombers, Frears's film breathlessly recounts the beginnings of the unlikely partnership between recent widow Laura Henderson – a wealthy septuagenarian who buys a derelict West End theatre because she is 'bored with widowhood' – and Vivian Van Damm, a respected theatre impresario who she employs to manage the place. Van Damm has the wizard idea of staging all-day, non-stop entertainment ('Revuedeville'), to which Henderson throws nudity into the mix ('Let's have naked girls!'). As their theatre kicks into life, we witness plenty of gutsy performances; Kelly Reilly shines among the chorus girls as Maureen, a non-professional persuaded by Van Damm to strip in the name of art.

Off-stage, we are party to a near-romantic clash of two distinct personalities: Van Damm, experienced and no-nonsense, and Henderson, a headstrong woman of no theatrical experience but plenty of forthright opinions (auditions are 'barbaric', she declares). At points, it feels like there's something a little too innocent, too velvety, too soft-focus, too clean about the whole enterprise. But thankfully this is largely offset by a self-consciously naughty, epigram-laden script by Martin Sherman.

In the latter stages of the film, images of war – both real and imagined – have a sobering effect. Grief and secrecy add weight to gentle pantomime: Henderson mourns a 21-year-old son who she lost in the First World War, while Van Damm denies his Dutch Jewish heritage. The outbreak of war exposes equally these personal traumas and the compassion at the heart of Frears's superb new film.
Release details
| | |
| --- | --- |
| Rated: | 12A |
| Release date: | Friday November 25 2005 |
| Duration: | 103 mins |
Cast and crew
Director:
Stephen Frears
Screenwriter:
Martin Sherman
Cast:
Rosalind Halstead
Christopher Guest
Kelly Reilly
Sarah Solemani
Natalie Tena
Judi Dench
Thelma Barlow
Anna Brewster
Bob Hoskins
Will Young

Average User Rating
3.8 / 5
Rating Breakdown
5 star:

0

4 star:

1

3 star:

0

2 star:

0

1 star:

0
No review I have found has suggested that Mrs. Henderson came pretty close to pandering when she pushed a country girl toward a soldier on leave. Her zest turned into the cruel irresponsibility of not ascertaining if the young woman was equipped to use birth control. Mrs. Henderson could think plenty clearly about her theater project but certainly turned wooly-brained during this episode. Perhaps the boyish soldier resembled her lost son. Even so, her sitting in a dark car watching the parade of soldiers and choristers at the stage door is not a pretty sight. Did I miss something which would take away the sourness of these scenes in an otherwise compassionate film?