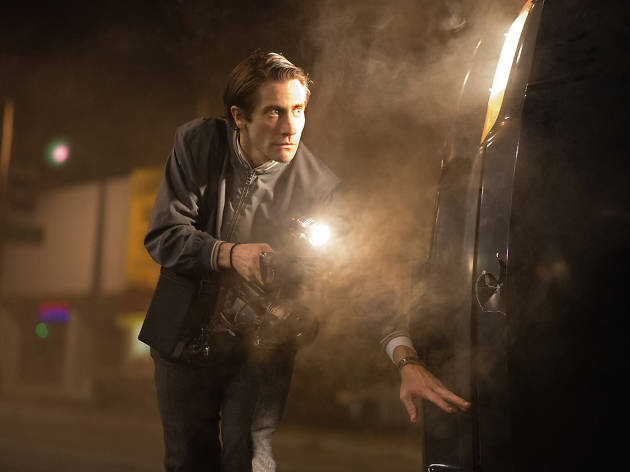 It's no news to anyone who's ever watched American TV – especially local crime coverage – that the beat has devolved into a cesspool of gore, jittery witnesses and 'hot content'. What was once prophetic in movies like 'Network' and 'Broadcast News' is now commonplace. Writer-director Dan Gilroy's supercharged 'Nightcrawler', a viciously funny film, starts from that premise and wisely avoids making the same points. Instead, it twins the frenetic, sleazy hunt for shocking footage with the career ambitions of a closet psycho who, naturally, rises to the top. Closer in spirit to the media-amplified perversity of Martin Scorsese's 'Taxi Driver' and 'The King of Comedy', 'Nightcrawler' feels like a major portrait of a sick, insatiable appetite.
The hungry wolf at the centre is Louis, impressively played by a wire-thin Jake Gyllenhaal, who right off the bat doesn't feel like your everyday LA loner. Bug-eyed, upbeat and frustrated by his nighttime excursions fencing stolen goods, he strolls up to a burning car on the highway, the rescue in progress. Watching the swarming cameramen (freelancers who provide smut to TV stations for quick payouts), a light bulb goes off over Louis' head. Soon enough, he's out there with his own camera, getting closer than anyone – he nearly runs over a crime scene with his car – and sneaking through bullet-strewn homes without permission.
Initially, 'Nightcrawler' plays like a darkly comic how-I-made-it story. Louis marshals an impressive (if slightly cracked) discipline to his new passion. He fancies himself a budding businessman: after a ridiculous interview, he takes on a desperate assistant, Rick (Riz Ahmed), for an unpaid 'internship' to watch over his wheels while he shoots, and sells a few clips to a crass news director (Rene Russo, great in a tricky role). But the film takes a brilliant turn into the unexpected when Louis finds himself the first person at a car wreck, even before the police. The corpse could be better positioned to catch the light – so he moves it. From there, the bottom drops out and the film plunges into ethical freefall, as entertaining as it is nauseating.
Gyllenhaal, who summons career-best work, simply couldn't have played this character a few years ago. His boyish handsomeness undergoes a transformation into ferrety slickness, the actor hammering home Louis's mania in ferocious, near-OCD monologues that reveal a truly dangerous operator. And thank heavens for a film without the urge to supply a backstory. Gilroy, vastly supported by cinematographer and Los Angeles specialist Robert Elswit ('Boogie Nights', 'Magnolia'), directs with the verve of a seasoned pro, even though 'Nightcrawler' is his debut. 'Why aren't we at the rape in Vincent Park like everyone else?' whines Rick, his boss steering them to a different score beyond their wildest dreams. It's a movie in which those dreams have happy endings for the wrong people.
Release details
Release date:
Friday October 31 2014
Duration:
117 mins
Cast and crew
Director:
Dan Gilroy
Screenwriter:
Dan Gilroy
Cast:
Jake Gyllenhaal
Rene Russo
Riz Ahmed
Bill Paxton

Average User Rating
4.1 / 5
Rating Breakdown
5 star:

5

4 star:

2

3 star:

1

2 star:

0

1 star:

1
Utter drivel! Avoid if you have any insight into how journalism or news rooms actually work as it will make you squirm in your padded cine-seat. The film itself is full of holes and continuity issues, with what seem like significant events suddenly being forgotten. The murder/theft of the security guard at the beginning by the principal character is never touched on again in the film. The sudden crash and hospitalisation of the main news rival in the space of a few minutes. And, well, there's loads more if you can be bothered to get through it. As is the case with so many films these days the last twenty minutes looks as if they had a deadline to meet in the editing suite. It's rushed and just suddenly ends... How on earth reviewers can give this nonsense 5/5 beggars belief, especially when you see undisputed cinema classics getting 4/5... Are people's standards so low at the moment?
Ladies, you may go to see this film simply for the hotness of Jake Gyllenhaal...well in this film he's not. When you finally get over the fact that he looks a bit like a creepy Woody from Toy Story who you suspect has bad B.O. this is actually a very good film. As other reviewers say the cinematography is excellent, and the concept of Nightcrawler is a refreshing take on the crime genre, choosing not to let us get to know the victims but appreciate the ambition of the calculated, nefarious Louis Bloom.
Overrated drama boasting fine cinematography and a well written and acted titular character but let down severely by a repetitive first hour or so and soapy newsroom scenes. Three and a half stars.
Brilliant dark comedy satire. Gyllenhaal plays the sociopath role extremely well, cleverly illustrating modern day social, moral and ethical issues created by the news industry. The Louis Bloom character may be seen as a good representation of the news (entertainment) industry itself - intelligent, calculating, strategic,complex...twisted?!

Entertaining, thrilling and thought provoking. Definitely a must see.
(Thanks Timeout Card for preview tickets)
A gruesome trip into the creepy, dark heart of LA with bug-eyed Louis Bloom(Jake Gyllenhaal) as our Dante-esque guide and chronicler. Bloom is our 'Travis Bickle', a product of the age of the internet. Nightcrawler is a cautionary tale of what happens when a sociopath can live only through his screen.
A gruesome trip into the creepy, dark heart of LA with bug-eyed Louis Bloom(Jake Gyllenhaal) as our Dante-esque guide and chronicler. Bloom is our 'Travis Bickle', a product of the age of the internet and Gyllenhaal's chilling performance should surely win him the Best Actor Academy Award. Nightcrawler is a brilliant, cautionary tale of what happens when a sociopath can feel truly alive only through a screen.
The plot is simple: an american guy wants to make it big and is ready to work hard for it. On his road to success he finds his new calling being a LA crime journalist.

Jake Gyllenhaal's brings to the main character a mix of Sheldon (The Big Bang Theory) with his funny awkwardness with people and Patrick Bateman (American psycho) with his attraction for blood.
Nightcrawler is a must see!

A brilliant quirky thriller and a very interesting concept. Fantastic performances all round - My emotions were all over the place! brilliant filming, clever dark humour and a great pace. Well done to all!