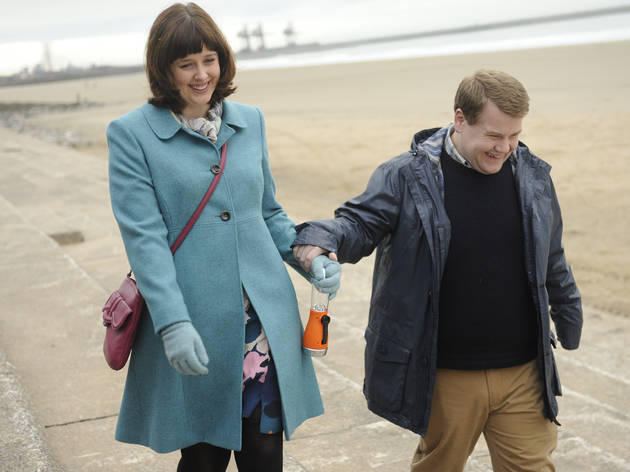 You can take the boy out of Essex… James Corden's accent goes a bit 'Gavin and Stacey' ('fank you') playing 'Britain's Got Talent' opera star Paul Potts. Never mind, he could do the whole thing in rhyming slang and still win you over. He gives a gorgeous, ah-bless performance as Potts – the shy Carphone Warehouse manager from Wales who wiped the smirk off Simon Cowell's face in 2007.
The problem with the film is that Potts's life story has been put through the Hollywood meatgrinder. Awkward details have been changed or erased – they've made Potts Welsh (he grew up in Bristol) and eliminated his siblings. The filmmakers seem desperate to make the next 'Billy Elliot' and turn Potts into a lovable loser who triumphs over adversity; in fact he was a Lib Dem councillor at 26. It all seems calculated to get Americans swooning over the quirky little Brits with their funny accents eating pies in their little pubs.
The best bits come when Potts falls in love with his future wife, Julz (the brilliant Alexandra Roach). The two meet online and when they come face to face, they end up round his parents' place for lunch. 'Couldn't you eat him up,' says his mum. 'You'd need a couple of sittings,' replies his dad.
Release details
| | |
| --- | --- |
| Rated: | 12A |
| Release date: | Friday October 25 2013 |
| Duration: | 103 mins |
Cast and crew
Director:
David Frankel
Screenwriter:
Justin Zackham
Cast:
MacKenzie Crook
Julie Walters
Colm Meaney
James Corden
Alexandra Roach

Average User Rating
3.8 / 5
Rating Breakdown
5 star:

0

4 star:

1

3 star:

0

2 star:

0

1 star:

0
I thought was really boring, i couldnt get into the film. I just didnt like it. I wish i never saw it now!
I think the reviewer is being a little harsh. Ok it is a bit sanitised and like most underdog stories you are never left in any doubt who you should be rooting for but only the coldest heart could fail to love this story. Corden is good but it is the supporting actors who really make the film. Meaney plays the disapproving dad who would much rather his son played rugby, drunk beer and was one of the lads down the steel works to perfection; Crook and Walters play the supporting best mate and mum but it is Roach who really excels as the girl of his dreams. Expect to cry at least once for a film that will leave you with a warm glow inside. Accept it for what it is and it is a good four star film.