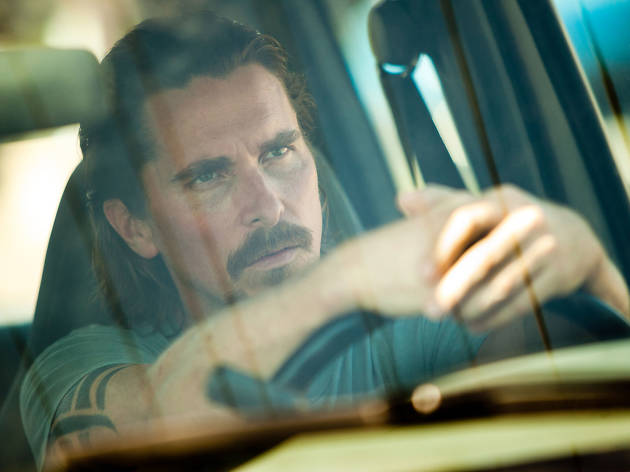 Has Christian Bale done the world a favour by hanging up his bat wings? He is everywhere at the moment, making his comeback as a character actor and reminding us there's much more to him than a latex mask and whispery growl. Hilarious in 'American Hustle' as an overweight conman with a combover, he is the best thing in this violent, cheesily macho American thriller from 'Crazy Heart' director Scott Cooper. Bale disappears into the role as an ordinary guy with everything against him, giving an authentic, white-knuckle performance. Shame about the rest of the film, which aims for Bruce Springsteen with its blue-collar big themes and stadium-rock emotion but ends up as a bandana-wearing cliché.
Bale is Russell, the strong, silent type and a guy who lives by the rules. Trouble is, the rules aren't rules any more. The Pennsylvania steel factory where he works is closing – it's cheaper to import from China. Russell looks after his dying dad (in scenes calculated to squeeze a few manly tears from guys in the audience) and keeps his soldier brother Rodney (Casey Affleck) out of trouble. After a road accident lands him in prison, Russell steps out of jail to find Rodney bare-knuckle boxing to pay off gambling debts. Enter lollipop-sucking hillbilly psychopath Harlan DeGroat (Woody Harrelson). In the real world there is a suicide epidemic among Iraq veterans; they come home, hurt themselves and sometimes the people they love the most. But that's not romantic or poetic or like 'The Deer Hunter' (which this film's director has surely seen a hundred times). So bare-knuckle boxing with hillbillies it is.
'Out of the Furnace' won't win prizes for originality. Even the script knows how packed with clichés it is: 'I'm meant to be scared of you because you're sucking on a lollipop,' Affleck says to Harrelson. The film would be a complete joke were it not for a few unpredictable, incredibly tense scenes and some undeniably powerful acting. Bale is as good as it gets, Harrelson shows us why he is Hollywood's favourite psycho and Willem Dafoe is terrific as a sleazy drug dealer. The rest of the film is without a bat squeak of authenticity.
Release details
| | |
| --- | --- |
| Rated: | 15 |
| Release date: | Wednesday January 29 2014 |
| Duration: | 117 mins |
Cast and crew
Director:
Scott Cooper
Screenwriter:
Scott Cooper, Brad Ingelsby
Cast:
Christian Bale
Zoë Saldana
Woody Harrelson
Casey Affleck

Rating Breakdown
5 star:

0

4 star:

0

3 star:

1

2 star:

0

1 star:

0
Can you figure out why such good actors delivers those great efforts? They're not idiots, this is a amazing movie.
Out of the Furnace is one intense, hard film of a photograph full of melancholy, and charged performances of emotions that offer real and deeply disturbing characters . However , more than a technical perfection , is a work of political character , with a high content of philosophical reflections .
The screenplay by Scott Cooper and Brad Ingelsby dating saga of Albert Camus' Stranger. And as the book of Camus , life drags Russell Baze ( Christian Bale ) by currents flowing in accordance with criteria that ignores , for which there is no power . It is always like that , actually. There is no option of inertia or stable relinquishing desire , ambition and subjectivity not bring calm. Those who choose to position themselves neutral is just loads of drama damming of the decisions taken, and will be placed in one form or another, on the need for radical action.
This law of nature is possible behind what moves the protagonist. The title brings a reference to a fate that compels Russell Baze to stop hiding behind the role of standardized citizen - workers , desirous of a common family life with comfort arising from hard and disciplined work that fails to accommodate up inside the factory ( and all that it means to the bankruptcy of human nature ) , its barren dream, and go out to meet something different than what was imposed . The accident that occurs with Baze , his arrest and the following losses form an analysis of the absurd , the inevitable misfortune of our prison to collective events . And his personality condescending and self -indulgent full panel review of the logic of organization / submission to social roles in modernity : the factory , seen in the colors of the dusk , is chosen as a symbol of the modern subject that anesthesia
An astounding effort from a troop of some of my actors Harrelson, Bale, the better Affleck, Dafoe, Whitaker and Shepard (wish there was a Ben Foster too) Sadly an incredibly overfamiliar plot makes for a bare script rather than a sparse one.
Bleak drama boasting an impressive cast. It`s nicely paced and photographed. Please don`t take too much notice of Cath Clarke`s customary misleading review. The movie is far from "a complete joke" and Affleck doesn`t speak the attributed quote to Harrelson, he says it to Dafoe. Never let facts get in the way of a lazy comment, eh, Cath? Three and a half stars. Recommended.