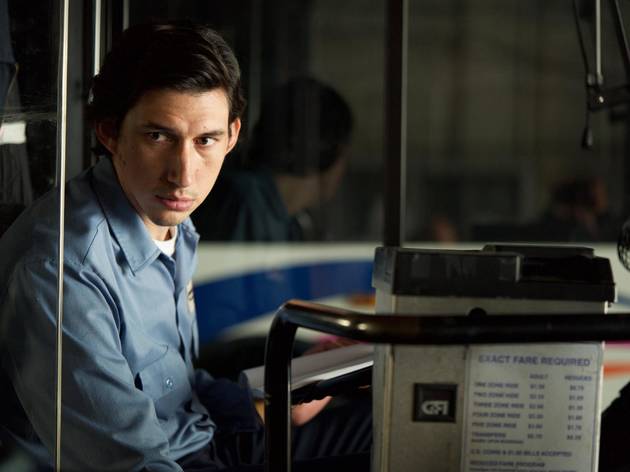 Adam Driver plays a bus driver and part-time poet in Jim Jarmusch's intimate drama
The dependably distinctive and rewarding Jim Jarmusch returns with a lovely, characteristically episodic fable about the fragile, fruitful and just occasionally fraught relationship between creativity and everyday life.

Chronicling a week in the life of Paterson (Adam Driver), a bus-driver and amateur poet whose home happens to be Paterson, New Jersey – home to William Carlos Williams, Allen Ginsberg and Lou Costello, among others – the film depicts, day by inevitably slightly different day, his banal but unexpectedly engrossing routine: waking up with his designer/baker/would-be singer partner Laura (note the nod to Petrarch); walking English bulldog Marvin; taking a beer at a bar proud of its local history; and, for his work, ferrying and listening to a motley, oddly twin-heavy bunch of passengers around the New Jersey city. And at any time, but usually while walking or driving, if things go smoothly he's thinking up verse rooted in his everyday experience. A matchbox, say, can inspire a love poem.

There's so very much to enjoy here: Jarmusch's wry script and beautifully becalmed direction, Fred Elmes's quietly glowing photography, and utterly winning performances. Especially enjoyable are the three leads: the redoubtable Nellie as Marvin, Golshifteh Farahani as the aspirational Laura (whose unusual decorative taste gives rise to some delightful sight gags) and, best of all, Driver, who makes the protagonist watchful, pensive and quietly considerate, blending cautious optimism with the faintest whiff of melancholy.

Paterson's verse – written, apparently, by Oklahoma-born poet Ron Padgett – appears on screen in handwriting as Driver's voice hesitantly tests the sounds of the words; they fit the character like a favourite old suit. It's a wholly unpretentious portrait of the artist as an everyman figure: Paterson's encounter with a Japanese poet (Masatoshi Nagase from 'Mystery Train', again making a cultural pilgrimage) simply makes a little more explicit everything that has gone before. Art, the film suggests, is about first noticing then communing with the world around you. In that sense, it's another wise, wonderful Jarmusch movie about the importance, in this sad and beautiful world, of friendship and love.
Release details
Rated:
15
Release date:
Friday November 25 2016
Duration:
113 mins
Cast and crew
Director:
Jim Jarmusch
Cast:
Adam Driver
Golshifteh Farahani
Masatoshi Nagase

Rating Breakdown
5 star:

2

4 star:

4

3 star:

0

2 star:

1

1 star:

0
"Some call it rain"
"Paterson" is one of the most relatable, sweet, and charming movies I've seen this year. While the story is simply and straight forward on paper, but the final result is quite unique. Before seeing the movie, I've heard nothing but great things about this movie, even at Cannes it got excellent feedback. And boy, it didn't disappoint.
Adam Driver once again knocks it out of the park in this movie. By giving a very quite and kindhearted performance that's quiet something. He's in everything recently and I'm glad an actor at he's range is getting the work he deserves.
I would view this movie as kind of a character study. For example: Paterson main interest is poetry, as it is he's escapism, because he lives a simply life and usually dose the same routine everyday. He's a talented man that's stuck in a dull life. There's many times in the movie where he will be sitting at a bar (alone) and he will be watching other people and you can clearly see there's something going on in their lives. Or his friends would come up to him and talk about their day, which has a lot going compared to him. It brilliantly captures loneliness and the necessity of the main character. Even through he is married and has friends, he still feels isolated.
Jim Jarmusch wrote and directed this movie so brilliantly that I can't imagine any other director doing this. What's so interesting about Jarmusch direction is that he focus more on mood and character development than anything else. And that's why I felt the main character isolation and futility. The strongest part of "Paterson" (putting aside the acting) is Jarmusch screenplay, as the film is heavy dialogue. The poetry in the movie is so well written and wasn't terribly force like other movies when trying to be poetic. Excellent work Jim Jarmusch. Haven't seen his other work yet, but will do soon day.
Overall rating: "Paterson" is pure poetry in the most wonder way. I must admit, it left a big dumb smile on my face after it was over. The movie might be slow for some people and I can understand that, but there's something in this movie that I think everyone can appreciate.
i am being generous giving this boring film 2 stars, i thought about walking out but didn't , i cant even remember what it was about a week later
Small town humbleness.Little events happen,yet quite moving and touching.Everyday people trying just to live.The humbleness give the film a gentle sadness..4 stars
Understated and kind of 'ordinary' though it seems on the surface, the appeal of this film creeps up on you. A few things particularly appealed to me: liking patterns in black-and-white, seeing old films at the cinema, not wanting to own a smartphone. And the conversations of people on buses ... some banal but some downright intellectual. Found myself thinking of anecdotes from it the next day. Recommended.
Charming and poetic study of the every day and mundane - and the search for love and passion that makes the mundane bearable. Jim Jarmusch returns with his unmistakable style. And one of the coolest dogs in cinema. A must see.