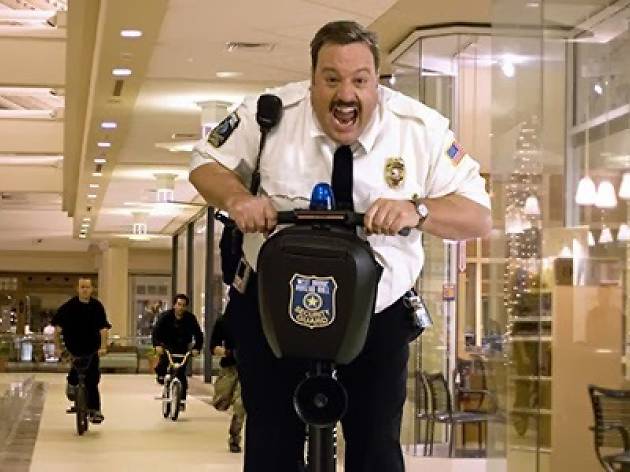 Time Out says
Cinema lovers, you should thank God for Kevin James. This oft-ridiculed screen giant is here to answer a question that has plagued mankind for decades now: what would a film be like if every single person involved made as little effort as humanly possible? It's been six years since the inexplicably successful 'Paul Blart: Mall Cop', and our hero (Kevin James) is in a rut. His wife has left him, his mother was flattened by a milk truck (just one in a series of oddly brutal sideswipes against elderly women) and his daughter Maya (Raini Rodriguez) is planning to leave home. When he gets an offer to attend a security officers' convention in Las Vegas, Paul jumps at the chance.
Given that it comes courtesy of Adam Sandler's production company Happy Madison – the good folks behind such comedy classics as 'You Don't Mess With the Zohan' and 'Grown Ups 2' – it's no surprise that 'Paul Blart: Mall Cop 2' is a lazy, witless, laugh-free experience. But even by their standards, this is a slog to sit through, so glacially paced that at times it achieves an almost zen-like level of anti-comedy. Expect the next film to consist solely of James silently piloting his Segway around in a white room for 90 minutes.
Details
Release details
Rated:
PG
Release date:
Friday April 10 2015
Duration:
94 mins
Cast and crew
Director:
Andy Fickman
Screenwriter:
Nick Bakay, Kevin James
Cast:
Kevin James
Raini Rodriguez
Eduardo Verástegui

Rating Breakdown
5 star:

0

4 star:

0

3 star:

0

2 star:

0

1 star:

1
I think saying this film is a "lazy, witless, laugh-free experience" is doing it a disservice. This might possibly be the worst thing ever made by a human, aside perhaps Jack & Jill.

It is full of 'comedy' (please read this with the most sarcastic tone you can muster up) that takes repeated swipes at various demographics in what is a very racist, homophobic, xenophobic and ageist script that shoehorns in these 'comedy' (read above) elements to make up for the fact it was probably drawn up on a legal pad by the execs over at Wynn Hotel & Happy Madison to get some advertising for Wynn (which it achieves) in order to further the goals of what is one of the most blatant Hollywood extortion rackets in existence. Remind yourself that this film had a reported budget of $30 million, and then just sit back and think about that. $30 million to film a guy in a hotel (which presumably wanted the production there in the first place) driving around on a segway, falling into a pool of water, and delivering hilarious jokes which actually didn't have anything even remotely approaching funny at all.
I'd beseech people to vote with their wallets and spend their hard earned cash on, say, an ice cream in the park, or some new shoes, or even just burning it over an effigy of Paul Blart, rather than go see this film. People should pay this film the same respect it pays the various people who are the butt of its 'hilarious' discriminatory and prejudicial jokes; none. I've given it one star, but that actually does a disservice to the other films that have garnered one star reviews. This film is so bad its actually accrued an arrears of stars it owes reviewers and customers alike.
Bet we can't wait for installment 3 eh?

Paul Blart Mall Cop 2 is a underappreciated artistic masterpiece which is just too smart for most feeble primates to understand. It is a philosophical statement on our troubled unstable existence as we float around the never-ending basin of life. If you do not like this move then read some books dum dum because it is just too smart and sophisticated for you, go watch Dora's Magic Castle instead. It is inspired by the Shakesperian essence of a free-spirit suprerssed by it's evil, ruthless surroundings (representing the critic reviews on Paul Blart Mall Cop 1). Kevin James delivers a moving performance as Paul Blart.
WATCH THIS MOVIE!