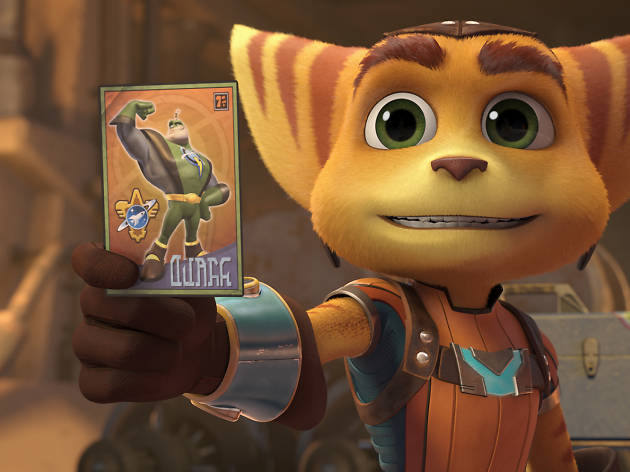 The Playstation game becomes a snarky but action-packed cartoon
Video games have always borrowed from movies and TV – which makes things tricky when those games are translated back to the screen. Based on the hugely popular PlayStation series, this kids' animation follows a wisecracking alien rodent (like the one from 'Guardians of the Galaxy'), who teams up with a prissy robot (like the one from 'Star Wars') and a loudmouth space captain (like the one from 'Futurama') to defeat an evil green mastermind who looks suspiciously like The Mekon from the old 'Dan Dare' comics.

All of which would be just about forgiveable if the film wasn't also stuffed with that snarky, sarky adolescent humour that so many modern screenwriters seem to mistake for wit (see 'Deadpool' and 'Kick-Ass'). It's not a total washout: at least one gag in five is actually funny, and the action scenes set an enjoyably breakneck pace. If you're an 11-year-old on a week-long sugar jag, you might just love it.
Release details
| | |
| --- | --- |
| Release date: | Friday April 29 2016 |
| Duration: | 94 mins |
Cast and crew
| | |
| --- | --- |
| Director: | Kevin Munroe, Jerrica Cleland |
| Screenwriter: | Kevin Munroe |
Average User Rating
4.7 / 5
Rating Breakdown
5 star:

2

4 star:

1

3 star:

0

2 star:

0

1 star:

0
You compared the movie to Deadpool? Guess I have to see it, then.
absolutely amazing film to fit the video game perfectly
Consider this: Tom probably doesn't know the "Ratchet & Clank" series is 12 years old, dating back to 2002, far earlier than "Guardians of the Galaxy" (which even going by its comic origins, was released in 2008).
Half his "review" also discounts the fact that movies and TV also borrow heavily from each other (I mean what medium doesn't...might as well talk about how movies borrow heavily from books then), not to mention that the video game medium is by far younger than both, so it's understandable. But if he had any ounce of time with video games, he'd know there are plenty brimming with originality, especially in today's indie scene.
For fans of the series, they need no explanation on its originality: back in 2002, it spawned a franchise due to its successful mixture of quirky humor, characters, and story, the most unique/memorable set of guns and weaponry, and gameplay that perfectly blended third-person shooters with platforming elements similar to Mario 64.
The series has been known for its "snarky" humor, especially from the douchiest space captain in the universe, Captain Qwark. But this movie was clearly made for fans of the game series, and sure, as a movie critic, knowledge of the property a film is based on shouldn't be a prerequisite, but at least some research into it would be recommended.
Having not seen the film yet, I'm not giving it a free pass though despite my love for the game series. I'm just commenting on Tom's biased and misinformed "review" if you can even call it that.