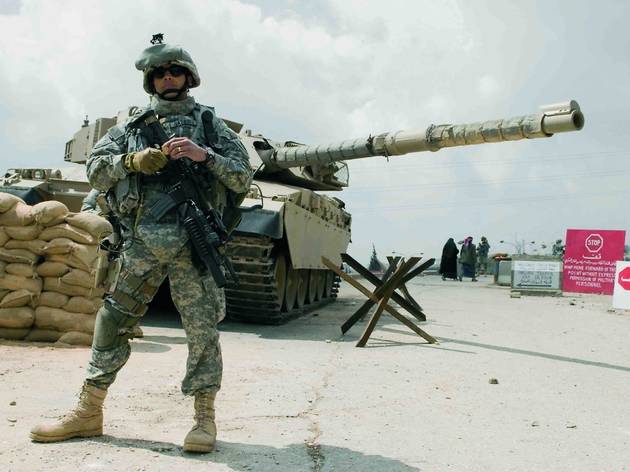 There are two separate battles for hearts and minds being lost in Brian 'Casualties of War' De Palma's 'Redacted', the latest and possibly the darkest and strangest of the recent barrage of Iraq war films. The first, on the ground, is that waged on behalf of the poor war-torn Iraqis, the various 'shit birds', 'sandniggers' and 'ragheads' who seem so murderously ungrateful to people such as Specialist Flake (Patrick Carroll), part of a US Army contingent on prolonged tour at the Samarra border post.

The second, above and around it, is the psych-ops war raging in the interactive global media, engaged head-on by De Palma in taking central character, Private Angel 'Sally' Salazar (Izzy Diaz)'s unexpurgated DV footage (including, centrally, his take on a multiple rape and arson), as his primary point of view. De Palma adds –  to disorientating effect –  numerous other cyber sources, from internet postings (notably from 'Just a Soldier's Wife' website), video journals, conferences to Al Jazeera-style broadcasts.

Reportedly, De Palma's primary motor was anger and dismay; the bizarre, bitter tone of 'Redacted' runs closer to chaos and self disgust. The film is terrible; possibly, De Palma's worst-directed  movie ever, playing like a 'swede' of his own style, indulging all his movie-pack penchants, from sick, slacker comedy to bad amateur dramatics to empty, nasty, wham-bam horror kinetics.

But, despite that, it could well prove  his most enduring; a sign of its insensate times, semiotically speaking, which offers an extraordinary, if accidental, vision of  'visionlessness' and debasement. War was ever a Kubrick-ian hell-ride, futile, fundamentally unheroic and de-humanising, but now it's mocked by a mad multimedia accompaniment innocent of all real ethical, moral and humanitarian value.
Release details
Rated:
18
Release date:
Friday March 14 2008
Duration:
90 mins
Cast and crew
Director:
Brian De Palma
Screenwriter:
Brian De Palma
Cast:
Ty Jones
Kel O'Neill
Izzy Diaz

Average User Rating
2.5 / 5
Rating Breakdown
5 star:

0

4 star:

0

3 star:

1

2 star:

0

1 star:

0
De Palma as a film maker somehow lacks humanity(the very thing he rails against in this film composite), he is not good at dealing with the psychology of people.He has a surface flashiness without substance and a technical virtuosity with a hollow core.I can see the anger that drove him to take this subject without believing he has pulled it off.A similar true situation is depicted in the superior Casualties of War,where the situation is more fully developed and the acting and characters deeper,more fully realized. This film seems too contrived,based on an incident of graphic and sadistic violence,a young girl's rape and murder and her family's too.There is no real conflict of character:those with some conscience and feeling are too weak to overcome the two chief perpetrators,a couple of cartoon psychopaths,and become drawn into an event not of their choosing.All the dialogue is cliche-ridden and propagandist.Their is no subtlety of conception and execution.De Palma filmed it this way as a protest at how the American media had redacted the true horror of the war. I feel Broomfield's treatment in Battle for Haditha was more engaging,using as he did ex-soldiers as actors with a greater realism and documentary feel.Also The Valley of Elah was more effective by portraying the effects of the war on young men.I feel the voyeurism we have come to expect from De Palma is here too despite the several filters,video,cam,CCtv,news, internet blogs,terrorist networks,documentary in the rush of adrenalin of porn violence.The film is allegorical,the invasion and war in Iraq akin to the rape and death of the 14 year old girl.What must happen to Americans is what happens to the scorpion overcome by ants.Disappointingly poor film.