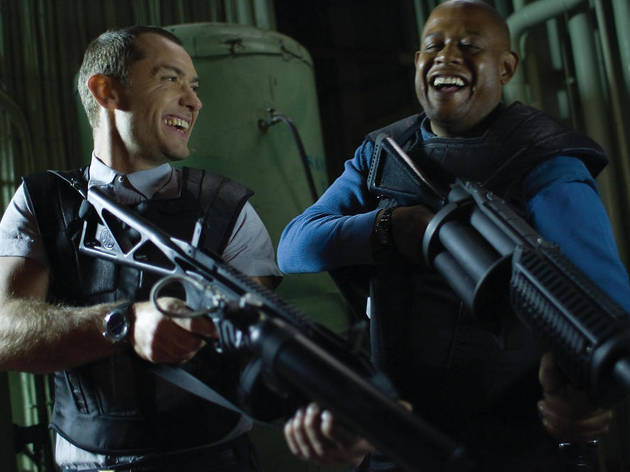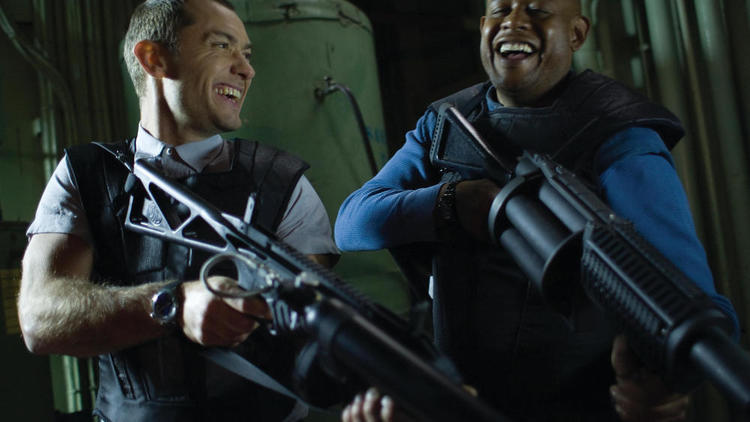 So who's playing the Emilio Estevez role? Jude Law? Forget it – this nasty non-thriller shares nothing but a similar title with Alex Cox's nutty 1984 head trip through LA, and more's the pity. Here, we're in that gone-to-pot near-future so beloved of filmmakers, where Law and Whitaker (pictured) are pals and colleagues working in a debt-recovery department with a difference: they recover human organs. The film pitches friend against friend as Law ends up with a new ticker and darts about town with fellow post-op target Alice Braga in tow. Ideas, excitement and logic are ditched in favour of blood and gore – and there's no fun to be had watching operations and knife fights. Law and Whitaker are disastrous in the lead roles. It's a dreary and violent film that betrays its three years spent on the shelf.
Release details
| | |
| --- | --- |
| Rated: | 18 |
| Release date: | Friday April 16 2010 |
| Duration: | 111 mins |
Cast and crew
Director:
Miguel Sapochnik
Cast:
Jude Law
Forest Whitaker
Alice Braga

Average User Rating
1.9 / 5
Rating Breakdown
5 star:

0

4 star:

0

3 star:

1

2 star:

1

1 star:

0
Not many films begin with a foray into the mysteries of quantum physics with Jude Law giving a layman's version ofthe famous ` Schrodinger's Cat` paradox. Unfortunately it's downhill after that, after Jude Law's ruthless repo man persona supposedly develops a conscience, and embarks on a mission for the good of mankind, which, one has to say, is not particularly successful as it ends in the gory death of large number of ` mankind` . . . No doubt the producers decided to go for a target audience of 12 year old boys with an18 certificate .( DVD sales should do well) A dis appointing film in which it's difficult to summon up any sympathy for the unbelievable characters. Jude Law and Forest Whitakker do their best, but they're up against it with a screenplay which fails to deliver a convincing plot. Time out's rating of one star is about right.
While I thought the film wasn't Citizen Kane, it was worth it just for the lung outfit joke in the multistorey carpark.
Not the surreal cult classic style of Repo Man of'84 but overall a decent action movie for the unsqueamish - See if with a low expectation and you may find the blood and brutality mildly entertaining 3 stars.