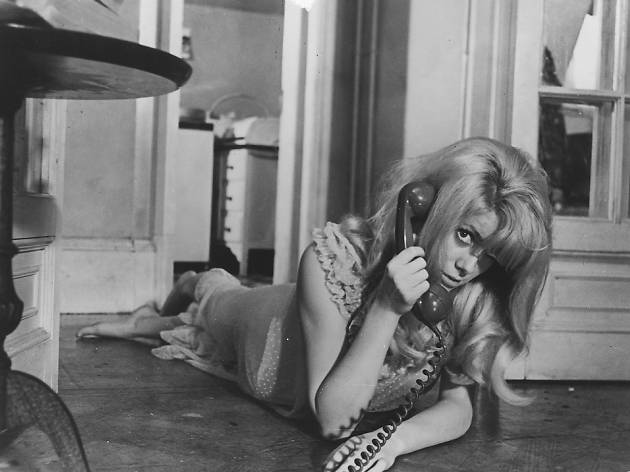 Still perhaps Polanski's most perfectly realised film, a stunning portrait of the disintegration, mental and emotional, of a shy young Belgian girl (Deneuve) living in London. When she's left alone by her sister in their Kensington flat, she becomes reclusive and retreats into a terrifying world of fantasies and nightmares which find murderous physical expression when she is visited by a would-be boyfriend (Fraser) and her leering landlord (Wymark). Polanski employs a host of wonderfully integrated visual and aural effects to suggest the inner torment Deneuve suffers: cracks in pavements, hands groping from walls, shadows under doors, rotting skinned rabbits, and - as in Rosemary's Baby - the eerie, ever-present sound of someone practising scales on a piano. And despite the fact that the girl's manically destructive actions derive from a terror of sexual contact, Polanski never turns his film into a misogynist binge: the men she meets are far from sympathetically portrayed, and we are led to understand her fear and revulsion by the surreal expressionism used to portray her mental state. All in all, one of the most intelligent horror movies ever made, and certainly one of the most frighteningly effective.
Release details
Cast and crew
Director:
Roman Polanski
Screenwriter:
Gérard Brach, Roman Polanski
Cast:
Renee Houston
Catherine Deneuve
Yvonne Furneaux
Ian Hendry
Helen Fraser
John Fraser
James Villiers
Valerie Taylor
Patrick Wymark

Rating Breakdown
5 star:

2

4 star:

0

3 star:

0

2 star:

0

1 star:

0
Discovering this film after years of reading about it finds this viewer in awe of Roman Polanski's virtuoso filmmaking technique. His directorial sleight of hand catapults the audience into complete submission, witnessing the gradual mental breakdown of a young Belgian woman living in London. Her reclusiveness steadily works itself on the viewer as the chaos in her mind is mirrored in the flat she shares with her sister, who has left on holiday with her boyfriend for several days. The young woman's torment grips one like a vise as her life increasingly spins out of control. "Repulsion", filmed in brilliant back and white, possesses all the characteristics of the typical Art House fare of the early to mid 1960s, with its mod, jazzy background score and antithetical form of filmmaking, stripped of the color and gloss of Hollywood but striking in its own fashion via Gilbert Taylor's monochromatic cinematography. Catherine Deneuve's performance as Carol is remarkable : a beautiful actress whose portrait of a young woman's descent into madness is completely shorn of vanity. "Repulsion" must be considered one of Polanski's greatest achievements.