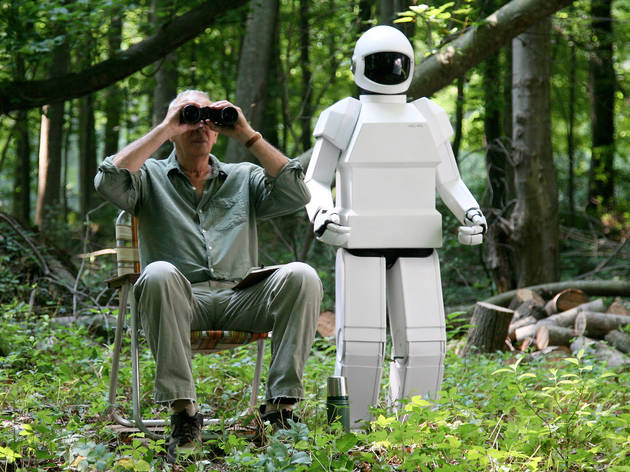 The Frank of 'Robot & Frank' is a slightly dotty retired jewel thief, rusting away in a remote New England community, a few years in the future. He's played with old-school charm by Frank Langella, who's deserved this kind of lead role for a while now. The robot is an Asimo clone bought by Frank's son (James Marsden) to act as his father's home help and health care worker. But it's not long before Frank is taking advantage of the robot's moral absence to carry out a series of daring cat burglaries in the neighbourhood.
'Robot & Frank' is sweetness itself: the buddy-buddy relationship between Langella and the straightest straight man in history is nicely written, while the new-lease-of-life angle is played with a pleasing absence of sentiment. But the film feels slight – it doesn't quite crack 90 minutes – and never gains much momentum, trundling towards a morose but largely unmoving climax. There are some odd plot choices, too: a budding romance between Frank and local librarian Jennifer (Susan Sarandon) adds heart, until a bizarre final-act twist undermines all that's gone before. Ultimately, it feels as though the filmmakers have settled for the soft option one too many times, and the result is a pleasant but unmemorable watch.
Release details
Rated:
12A
Release date:
Friday March 8 2013
Duration:
89 mins
Cast and crew
Director:
Jake Schreier
Cast:
Frank Langella
Susan Sarandon
James Marsden

Average User Rating
3.8 / 5
Rating Breakdown
5 star:

0

4 star:

3

3 star:

0

2 star:

0

1 star:

0
i loved this little movie...made me laugh & cry.....really sweet... We are fed up to the teeth with all the other hollywood drivel thats churned out to make the $$$$$$s. It wont make millions but its a lovely film....about getting ageing and life .....delightful .....
Subtle, clever and very sweet/bittersweet character story about aging, companionship and how memory defines us and our relationships. It does not make a lot of noise but it certainly rings true.
I agree with the reviewer that this is a sweet film that lacks any real bite but I think that it has enough charm to make you overlook the softness and I ended up going along with it. A good comparison film is Dean Spanley which came out a few years ago, and although not as good as that the tone and performance levels of the main older characters are similar. Utlimatley like with Dean Spanley I felt that this was a lovely film and would hapily recommend to most people.