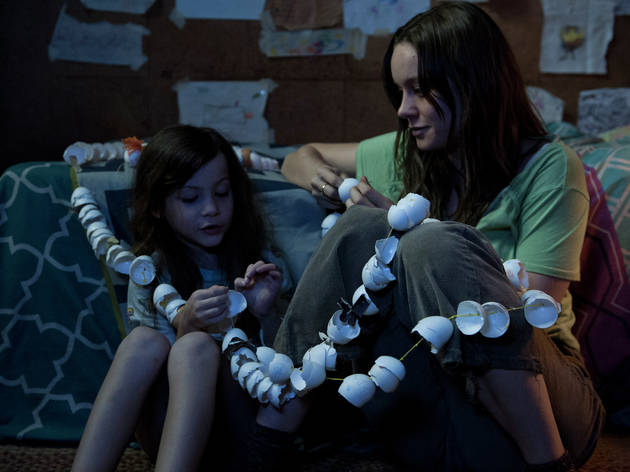 Brie Larson is harrowing as a young mother abducted and trapped in a shed for years
The full picture emerges slowly in 'Room', Lenny Abrahamson's powerful, sensitive survival drama. Details arrive like the droplets of rain that fall on the skylight of the shed in which a mother and child are locked. But it's clear from the start that Joy (Brie Larson) and her young son Jack (spookily good newcomer Jacob Tremblay), are forcibly confined within the grey concrete walls of their grim enclosure.

For exercise, Jack runs back and forth between two walls. For food, a man they call Old Nick delivers essentials when he stops by to rape Joy at night. The mother and son's inevitable escape makes for a harrowing sequence that exemplifies both the best of Larson's raw-nerve performance and the worst of Abrahamson's technique, fumbling between zooms and slow motion. 'Room' only blossoms into something special after it explodes into the world beyond the shed.

Adapted by Emma Donoghue from her own 2010 novel, the film reveals its layers when Joy is reunited with her stunned parents (played by Joan Allen and William H Macy), who divorced after her abduction. Obliged to resume her role as a daughter, Joy struggles to reconcile returning to real life with the challenge of introducing her son to it. Larson's ability to articulate the excruciating limbo of being suspended between two generations really is a thing to behold.

If Abrahamson were as gifted with a camera as he is with his cast, 'Room' could have been truly worthy of its astonishing performances. As it stands, the film is still a heart-rending exploration of the worlds that parents create with their kids.
Release details
Release date:
Friday January 15 2016
Duration:
118 mins
Cast and crew
Director:
Lenny Abrahamson
Screenwriter:
Emma Donoghue
Cast:
Brie Larson
Jacob Tremblay
Joan Allen
William H. Macy

Average User Rating
4.5 / 5
Rating Breakdown
5 star:

20

4 star:

9

3 star:

1

2 star:

1

1 star:

0
The film starts off at a rather pedestrian pace but only really opens out & gets going when they get out and we get senses of the ways the outside world impacts on them. I came expecting a brilliant performance from Brie Larson and while it was good, no way did it deserve Best Actress. (Saiorse Ronan was robbed who was truly excellent in Brooklyn.) Jacob Tremblay as young Jack, however, was much better.
I can understand anyone finding the whole premise of this film a bit of a turn-off. But I'd urge anyone to get beyond that and give it a shot. Yes, the story is harrowing, but it's also full of love and warmth in how it look at the mother-son relationship. And most disturbing is the later chapter of the film when the mother finds it impossible to readjust to real life (that's giving nothing away; the trailer details their escape).
A very very difficult watch,due to the terrible sadness of the whole event..The little boy is by some way the best actor in the film,eclipsing Brie Larson..An astonishing performance that is not nominated for a best actor award..A must see film,but only on a day you feel emotionally strong..5 stars
I was so excited for the film adaptation of Emma Donoghue's incredible book and I wasn't disappointed when I saw it last week at a Time Out Card preview screening. I could not believe the quality of acting from the boy playing Jack (Jacob Tremblay). He absolutely blew me away. Brie Larson also gave an Oscar-worthy performance as Joy.
I found it slightly less harrowing than the book, but so compelling and really moving. Definitely worth a watch!
I really loved this harrowing yet uplifting book when I read it about 5-6 years ago, and so was a bit apprehensive when I went to see this film, especially considering that the book is from the perspective of the 5 year old boy. However, the film did not let down my expectations - it was so true to the book - I think it helped that Emma Donaghue (author) also wrote the screenplay, and was one of the producers.
Jacob Tremblay was truly sensational as the young boy, Jack, and Brie Larson gave a wonderfully emotional performance as Joy.
It truly is a real must-see. If they aren't inundated with awards, I will be very disappointed.
Ps. I watched this over 5 days ago, and I still find myself spending time thinking about it every day!
Amazing film with outstanding performances. The story being told by the child's point of view makes it even more compelling. Very emotional, enjoyable and definitely worth seeing.

I was so emotionally wrought after watching this film, I stood on the left on the escalator. It deserves every award in existence.
Truly amazing. Gorgeous, moving, dark but extremely subtle. Actors are brilliant too. Don't watch the trailer, just read the synopsis for a perfect immersion and more suspense.
Amazing film. Hope it wins some good awards!
A very disturbing plot situation, but shines forth with courage and resolve with the love between mother and son and the ever hopeful creativity of a child's being.
A rare case of a film improving on the book. Emma Donoghue has adapted her own book and used it to address some of the narration problems in the book. This is a gripping film with great performances by Brie Larson and an amazing Jacob Tremblay.