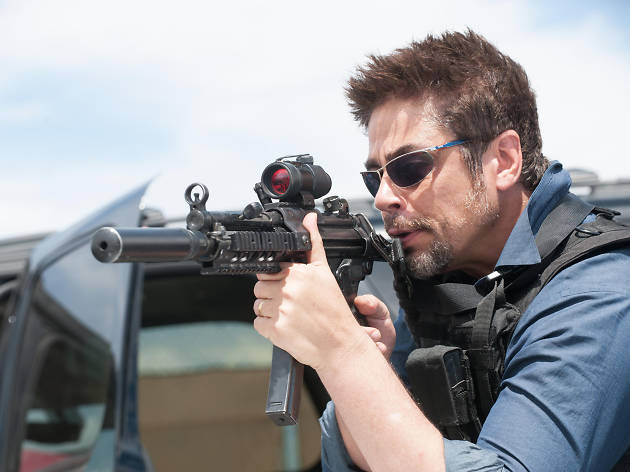 Clawing his way up the power ranks of Directors Least Likely To Make A Romantic Comedy, Denis Villeneuve takes on the Mexican drug trade in this stern, robust, abandon-hope-all-ye-who-enter thriller. And during its throat-grabbingly effective opening, it seems he may have the final word on this oft-visited genre. As an FBI team, headed by Emily Blunt's stoic agent Kate, literally crashes an Arizona drug-cartel hideout, a gruesome cache of human corpses is uncovered behind the drywall – and the filmmaking practically gives off its own vivid, indignant stench. Cinematographer Roger Deakins's dynamic camera forces us to look where we'd rather not; Johann Johannsson's score swarms with malevolent foreboding. Even as he borrows from other movies' hellish visions – some of the most arresting imagery here feels lifted from Amat Escalante's 2013 Cannes winner 'Heli' – Villeneuve knows how to overwhelm his audience.
That panicked pitch, however, is tough to sustain across two hours of beautifully wrought moral turpitude that nonetheless doesn't contain many stunning revelations. Kate is drafted into a mysterious, agency-merging task force established to bait and bring down a key cartel leader, though her requests for information are blocked at nearly every turn: she's not even sure if her rule-bending team leader (Josh Brolin, on strong, non-stick form) belongs to the CIA or not. Still, he's a positive chatterbox compared to Alejandro (Benicio Del Toro, superb), a quietly lethal ex-prosecutor with a personal stake in the hunt. Good guys and bad guys largely wear the same hats in this ethical minefield, but that's hardly news: as in Villeneuve's similarly nasty, formidable 'Prisoners', 'Sicario' occasionally seems a little too impressed by its own nihilism. Still, this is an involving, grown-up film from a director whose muscular technique continues to impress: one might call it pulp in the same manner one would a plate of minced meat.
Release details
Release date:
Thursday October 8 2015
Duration:
121 mins
Cast and crew
Director:
Denis Villeneuve
Screenwriter:
Taylor Sheridan
Cast:
Emily Blunt
Josh Brolin
Benicio del Toro

Average User Rating
3.5 / 5
Rating Breakdown
5 star:

4

4 star:

7

3 star:

5

2 star:

5

1 star:

0
Write a review This is one of the best movies I've seen in the last few years. If you like suspenseful movie with good cinematography which evokes interesting questions rather than feeding you everything with cheesy scenes, then its right up your street. Without spoiling anything, we don't know who the Sicario is (Hitman in spanish) till the last part of the film. Roger Deakins' cinematography is amazing as always & although all 3 lead actors were great, Benicio Del Toro was the best!
Somewhat over-rated by the critics. One or two excellent set-pieces, some impressive photography and a superb pulsating soundtrack but Soderbergh`s Traffic (also starring del Toro) dealt with similar themes in a much more thorough and coherent manner. Three and a half stars.
Judging from the posters and trailers for Sicario, you may be lead to believe that this film is about FBI agent "Kate Macer" (played by Emily Blunt) willing to prove herself under a threatening new assignment. But half way through the film Emily takes a back seat from her "bad-assery", as seen in films like the Edge of Tomorrow, and portrays a realistic approach to someone who is way out of her depth in a multi-layered crime story centered around the Mexican cartel (let's face it, under these circumstances sometimes it's best not to be the hero!).
After being caught up in a drug bust which evolved into a mass body count - She soon meets Alejandro (Benicio Del Toro, or ... Puerto Rican Brad Bitt as I like to call him...) and Matt Graver (Josh Brolin) - key operatives in a mission to fight back against Fausto Alarcon - one of the head honcho's of the cartel. And at this point in the story you begin to realise that the story is not so much centred around Kate, but more so on the character of Alejandro and what his mission is.
The most memorable part for me during this film is a sequence that was shot in night vision - almost akin to the kind of experience you have whilst playing an intense video game. The cinematography and action was fantastic, drawing me in and keeping me on my toes. But I found the story somewhat lacking...there were some good twists here and there, but at times the story was lost on me, with some of the military jargon being laid on a bit too thick.
Overall - a good action film to watch with an interesting story if you can keep up with it. I'm sure fans of Denis Villeneuve's previous films will not be disappointed!
Hard hitting gritty piece. Not the usual action packed thriller but something much darker
Awesome movie! On your toes all the time and a good classic thriller but not a blockbuster
If you're after a packaged Hollywood movie that's neat and tied with a bow, this isn't it. It's gritty, funny, heartwarming, scary, confusing; truer to life than most films. It's unpretentious but holds you from the get go. Benicio's acting is superb; difficult to read, he commands respect and fear. Emily Blunt's character wasn't what I expected, although it fits with the film's progression.
I'd recommend going to see it. Avoid the trailers and don't come with any preconceptions of what the film will be and you'll be pleasantly surprised - providing you like your thrillers undiluted.
I left the the cinema scratching my head at what I had just seen. Lots of build up almost too much. I think the movie got lost along the way. Started off as one thing and ended up as anothers. The magical traffic jam, the cop and his footballing kid? I dunno.. would not watch this again.
It's a good thriller! The soundtrack and sound editing were the best part in my opinion. Although from the trailer I thought Emily Blunt's character would be more interesting, a good strong female agent for a change. But instead she is fragile and patronized. For the only female role in the film I expected more. But it's a good film nonetheless.

Sicario is a great action movie in a realistic setting. A little bit of Hollywood as it is based in LA in some scenes, but a gritty and dark tale of the only way to sometimes get justice done. There some amazing scenes showing the lengths people will go to for money and the true depravity that exists in our society, but also some elements which prove just how hard a chosen few will work to fight to keep the world clean and safe. A great "True Detective" type vibe to it. Definitely recommend.
Sicario is a very dark thriller that looks into how the U.S. goverment is trying to limit the effect of the Mexican drug cartels. It has a brilliant cast and gripping story line and there is never a dull moment. Some scenes have some great visuals which almost feel like you are in the game Call Of Duty. This film is not for the faint of heart but if you can stomach the violence it is a great watch.
A powerfully gripping and intense thriller about American Secret Forces's war on Mexican Drug Cartels, focusing on the "not-so-legal" methods they are prepared to go to stop the Cartels from smuggling drugs into America! With an absolutely brilliant and toweringly haunting performance from the legendary Benicio Del Toro and fantastic turns from both Emily Blunt and the always immense Josh Brolin!
The film is taken to even dizzier heights by Oscar Winner (for The Theory of Everything) Johann Johannsson's Pulsating Sound Track that serves to get your Heart Pumping faster as you nervously but very anxiously await what's going to happen next!!!!
I would highly recommend this as one of the best thrillers of the year! It had me on the edge of my seat the entire time!