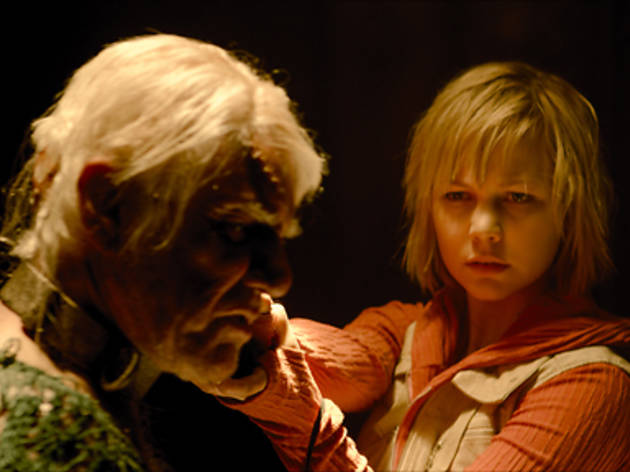 Six years after 'Silent Hill', this belated and over-plotted sequel from British director Michael J Bassett ('Solomon Kane') attempts to blur the line between reality and dreams, but only succeeds in smudging the boundary between waking and dozing. As the audience drifts inexorably off to sleep, familiar and newly introduced characters explain the tiresome, emotionally uninvolving plot to one another, as would-be nightmarish images generate minimal scares.
With her mother lost to the creeping, Stygian gloom of Silent Hill, 17-year-old Heather Mason (Adelaide Clemens) and her paranoid father, Harry (Sean Bean), live a rootless existence, fearing that agents of the Order of Valtiel will try to lure Heather back to the abandoned mining town where subterranean fires still rage and a fanatical religious cult holds sway. When Harry disappears, his daughter is drawn back to face her destiny, in the company of handsome love-interest Vincent Carter (Kit Harington). But neither Heather nor her new-found beau are who they claim to be, or even who they thought they were.
Neither the pyramid-headed executioner and jerky, stop-motion nurses, nor any of the newly created monsters can fan the fading embers of our interest. By casting younger protagonists, 'Resident Evil' producer Samuel Hadida has re-worked Christophe Gans's atmospheric, episodic original for a teen audience. Yet it is older viewers who might enjoy the cameos by Malcolm McDowell as a blind, patriarch consigned to an insane asylum, or 'Matrix' alumnus Carrie-Anne Moss as his usurping daughter, Claudia, the new high priestess of the Order. Gifted Australian actress Adelaide Clemens, seen recently as sparky suffragette Valentine Wannop in the BBC's 'Parade's End', has a bright future ahead of her – now that she has put the soul-sucking darkness of 'Silent Hill' behind her.

Release details
| | |
| --- | --- |
| Rated: | 15 |
| Release date: | Wednesday October 31 2012 |
| Duration: | 94 mins |
Cast and crew
Director:
Michael J Bassett
Cast:
Sean Bean
Radha Mitchell
Carrie-Anne Moss

Average User Rating
3.8 / 5
Rating Breakdown
5 star:

0

4 star:

1

3 star:

0

2 star:

0

1 star:

0
I personally liked the movie. I didn't mind that it wasn't super scary cause to me the game wasn't that scary. My only problem with the movie was that they didn't go into detail about what truly happened with her and alessa.
I seriously try my very best to see SOME good in all films, and loathe giving out 1* (as some do willy nillie!) but.........
I was a huge fan of the game! I was so addicted. I was pleased with the first film purely because it was a cinematic adaptation. I haven't seen the second one, nor do I plan to. The trailer answered the only question I had to ask; Is there really an opportunity for a trailer? No, no there isn't.