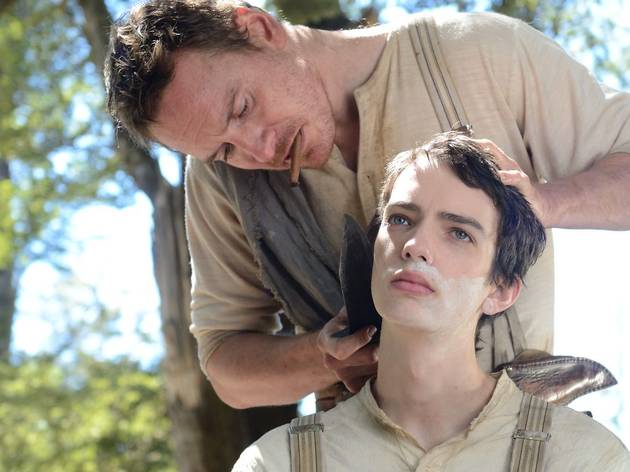 Like the title says, it ain't exactly action-packed, but this contemplative, whimsical western goes out with a Godalmighty bang
'Kill that house!' A man draped in furs stands in the middle of an endless wheat field and commands his ragtag posse of killers to lay waste to the only home in sight. What follows is one of the greatest shoot-outs this side of Sergio Leone, violently punctuating a fable about a place so preoccupied with survival that no one in it can afford to take a hand off their holster.
An angular Western that takes the idea of the fading promise of the New World and sublimates it into a fairy tale of unrequited love, 'Slow West' starts with 'once upon a time' and ends with a crackle of incredible savagery. Narrated by a cynical Irish bounty hunter called Silas (Michael Fassbender, excellent), the film tells of a 16-year-old boy, Jay (Kodi Smit-McPhee), who's sailed across the ocean from Scotland in search of his sweetheart, Rose. Naive Jay is described as a 'jackrabbit in a den of wolves' – he might be the only person west of the Mississippi unaware that Rose has a massive bounty on her head. But Silas knows the score when he offers to escort Jay through Colorado. Meanwhile, a gang of unsympathetic vultures has picked up the scent.
Like any good Western, 'Slow West' percolates with the constant threat of violence, but debuting feature director John Maclean wrings the genre for its mythic value. Everything in his film is touched by the daydream delusions of its hero, especially Robbie Ryan's gorgeous cinematography, glazing a brutal chapter of American history with the elusive innocence of young love. Jay and Silas never make the most of their tragicomic team potential – running a terse 84 minutes, the movie never gives them the chance – but their brief adventure leaves a lasting impression.
Release details
| | |
| --- | --- |
| Release date: | Friday June 26 2015 |
| Duration: | 84 mins |
Cast and crew
Director:
John McLean
Screenwriter:
John McLean
Cast:
Michael Fassbender
Kodi Smit-McPhee
Ben Mendelsohn

Average User Rating
3.9 / 5
Rating Breakdown
5 star:

1

4 star:

9

3 star:

0

2 star:

1

1 star:

0
As the name suggests it's a slow burner but worth the patience. Fassbender and Smit-McPhee both put in great performances
Really enjoyed it. Beautiful scenery, poetic dialogue, and bits of comdey peppered in to offset the dark plot developments. Fassbender was good, but his accent was a bit weird.

Intriguing movie, somewhere between a western and an initiatic movie.The weirdness of the young hero, his ingenuity in contrast with the wild west life and its outlaws, the charisma of Fassbender, and the poetic cinematography make this film captivating. A pleasant moment that I recommend.
Tarantino meets Wes Anderson for a wry wild west fable.Michael Fassbender ever watchable as thought transmutes to action.Beautifully shot yet shockingly realistic violence.
Sorry to say but it was not a brilliant as anticipated. Predictable plot and little background information why and how events unraveled as they did. Beautiful cinematography and great acting. Some people left the cinema during the movie so that is not really the best sign of an amazing movie.
Great, methodical directing - had my attention throughout!
Great job of the director John Maclean for his debut feature film!
No wonder it got the grand jury prize at Sundance this year.
Clever story with a small but efficient cast and beautiful cinematography.

It's a blend of road movie, western and coming of age movie that works really well.
Had a great time as usual at the TimeOut Card preview screening last night.

I did like this movie, its is beautifully made and intriguing. It made the audience laugh which i did not really get though.
Just back home from Time Out Card preview screening. Really enjoyed this. In fact always enjoy a good old fashioned shoot out. Almost felt nostalgic that the piece was set when outlaws were a dying breed. Plenty of dark humour and more Smith and Westerns than you normally get in 85 minutes. Short , sharp and effective. Oh - and the scenery made me want to go to Colorado soon !