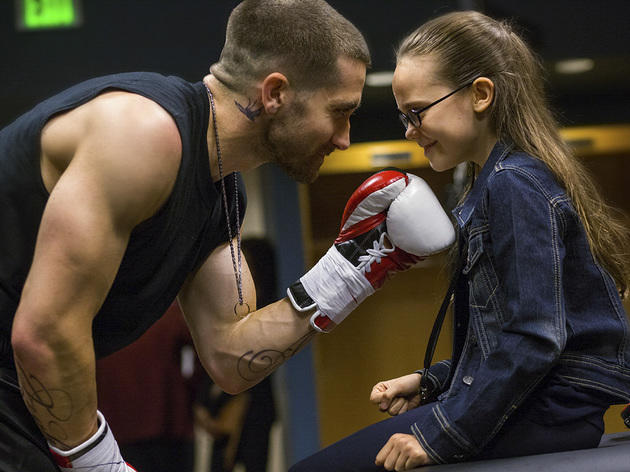 Jake Gyllenhaal goes all-out for Oscar glory in this boxing drama, but sadly the film doesn't live up to his performance
Like a 'Raging Bull' that's been punched one too many times in the head, Antoine Fuqua's boxing melodrama is so loaded with obviousness, there's more pained groaning from the audience than from the guys in the ring.

Jake Gyllenhaal is Billy Hope, an inspiration to fans, transcending his tough upbringing in New York's Hell's Kitchen to claim a light-heavyweight title, a lovely, devoted wife (Rachel McAdams) and a luxurious home. This is all speedily taken away from him, when an accidental gunshot turns Billy into drug-abusing widower, with his young daughter placed in protective custody. Will he straighten up via some tough love from a scrappy gym-owning coach (Forest Whitaker) and make a lucrative televised comeback?

Viewers who have a lot of texting to do, don't bother looking up. Already 'Southpaw' is being positioned as an awards-worthy plunge into grit from star Jake Gyllenhaal. He has bulked up tremendously and wears his character's grief like a sweaty robe. But compared to his fast, flinty turn in last year's 'Nightcrawler', this is simple stuff for him, suppressing his natural craftiness with lugubrious Stallone-isms. The performance is poundingly physical, yet it's set in a fantasy world where family tensions get resolved quicker than jaws hit the canvas.
Release details
| | |
| --- | --- |
| Release date: | Friday July 24 2015 |
| Duration: | 0 mins |
Cast and crew
Director:
Antoine Fuqua
Screenwriter:
Kurt Sutter
Cast:
Jake Gyllenhaal
Rachel McAdams
Forest Whitaker

Average User Rating
3.5 / 5
Rating Breakdown
5 star:

3

4 star:

0

3 star:

1

2 star:

1

1 star:

1
Stopped watching this film after 30 minutes, the fight scene was the worst choreography I've seen in a boxing film so far, Jake may have gotten into shape but he definitely didn't learn to box. Nothing about the plot was interesting, I didn't watch the rest of the film and can tell you pretty much exactly what was going to happen. Don't waste your time with this just watch Rocky instead!

Humourless, over-rated boxing melodrama.
Write a review...As a boxing fan, I had high hopes for Southpaw… and thankfully, it duly delivered. It's a tale of one man's path to redemption through boxing, and yes, it may be high on a few clichés, but the formula works… mainly due to a superb performance by Jake Gyllenhaal and Forest Whitaker.Brilliant film - highly recommended!
I was lucky enough to catch an advance screening of this movie, and I was extremely glad I did. After watching the previews I felt as though a lot of the movie was given away, but I was blown away by the performances on screen. The movie was centered around a champion prize fighter hitting rock bottom, and slowly climbing his way back into the ring. It was an emotional journey that cannot simply be categorized as a movie about boxing, but rather, an inspiring and riveting tale of parenthood and a father's love for his daughter. The cast was excellent and everyone excelled in their roles. I wouldn't have expected to like Curtis "50 Cent" Jackson in a role as much as I did. Jake Gyllenhaal and Forest Whitaker had Oscar worthy performances. Everyone did a great job with their roles. The cinematography was fantastic, and the fight scenes gave some great first person shots that made you feel as though you were there in the ring fighting along side the actors. Overall, this movie is an experience that is not to be missed