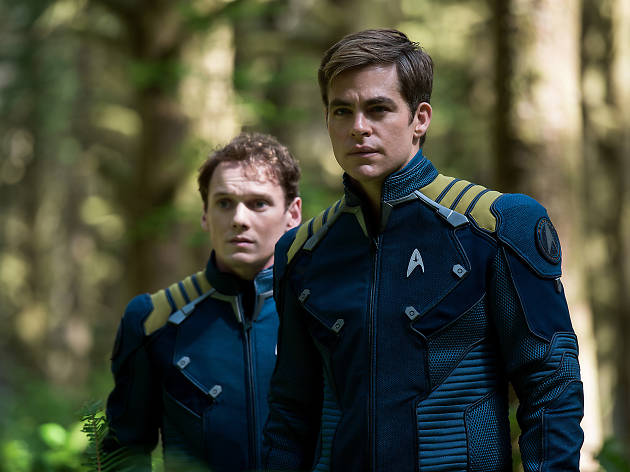 Stranded on a hostile planet, Kirk, Spock and the rest of the Enterprise crew face an alien threat
Too much ambition can be a dangerous thing. The previous 'Star Trek' movie, 2013's 'Into Darkness', was packed with it: a sprawling epic full of new worlds, violent consequences and hefty emotional moments. It was later – just a little unfairly – voted the worst Trek movie ever by some of the series's most hardcore fans.

So it's a genuine pleasure to report that 'Star Trek Beyond' is not ambitious in the slightest – unless you count the filmmakers' absolute commitment to making audiences grin, whoop, and bounce up and down in their seats. More than any franchise entry since 1998's (admittedly ropey) 'Star Trek Insurrection', it feels like a classic TV episode: the crew of the Enterprise head to a mysterious planet, they get into a spot of bother and Captain Kirk punches an alien. The end.

Of course there's a tad more to it than that, as the Enterprise's investigation into a mysterious shipwreck leads to a spectacular confrontation with a swarm of drones, and leaves the crew marooned and scattered on a rocky, treacherous world. This time around it's Kirk (Chris Pine) and Scott (Simon Pegg) who do most of the heroic heavy lifting – co-writer Pegg has noticeaby beefed up his own role – while Spock (Zachary Quinto) keeps it suitably cerebral, wrapped up in fears for the future of his race and grief at the death of his older self. A tribute to the late Leonard Nimoy is genuinely moving – though there's only a post-film dedication to Anton Yelchin, aka Chekov, whose tragic death was too recent.

But the dominant mood is giddy and jubilant: not since the original crew stepped down have we felt such a vivid sense of adventure and comradeship. And it helps that 'Fast & Furious' veteran Justin Lin is a better straight-up action director than JJ Abrams ever was: the battle scenes roar like thunder, and a late sequence in a gravity-defying starbase is astonishing.

The film's Achilles heel – again – is its villain: Idris Elba gives it his all as lizard-faced psycho Krall, but deep down he's just another muscly warrior with an irrational grudge. Still, that – and a handful of dicey plot holes – aside, this is all fun all the time, a dizzying carnival of wisecracks, fisticuffs, explosions, chases and truly eye-popping effects. Who could ask for more?
Release details
Rated:
12A
Release date:
Friday July 22 2016
Duration:
122 mins
Cast and crew
Director:
Justin Lin
Screenwriter:
Doug Jung, Simon Pegg
Cast:
Simon Pegg
Zoë Saldana
Chris Pine
Idris Elba
Sofia Boutella

Average User Rating
3.5 / 5
Rating Breakdown
5 star:

1

4 star:

7

3 star:

4

2 star:

2

1 star:

0
I'm a star trek fan from the original tv series..a serious Trekki..The last movie...Star Trek Beyond is no comparisont to the two previous movies.......I have seen every star trek movie..and have bought them all on DVD...this one..well. it was "okay" than I learned that JJ Abrams didn't direct it..well now that explains being just " okay"..I won't be buying this On DVD...
--- SPOILER ALERT ---
.
.
.
.
.
.
Destroying a flock of thousands and thousands of spacecrafts with a rock song? I know it's science-fiction but seriously?! The Star Trek saga deserves better. A shame because the cast is very enjoyable.
Sorry I found it cheesy in comparison to the first 2 film's. From bad hair dues to ugly uniforms and weird warp trails and bubbles lol. I think they drifted to far away from the first two movies which I liked very much and still watch now. Much was lost without J J Abrams at the helm. I will however give it 3 stars for effort but 2.5 would better reflect my thoughts.