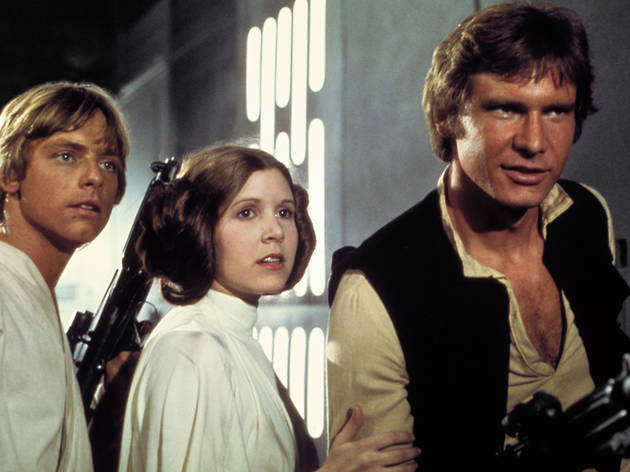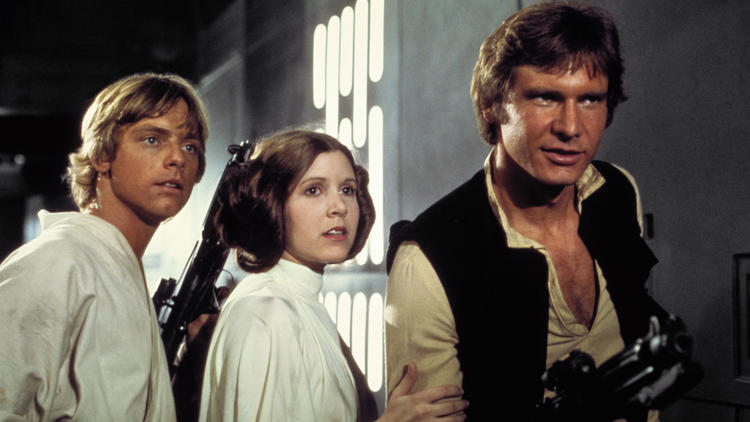 Hollywood began in an amusement arcade, so it's appropriate that its most profitable film should be as formally enchanting and psychologically sterile as a Gottlieb pinball machine. Star Wars is at least 40 years out of date as science fiction, but objections pale beside the film's major achievement: nearly 50 years after it was conceived, pulp space fiction is here for the first time presented as a truly viable movie genre. Discounting 2001, which isn't a genre movie, it's like watching the first Western to use real exteriors. And audiences rightly feel that this is something they've been owed for some time. Star Wars itself has distinct limitations, but the current return to a cinema of spectacle and wonder is wholly encouraging. Or would you prefer The Sound of Music?
Cast and crew
Director:
George Lucas
Screenwriter:
George Lucas
Cast:
Mark Hamill
Harrison Ford
Carrie Fisher
Peter Cushing
Alec Guinness
Peter Mayhew
David Prowse

Average User Rating
4.3 / 5
Rating Breakdown
5 star:

4

4 star:

1

3 star:

0

2 star:

1

1 star:

0
Let's het things straight, I am not a Star Wars fan. I have watched all the films recently in anticipation of this new movie and can't make myself love them, however I LOVED THIS FILM! It was so good, funny, gripping, great story (if somewhat predictable) but definitely worth the wait. I've been to see it twice!
Good movie, good specials effects. The story is very similar to the first star wars the new hope with the death star. And all the old characters from the old movie are back (who is a too much for me), otherwise the new actors are really good !! Definitely wa movie to see at the cinema !!

I must say from the very beginning I'm a complete fan of the whole saga so my opinion might be fogged by my passion for it.
I watched Star Wars (or Star Wars: a new hope as they renamed it when they re-released it for the sequels) the first time I was a kid. A bit of a weird kid who liked films about knights and princesses when all my friends were more passionate of Michael Bay-like films. I preferred films like Robin and Marian or The Princess Bride over Mission Impossible or Terminator. So for me, Star Wars was kind of the forbidden genre. Spaceships, blasters and whatnot were a bit out of my thing. However, a friend kind of forced me to watch Star Wars and then judge. What a life-changer that was.
It was essentially like going back to watching medieval films but in outer space. You'd essentially replace swords with lightsabers, kingdoms with planets and carriages with spaceships. But the essence of knights and princesses was still there. The characters are also the same kind. You have a princess, a knight, a smuggler, a big bad guy and the stupidly comical character.
The plot itself is nothing really special, but it set the foundations for future films to develop the story (if it succeeded, which did).
Now that the new film is coming, it's a nice time to go back to the origins and revisit the story that happened a long time ago in a galaxy far far away.