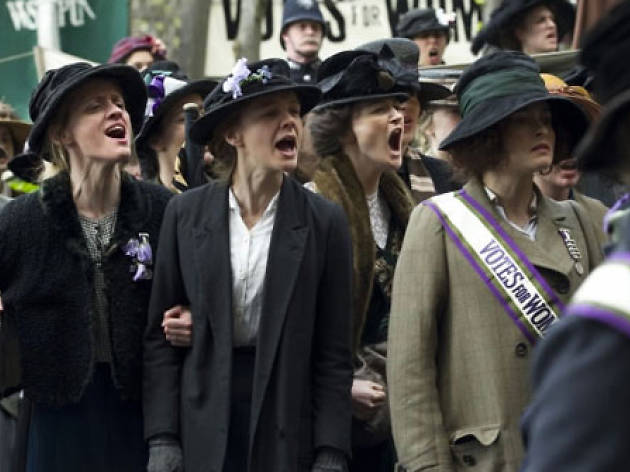 Time Out says
Nearly 100 years after smashing shop windows and blowing up letterboxes, the British suffragettes finally get a film they deserve. And thank god it's not a pretty-pretty sugarcoated period drama. Writer Abi Morgan ('Shame', 'The Iron Lady') and director Sarah Gavron's ('Brick Lane') tough, raw, bleak-looking film makes the suffragettes' dilemma feel immediate and real. You feel the knife-edge danger of women risking everything: sacked from their jobs, locked up in prison, force fed, separated from their children. But if not, them, who?
Carey Mulligan is Maud, an east London laundry worker in 1912 who's always done as she's told. Maud is 24 but her face is exhausted and lined from years sweating over dirty clothes. She's married to decent but conservative Sonny (Ben Whishaw, reliably superb), who keeps his head down and salutes a portrait of the King every morning. The couple have a young son. What difference would fighting for the vote mean to Maud? She's not Emmeline Pankhurst – she'll never be written about in history books. Why take the risk?
Over an hour or so, we see exactly why. Maud is doubly shafted by the system: because she's poor and because she's a woman. In the laundry, it's a dirty open secret that the boss is a serial sex offender; he's moved on from Maud to a younger girl. Everyone knows what he's up to, but shockingly it's Maud who is now less 'respectable' for having been his victim. Will the vote change that? No, but it's a start.
It's a tremendous, awards-worthy performance from Mulligan. The film plays out in her eyes. You see the emotion flicker in her face as Maud wakes up and finds her voice. The rest of the cast is excellent too – including Anne-Marie Duff as a gobby suffragette working in the laundry and Helena Bonham Carter as a pharmacist cooking up homemade bombs. Meryl Streep makes a brief cameo as Emmeline Pankhurst, wanted by the police but popping up to rally the troops from a London balcony. It's perfect casting – Streep sprinkling stardust as Mrs P awes her followers
On the sidelines, there are male suffragettes and women-hating men: 'The police are bringing these bitches to their knees,' snarls one, sounding every bit like a Twitter troll. And the film has a point too about the people-pleasing impulse still drummed into little girls a century later: don't make trouble, avoid attention, be a good girl. But as Mrs Pankhurst says in her balcony speech: better to be a rebel than a slave.
Details
Release details
Release date:
Monday October 12 2015
Duration:
106 mins
Cast and crew
Director:
Sarah Gavron
Screenwriter:
Abi Morgan
Cast:
Helena Bonham Carter
Meryl Streep
Carey Mulligan

Rating Breakdown
5 star:

5

4 star:

12

3 star:

5

2 star:

0

1 star:

0
A powerful, memorable film that left us lost for words leaving the cinema. How our society seems to have changed. It is hard to imagine how we would be after WWI. This was a transition time. Women had played their part in warfare and armament production but were then asked to go back into "service". Most refused, holing the aristocracy below the waterline. But still the male attitude needed to change. The dilemma placed in front of men is well portrayed in this film. The actual newsreel film at the end showed just how many ordinary men became affected by the inevitable sacrifice that the government were trying so hard to avoid.
An excellent film that hopefully will be shown in all schools. Suffrage.....we take it for granted.
Really enjoyed the movie. Carey Mulligan puts in a fantastic performance as Maud & you can see every emotion in her face. More movies should be made about this time in history, when women were seen as so far beneath men that they didn't get a say in not only their lives, but the lives of the children they gave life to. As the movie portrays, when laws are made by only one gender, then the laws will only help half of the worlds population & exclude the other half. It's been along time since I've witness the audience clapping as the movie ended & sitting watching all the credits before leaving.

Very good, perfectly pitched performances from all and the story is delivered with maximum emotional impact. I pretty much wept non stop from the middle to the end. Please do go see it.
A powerful story, well told. A fine cast and an interesting period setting. Three and a half stars.
Standard biopic, some commendable performances but ultimately rather average.
I wanted to like this film so much, and given how much publicity it's had/strong reviews/etc, I was looking forward to seeing it.
.
But, in places I found the script a bit clunky, and the storyline wasn't always coherent. I thought Anne-Marie Duff, Helena Bonham Carter, and Meryl Streep all very well cast. But I thought both Ben Wishaw and Carey Mulligan's cockney accents very laboured and distracting, and - given their leading roles - their lines didn't always seem appropriate: The adoption scene was badly acted throughout.

.
Not bad, but had the potential to be so much better. Three stars. Not a four star movie - so definitely won't sweep the boards at the Oscars.