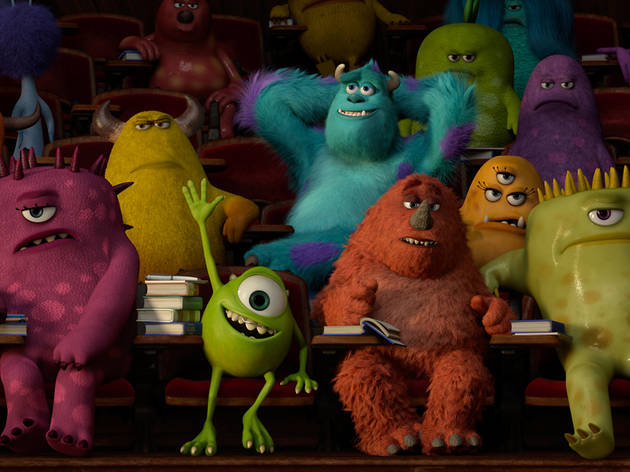 Ten things we learned at the 2013 Edinburgh Film Festival
From some iffy Brit films to hot docs – the Edinburgh Film Festival was as varied as ever
Twelve films were in the running for the Michael Powell Award for Best British feature film. Too many of them (including Paul Wright's fishing-community tale '
For Those in Peril
') were more focused on art-direction and attitude than storytelling. The worthy winner however, was the amazing doc '
Leviathan
', which takes us on onboard an Atlantic trawler to deliver a truly metaphysical account of man pitted against his environment.
Documentaries ruled the festival, including 'Leviathan' and another prize grabber, '
A World Not Ours
' – an impressive study of a Palestinian refugee camp. Oscar-winning director Alex Gibney was also in town with his impeccable '
We Steal Secrets: The Story of WikiLeaks
'. Not to mention a premiere for the mad-but-true '
The Great Hip Hop Hoax
'.
This wasn't a vintage year for Scots film talent. There was the desperately precious folk-song saga '
Blackbird
' and ropey Glasgow romcom '
Not Another Happy Ending
'. But '
Kiss the Water
' was a magical film about Megan Boyd, a world-famous maker of salmon fishing flies (she supplied Prince Charles). The film is an exquisite achievement from US documentary maker Eric Steel ('
The Bridge
'), aided immeasurably by gorgeous handpainted animation.
Edinburgh was once the place to see films by American indie pioneers. This year, the festival brought back an 'American Dreams' strand, featuring two of the best films you'll see this year. Noah Baumbach's '
Frances Ha
' is an adorable black-and-white comedy about twentysomething mid-life crisis. Shane Carruth's staggeringly original '
Upstream Colour
' is the most visually imaginative American film since David Lynch's '
Eraserhead
'.
Probably more coincidence than zeitgeist, but it was certainly a life aquatic in Edinburgh. Ciarán Hinds found the Irish surf and a flood of memories washing over him in the so-so literary drama '
The Sea
'. 'Leviathan' incredibly put the camera in the raging Atlantic swell. 'For Those in Peril' stumbled through survivor's guilt after a Scots fishing-boat went down. A much better film on a similar theme, though, was the Icelandic '
The Deep
', which turned its true story of remarkable survival into a mesmerising meditation on the mysteries of heroism.
How we hold on to or let go of the past was a big theme. The gripping, controversial Swedish drama '
Call Girl
' meticulously reconstructs the 1970s to allege a teenage prostitution ring in the heart of the country's ruling elite. Meanwhile, an unexpected gem from Thailand, '
36
', used its three-dozen fixed shots to conjure a sweetly melancholy tale of a girl, a crashed hard drive and lost love.
After the arrest of fellow filmmakers in Iran, Mania Akbari finished shooting her new film in London – hence its title, '
From Tehran to London
'. The film and others from Iran – including the absurdist shocker '
Fat Shaker
' and historical investigation '
Seconds of Lead
' – showed striking creative resourcefulness. Something different entirely is '
Taboor
', a sci-fi allegory about a man in a tinfoil suit whose insides are starting to simmer. Did the authorities miss its ideological metaphor or were they just transfixed by its hypnotic strangeness?
On stage after the premiere of his captivating film essay about kids in film, '
A Story of Children and Film
', former Edinburgh festival director Mark Cousins berated festivalgoers who'd chosen to see Pixar's '
Monsters University
' instead of challenging international films. Funnily enough, the Pixar film's refusal to talk down to its family audience, instead delivering a sinewy story about reconciling ambition with personal limitations (albeit with lots of cute character design), was precisely what Cousins's intriguingly curated, globally-aware celluloid compilation was striving so eloquently to highlight.
Long regarded as a key showcase for British cinema and international talent-spotting, the Edinburgh International Film Festival has been going through a rocky patch. An outright disaster in 2011, it fought back last year under a new artistic director, distinguished critic Chris Fujiwara. He stuck to his guns this year with a programme of unfamiliar global films and filmmakers. The rewards were certainly there. But the risks were evident too, in patchy audiences for the more out-there films, and a relative dearth of visiting journos to beat the drum for Fujiwara's discoveries.
In 2008, Edinburgh moved from its traditional spot in August – taking it away from the traditional month for Edinburgh's arts events. Mutterings continue about shifting it back again, though the financial hit involved might be too testing.
Latest Time Out film features