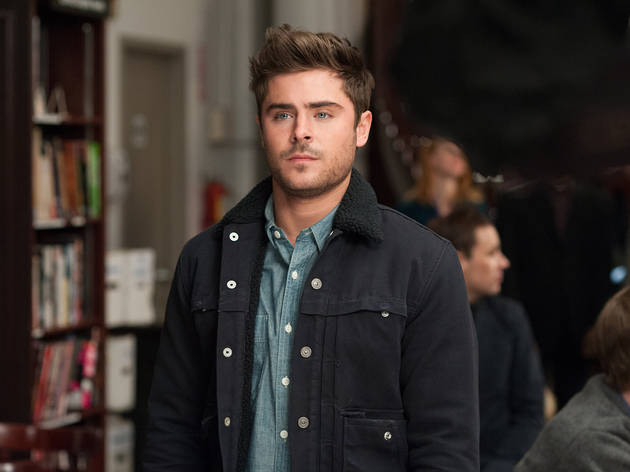 Time Out says
Now that the magic of YouTube means we can watch such delights as a 25-year-old blackhead being squeezed (up close!), gross-out comedies need to up their game. Not all of them have risen to the challenge. For instance it would take an overnight search party to find a decent gag in 'That Awkward Moment', in which Zac Efron, Michael B Jordan and Miles Teller star as back-slappin' bromancin' buddies who make a pact to stay single. Under their new rules, it's strictly verboten to see the same girl more than twice a week.
The actors – who seem to have been involved in a hideous industrial accident that's left them with the superpower of repelling all comic timing – are spectacularly unfunny. Not realising it, poor lambs, they look pretty pleased with themselves, all doing their best Vince Vaughn smirks. Smuggest and smirkiest is Efron, who – and the literary greats will kick themselves for missing this diamond of a comedy-of-errors plot – mistakes his date for a hooker. Later in the film, Efron wonders if he should go to the funeral of the same girl's dad, but worries: 'If I do, then we're dating.' The script tries very hard with boys-on-the-toilet gags, while awkwardly and half-heartedly trying to bolt on a romcom for wives and girlfriends. But never mind the bathroom jokes: this one's a stinker through and through.
Details
Release details
Rated:
15
Release date:
Wednesday January 29 2014
Duration:
94 mins
Cast and crew
Director:
Tom Gormican
Screenwriter:
Tom Gormican
Cast:
Zac Efron
Miles Teller
Imogen Poots

Rating Breakdown
5 star:

0

4 star:

1

3 star:

0

2 star:

0

1 star:

2
please for the love of God would someone provide zac efron with a decent script before his once promising career goes completely down the pan. If only he'd make another fiim with Burr Steers who clearly understands the zac appeal, or with Richard Linklater with whom he made the excellent Me and Orson Wells. If anyone can save Zac's career though it is the mighty JJ Abrams. Star Wars episode VII with zefron MUST HAPPEN.
I thought the film couldn't be as bad as the review says but it is. Its a dire, feeble attempt at a film about an annoying a**hole who happens to have a stupid haircut and no redeeming features. As he is played by a Producer of the film and the main star we are encouraged to try to like him. He sleeps with a number of women while trying to stay aloof and away from relationships. All of the women in real life would have far too much common sense to have anything to do with him. A film about guys in their late 20's acting like they are still teenagers. It ends with a trite annoying scene where the lead comes to the conclusion that he has been a fool and that he does love the woman he let down badly and seeks to regain her trust and love. A scene done much better in most other films. A one star embarrassment of a film.