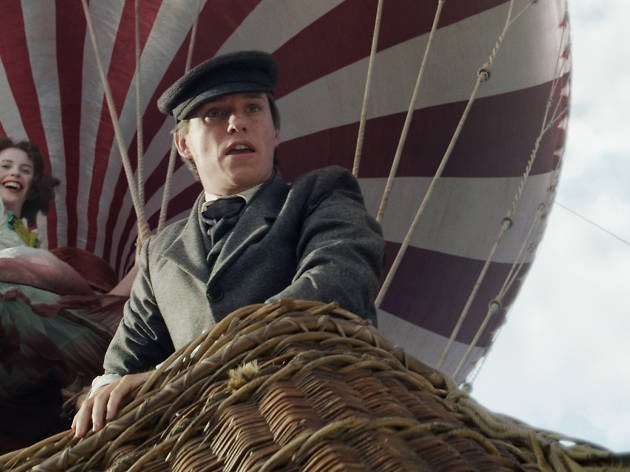 Time Out says
Felicity Jones and Eddie Redmayne endure 'Gravity'-style thrills in a charming Victorian ballooning caper.
It's hard to work out where facts end and the fantasy begins in this charming ballooning adventure set against a sweet version of Victorian London. The historic expedition the movie is all about – an attempt to break the world flight altitude record – did happen, just not quite like this. But you'll want to suspend all disbelief, hold tight to the wicker basket and go along for the ride.
Eddie Redmayne is James Glaisher, a meteorologist, who, in 1862, really did travel closer to the stars than anyone had done before. He's reserved but wonkishly enthusiastic about science, and regularly mocked by his Royal Society colleagues for believing that weather can be predicted. Redmayne's 'The Theory of Everything' co-star Felicity Jones plays his pilot Amelia Wren, a daredevil balloonist with glitter in her bra and a tiny dog. Wren is an engaging amalgamation of genuine balloonists such as Sophie Blanchard and Margaret Graham.
The pair's ascent is tracked in very close to real-time, the minutes ticking by as the balloon rises and rises. There are beautiful moments as the pair pass above the clouds to find a sea of fluttering butterflies and a circular rainbow. But the tension ramps up as the air thins while the temperature drops, and the frequent moments of peril are breathtaking in a very literal sense. Flashbacks reveal the struggle to get the basket off the ground at all and the widowed Wren's desperately sad backstory, before incredible feats are required to bring the pair, and their scientific discoveries, back to earth.
'The Aeronauts' may stretch the phrase 'inspired by true events' to new, erm, heights, and its characters remain unknowable until the final stretch, but the visuals, derring-do and on-screen chemistry is all fizz. Catch this unusual period piece on the big screen and you'll find such liberty-taking easy to forgive.
Details
Release details
Rated:
PG
Release date:
Monday November 4 2019
Duration:
101 mins
Cast and crew
Director:
Tom Harper
Screenwriter:
Jack Thorne
Cast:
Eddie Redmayne
Felicity Jones
Tom Courtenay
Himesh Patel

Average User Rating
2.3 / 5
Rating Breakdown
5 star:

1

4 star:

0

3 star:

0

2 star:

0

1 star:

2
It's been clear for many years that Studios are aiming for the less intelligent portion of society, and this film was clearly made with the lowest members of that category in mind; and just what mind numbing stuff Ellie Walker-Arnott had been on for the month prior to her writing that garbage of a review of her's I just can't imagine. This movie is utter trash: an absolute affront to the intellect of anyone with an IQ over 50. It's nothing more than a pancake stack of absurdities with cheap synthetic syrup sloshed all over them.
I rely on Time Out to guide me in my cinema watching, but I find that I'm being let down more and more by their reviewers.
Beautiful film, me and the wife loved watching it