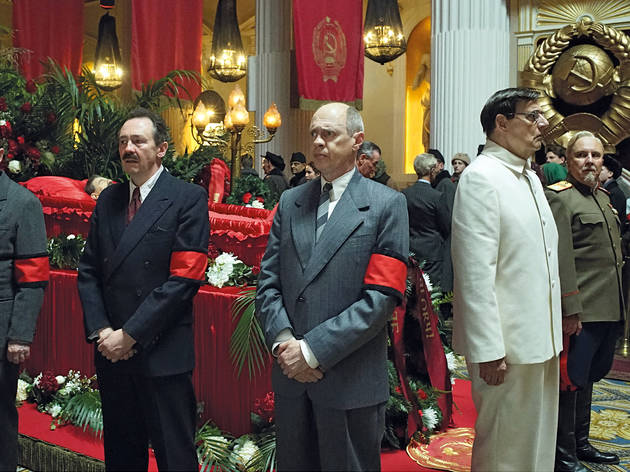 Time Out says
Armando Iannucci's lacerating, hilarious comedy lampoons Stalinist Russia to within an inch of its life.
Accepting the old adage about comedy being tragedy plus time, it still feels about half a century too soon to be mining the savage tyranny of Stalinism for gags. But writer-director Armando Iannucci ('In the Loop') has managed it – and then some – pulling off the most essential British comedy since 'Four Lions' in the process. Like Orwell on helium, this reimagining of Stalin's demise and the subsequent ideological gymnastics of his scheming acolytes is daring, quick-fire and appallingly funny.
Finding him in 1953 in a Moscow that's alive with paranoia and purges, we meet Stalin (Adrian McLoughlin) on bullying form. But before long, the much-feared dictator is lying comatose on the floor after a stroke sparked by a brave citizen's angry letter of protest (yes, they're that rare). As Uncle Joe wanes – a decline karmically hastened by the fact he's sent all the competent doctors to the gulag – potential successors leap into the vacuum. Steve Buscemi's wily Khrushchev, Jeffrey Tambor's dim-witted deputy chairman Malenkov and Simon Russell Beale's secret police chief Beria lead the charge, hoping to seize power or just stay alive in the fallout. Michael Palin (Molotov) and Paul Whitehouse (Mikoyan) round out a politburo stuffed with comedy greats.
What follows is a riotous farce of doublespeak and plotting laced with moments of bitumen-black horror. Iannucci's control of tone is such that we're carried from hilarity to revulsion and back again in a few keenly crafted lines of dialogue. It's much darker terrain than his comic dissections of US and British politics, 'The Thick of It' and 'Veep' – uncomfortably so at times. Beria, the Soviet system's brutal id, scratches names off lists and rapes young girls he keeps in dungeons. He's the primary villain in a film that's overflowing with them, and Russell Beale brings oily glee to the role.
Delivering more bullocking menace is Jason Isaacs's war hero Zhukov, who pitches up with a chest full of medals and a heap of juicy lines. ('I fucked Germany. I think I can take a flesh lump in a waistcoat,' he boasts.) But the real star here is the man behind the camera, who proves that he can tickle the funny bone one minute and cut right through it the next. To terms like 'Pythonesque', it may soon be time to add 'Iannuccian'. The man is a master.
Details
Release details
Rated:
15
Release date:
Friday October 20 2017
Duration:
107 mins
Cast and crew
Director:
Armando Iannucci
Screenwriter:
David Schneider, Ian Martin, Armando Iannucci
Cast:
Jason Isaacs
Jeffrey Tambor
Steve Buscemi
Michael Palin

Average User Rating
2.9 / 5
Rating Breakdown
5 star:

2

4 star:

2

3 star:

1

2 star:

7

1 star:

0
This isn't a good film. Trying to make a comedy about mass arrests, torture, sexual abuse and the murder of millions was always 'bold', and "Life is Beautiful" this certainly is not. It staggers between being serious and being mildly amusing, without ever being funny, or doing justice to the gravity of the story.
Some of the performances are good, and the film just about keeps your interest until the end, but it is ultimately a pointless film, offering neither insight, a meaningful message, or outstanding comedy. I really don't understand how Time Out can think it deserves top rating?
Enjoyable historical romp with sharp and at times brutal satirical bite. Can't help but feel this might have worked better as a play - it has a strong feel of French farce / absurdist theatre about it - but Iannucci directs with an assured hand.
Directed and co-written by Armando Iannucci, this very well received movie left me a little disappointed.
With a cast of all-round greats including Steve Buscemi, Simon Russell Beale and Paul Whitehouse, it certainly looked like a sure-fire black comedy treat.
Nevertheless, despite some super jokes, its treatment of events leading up to Stalin's death and the power struggle afterwards was disappointing.
Iannucci's TV pedigree is unarguably brilliant with his bunch of successful series but he overcooks the omelette on this one.
So many scenes depend on shouted obscenities and gross toilet humour that sharp wit and clever scripting seem to be ignored. It often reminded me of some sad third-rate stand-up comics who depend on being crude and breaking taboos (however many are left!) to raise cheap laughs.
Stalin and his creepy gang of psychos and gangsters are almost beyond parody so the director has a formidable task.
A TV play directed by Jack Gold in the 1980s, "Red Monarch" (anyone remember besides me?) was much darker and funnier than this and nailed the whole ghastly scenario far better than Iannucci's effort.
Not bad but not particularly good, I am sorry to say.
While it's stunning to look at, and Jason Isaacs' performance is a joy, I felt like leaving for most of the movie but social obligation meant I stuck with it. I found it vicious and cruel. Not my sense of humour. I suspect it's marmite.
There's nothing 'essential' about Iannucci's Commie Comedy. All the elements are there for hilarity, but it does not deliver any. Once the lights go down in the cinema I felt somewhat drowsy....like I was listening to Stalin's cronies reciting policy. As usual, Time Out wets the bed when it comes to so-called alternative humour. Death Of Stalin ultimately plays like one of Python's poorer sketches. Ninotchka is much more amusing!
Really loved this film. It is witty and had the whole cinema in proper fits of laughter. I am thinking of going to see it again...