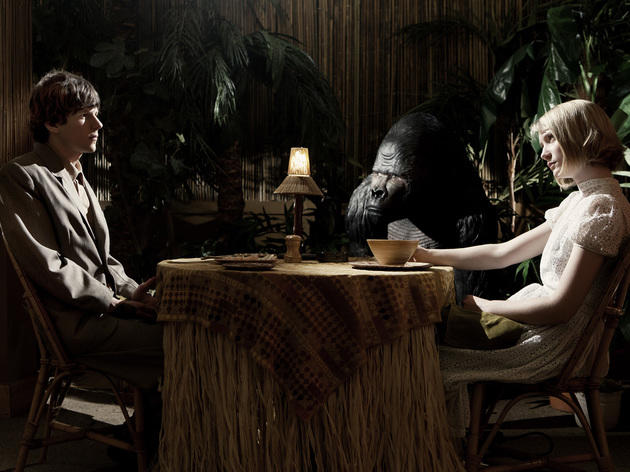 Jesse Eisenberg's office drone Simon, faced with the sudden appearance of his super-cocky mirror image James (also Eisenberg), isn't the only thing being facsimiled in this second film from 'Submarine' director Richard Ayoade. 'The Double' is itself an adaptation of a Dostoyevsky story. In this version likeable loser Simon works in a retro-futuristic bureaucratic machine that looks like a crumbling Soviet-era hospital. Ayoade tips his hat to so many other filmmakers and writers that he leaves little room to consider anything other than what a good job he's doing of distilling all his references into an effective Pinterest board of paranoia and alienation.
Terry Gilliam's 'Brazil' is the obvious allusion, but you can also tick off Franz Kafka, George Orwell, even Orson Welles and David Lynch. This heavy helping of outside influences isn't a huge problem; it's the overfamiliarity of ideas relating to loneliness, alienation and men in crisis (Mia Wasikowska plays a thankless romantic foil) that's the issue. Where Ayoade succeeds is in keeping a lid on the zaniness and maintaining a gloomy but energetic air of fragility and desperation. It helps that Eisenberg and a host of top-notch side players (including James Fox, Sally Hawkins and Paddy Considine) give imaginative, smart performances.
Release details
Rated:
15
Release date:
Friday April 4 2014
Duration:
93 mins
Cast and crew
Director:
Richard Ayoade
Screenwriter:
Richard Ayoade, Avi Korine
Cast:
Mia Wasikowska
Jesse Eisenberg
Wallace Shawn
Yasmin Paige
Chris O'Dowd
Sally Hawkins
Paddy Considine

Rating Breakdown
5 star:

0

4 star:

0

3 star:

0

2 star:

0

1 star:

1
To say that this is a pretentious dud is only half true. Pretentious, yes, but dud just does not do it justice. This is one of those films which within five minutes you know is going to be a true waste of time and it got worse. Unfortunately, I was with two friends and as they did not say anything, I thought that I would grit my teeth and bear it. Unfortunately, after we came out, both of them said the same thing to me. Aaargh! Tedious, pretentious, goes nowhere, what more can I say. The credits said that the film was based on a book by Dostoevsky. Well, I hate to think how bad this film would have been without that contribution. So, one to avoid and I just wish some other user had reviewed this before we went in.