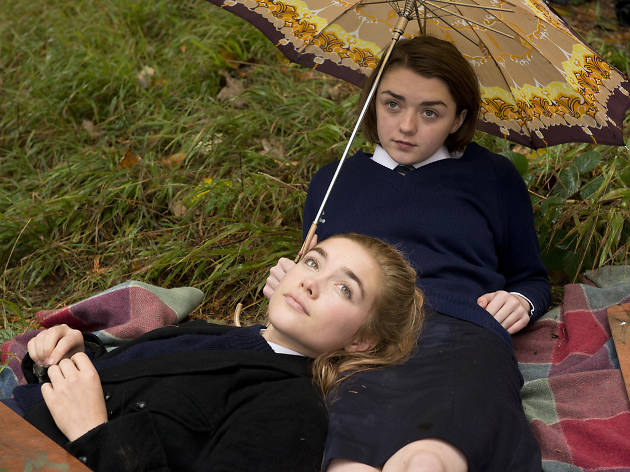 After the heartbreaking true story 'Dreams of a Life' (2011), British writer-director Carol Morley shows startling versatility and ambition with this jawdropping mash-up of 'If' and 'Picnic at Hanging Rock' set in an all-girl grammar school circa 1969.

When one student's fainting spells soon cause her classmates to drop like flies too, a staid Oxfordshire institution is enveloped in a miasma of seething hormones. The doctor calls it 'hysterical contagion', but are these powerful sensations genuine?

Surprisingly, there's significant factual precedence for such bizarre events, and Morley's lushly visualised film offers tantalising hints of mystery – ley lines? The spirit of the land? – while empathetically portraying everyday teen emotions leaping into the red zone. The instigator, sexually precocious Abigail (striking newcomer Florence Pugh), secretly has good reasons for collapsing in class, but her new-found ardour for the opposite sex profoundly unsettles her very best friend Lydia ('Game of Thrones' regular Maisie Williams), whose feelings of exclusion prompt her own increasingly dramatic blackouts.

Psychedelic fast-cut editing and Tracy Thorn's pastoral soundtrack create an atmosphere of beguiling possibility, the orgasmic surge of teenage female neuroses threatening key authority figures (including stern teacher Greta Scacchi). At home, however, Williams's burgeoning sense of empowerment has shocking consequences, as Morley explores the troubling nether regions of familial relationships. In so doing she ratchets up the intensity to such fever-pitch, she can't quite get the story back under control again. Yet in every other respect this dizzying, courageous, utterly humane and slightly unhinged film is a unique achievement.
Release details
Release date:
Friday April 24 2015
Duration:
102 mins
Cast and crew
Director:
Carol Morley
Screenwriter:
Carol Morley
Cast:
Greta Scacchi
Amelia Holder
Anna Burnett

Rating Breakdown
5 star:

1

4 star:

1

3 star:

0

2 star:

1

1 star:

5
A film that had great potential ruined by a cliche, contrived script with flashy editing attempting hard to be artsy and meaningful. I wasn't rooting for the main character, I didn't care what happened to the people in the film. Poor, obvious choices were made and constantly alluded to throughout the whole film; the symbolism of the tree which was shown in a flash shot every ten minutes, the similarities between main girl Abigail and that of Abigail Williams in The Crucible yet without the build up or motivation. There was too much style and no substance; the main character screaming about "waking up" and "being conscious" was unbelievable for a clearly average teenage girl to be spouting. This film was a desperate attempt to collar some devices used in tree of life or dead poets society but resulted in a mess of meaningful quotes and teenage angst and shots of a tree spinning around, people are fooled by this into thinking it is something beautiful.
Dull overblown and empty. Staggering waste of talent
Bloody awful mess of a movie. What was it with Lydia's twitching eye? Why did Maxine Peake have a West Country accent? What about Greta Scacchi's character's back story? Why was the fainting accompanied by serpentine writhing? What about Lydia's brother's obsession with the Occult? Much of the film elicited guffaws from the audience at Manchester's Home where the film was the first to be shown in this new venue. Biggest laugh came after Maxine Peake's line concerning Lydia's rapist father - 'He came from the shadows'. Perhaps Morley was trying to make a comedy - 'Carry On Fainting'.
I used to think I had a fairly open minded, sophisticated and intelligent movie going palate, but reading all the gushy reviews for this film and coming away with such a terribly different experience myself, I'm now beginning to wonder. The Falling felt a lot like an over-dramatic, embarrassingly awkward sixth form play. Perhaps that was the entire point. Or perhaps that's two hours of my life I'm never going to get back.
A film that's trying to be something it is not. Not boring, but poor. I understand some of the positive reviews but am frustrated by them.
Directors just lack the true skill and vision to make art house films any more.This is just one big big dud of a film
A brilliant, intense film which does not yield all of its secrets on first viewing. I found it kind of epic. Quite surprised at the naysayers on here, but I guess this isn't going to appeal to everyone.